I love a good fifth freedom flight. For those of you not familiar with fifth freedom routes, it's when an airline from a third country operates a flight between two other countries.
For example, unarguably the most glamorous fifth freedom flight within North America is Cathay Pacific's flight between New York JFK and Vancouver. The flight continues to Hong Kong, though you can also book the flight exclusively between New York and Vancouver.
The flight offers full longhaul international service, from bedding to Krug.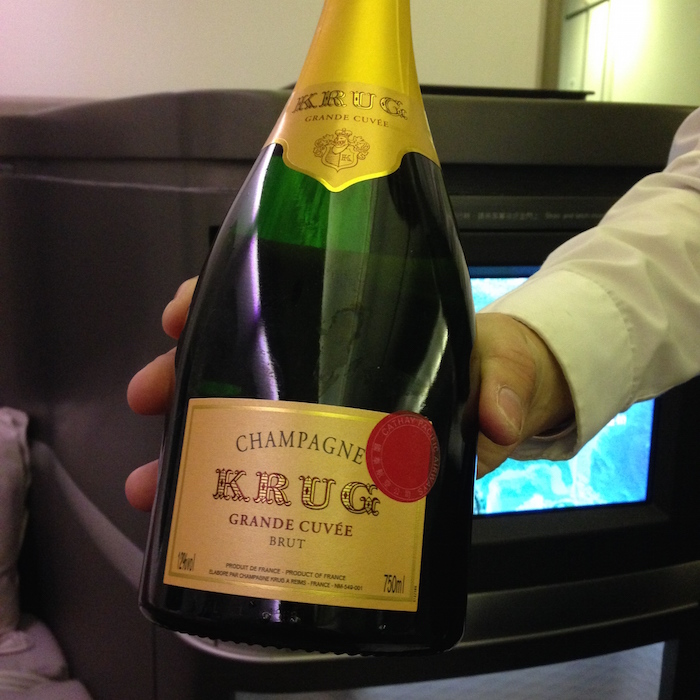 Krug on a flight within North America? Awesome!
It's a great way to experience Cathay Pacific first class on a short flight (and I have to say it was an especially fun way to fly between the east and west coast when I lived in Seattle).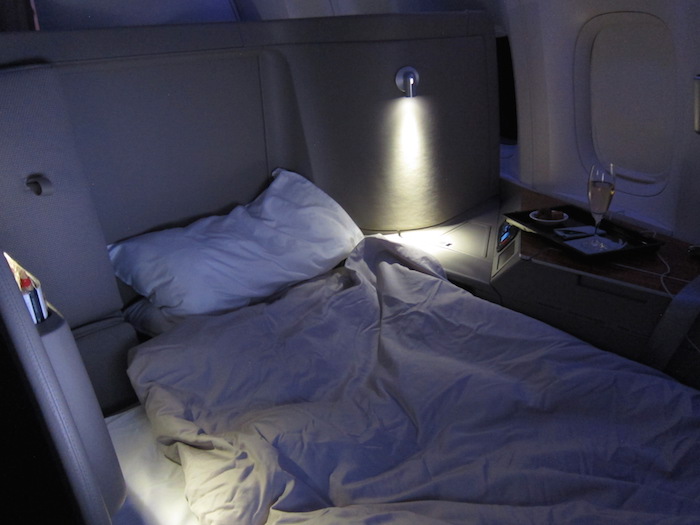 Cathay Pacific first class seat in bed mode
The only "catch" on the route is the flight times, given that it's a redeye in both directions. The flight operates with the following schedule:
CX888 Vancouver to New York departing 10:50PM arriving 7:00AM (+1 day)
CX889 New York to Vancouver departing 10:10PM arriving 1:00AM (+1 day)
The eastbound flight is practical for connections in both directions, while the westbound flight is only practical if terminating your travels in Vancouver.
Interestingly Cathay Pacific is the only airline that presently flies nonstop between Vancouver and New York JFK.
However, they'll soon have some competition, No, not from Air Canada or United or JetBlue, but rather from… Philippine Airlines!
As of March 15, 2015, Philippine Airlines will be launching 4x weekly service between Manila and New York, which will route via Vancouver.
As you'd expect, they'll sell you tickets between Vancouver and New York. The flight will operate with the following schedule:
PR126 Vancouver to New York departing 10:50PM arriving 7:00AM (+1 day)
PR127 New York to Vancouver departing 11:00AM arriving 1:50PM
Hilariously, they have exactly the same schedule as Cathay Pacific on the eastbound flight. However, they do a much tighter turn in New York, and it's a daytime flight on the return (which makes sense, given that they're using the same plane for the turn, while Cathay Pacific doesn't).
I can't help but think that they're a bit aspirational with their pricing, given that their published business class fare is 50% more than Cathay Pacific's.
Cathay Pacific has fully flat reverse herringbone seats with direct aisle access in business class, while Philippine Airlines has recliners straight out of the early 90s.

Cathay Pacific's reverse herringbone business class seat
Philippine Airlines partners with both ANA Mileage Club and Etihad Guest, though neither have especially compelling redemption values for travel on this route (ANA charges 63,000 miles roundtrip in business class).

ANA Mileage Club's non-Star Alliance partners
Bottom line
Is this route useful for those looking to redeem miles? Probably not. Do I find it fascinating? Absolutely. I think it's especially funny that the flight operates with an identical schedule to Cathay Pacific in one direction. And I suppose there's some merit to the westbound flight if not connecting, given that it's a daytime flight.
I sure do love routes like this!
(Tip of the hat to View from the Wing)