While I'll have more details on my trip to Barcelona in a few days when I post the trip report, I do have a few comical/sad/ridiculous things I feel the need to mention now:
I nearly lost it while checking in at Barcelona Airport. The pretty but demeaning 20-something year old American contract worker that checked me in asked me how many bags I was going to check in. I said "none," and then she looked at my bag with pure horror. Before she had the chance to object I said "it's a standard carry-on," to which she responded "that's much larger than the standard size." I responded with "it's a 22 inch that hasn't given me any trouble for the past 200,000 miles on American." At this point she looked over at her colleague, rolled her eyes, mocked me for suggesting it was a standard size, and then began talking with her colleague in Spanish as if I wasn't standing there, including the use of "muy grande." After a minute she was informed by her colleague that I was in business class, and said "oh, business class, well that's completely different."
Aboard the flight from Barcelona to New York I talked to one of the flight attendants about American cutting the New York to Budapest flight. It goes without saying that this had something to do with Malev shutting down shop. While I often disagree with management cutting routes (as was the case with Chicago to Delhi), I loved this lady's reasoning for why American shouldn't cut the route – "who's going to fly the poor people now?" Ah, yes, American's obligation is to fly the "poor people" of Hungary. Good business model.
I'll leave out the commentary, or maybe you guys can guess, but the flight attendant on my flight from Barcelona to New York got one of these from me (pardon my chicken scratch, this is the first thing I've written by hand in months):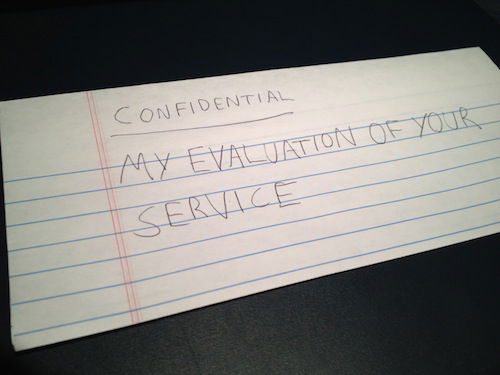 And now, after flying over 40,000 butt-in-seat miles over the past two weeks, I'm beat. W Bed at home, here I come.