Update: American Airlines is returning to India in 2020, as the airline is launching Seattle to Bangalore flights.
American announced earlier today that they'll be cutting their daily service between Chicago and Delhi as of March 1, 2012. When I first heard this I checked my calendar to be sure it wasn't April 1.
Given that they cut the route, I think it's safe to assume American was losing money on it, not to mention they're in bankruptcy which means that unprofitable routes need to be cut sooner rather than later. Nonetheless it's surprising to me that the route wasn't profitable, given that Chicago to Delhi is probably the toughest route in their network when it comes to upgrades. Of course that doesn't in and of itself make the route profitable, though the fact that most of the premium seats are being paid for would generally suggest so (though I guess the yields weren't good). Beyond that, the route apparently had a load factor of over 85%, which is extremely high. As always it comes to show you that a full flight doesn't translate to a profitable flight. Lastly, given that it was their longest flight, they probably had to forgo quite a bit of cargo in favor of fuel, which doesn't help in making a route profitable either.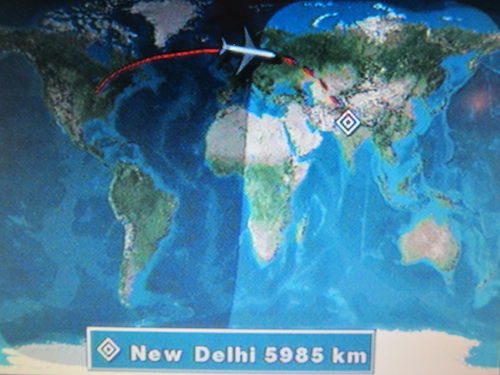 Let's talk for a second about American's bankruptcy, and my two cents. I'm not trying to be an armchair CEO here, I swear. American isn't just performing poorly due to high labor costs and inefficient aircraft, but I think more than anything it's because of their truly crappy route network. Seriously, they should be a global airline, but they're not. As of March 1 they won't have any flights to the Middle East, India, Africa, or Australia. They fly only to three places in Asia (Tokyo, Shanghai, and Beijing). They have a lackluster route network to Europe compared to Delta and United — they don't even fly to Munich and Amsterdam, for example, and only fly to Frankfurt out of Dallas, alienating everyone on the east coast. On the plus side, they do fly to just about every city in Central and South America.
But the losses for cutting a route like Chicago to Delhi go beyond the direct operating loss of the flight. Customers don't choose airlines just based on availability for a specific flight, but rather based on the overall route network of an airline. If a business traveler needs to fly several times a year to Delhi and Tokyo, for example, you think they'll still choose American for their Tokyo travel when they could fly a different airline that meets all of their needs? Doubtful, I'd say.
I think American would be very wise to add a Europe tag flight to India, like London to Delhi, for example, which would perform better for a couple of reasons. First, it would translate to better aircraft utilization, since that India "tag" flight isn't taking nearly two 777s to operate. Second, and more importantly, they could carry more cargo since they wouldn't need to sacrifice it in favor of fuel given how much is needed for a 15 hour flight.
Either way, this cut is sad news, given that it makes American's route network even more unappealing (and I thought that wasn't possible before today).