In the interest of full disclosure, OMAAT earns a referral bonus for anyone that's approved through some of the below links. The information and associated card details on this page for the American Express Green Card card has been collected independently by OMAAT and has not been reviewed or provided by the card issuer. These are the best publicly available offers (terms apply) that we have found for each product or service. Opinions expressed here are the author's alone, not those of the bank, credit card issuer, airline, hotel chain, or product manufacturer/service provider, and have not been reviewed, approved or otherwise endorsed by any of these entities. Please check out our advertiser policy for further details about our partners, and thanks for your support!
The American Express® Green Card was recently refreshed, and I now consider it to be one of the most rewarding cards out there for those looking to maximize points.
In this post I wanted to take a look at what I consider to be one of the most valuable benefits of the card, and talk a bit about how to maximize it. Specifically, I'm talking about the $100 CLEAR credit.
Amex Green Card Details
The Amex Green Card has a $150 annual fee (Rates & Fees), and offers the following:
3x Membership Rewards points without caps on dining, travel, and transit
Up to $200 in annual credits — a $100 LoungeBuddy credit and a $100 CLEAR credit
In many ways, this is an Amex competitor to the uber-popular Chase Sapphire Reserve® Card, as that card also offers 3x points on dining and travel.
While the Amex Green as such has a great rewards structure, what makes this even more valuable is that for some people the value of the $200 in annual credits can offset the $150 annual fee on the card.
Personally I consider the $100 annual CLEAR credit to more or less be worth face value, so in this post I wanted to take a closer look at that.
Amex Green Card CLEAR Credit Basics
Before we even talk about why CLEAR is valuable, the application process, and how to maximize value, I first want to talk about the very basics of how this Amex Green Card credit works:
The $100 credit is per calendar year (based on when the transaction appears on your card)
The credit can be used across multiple transactions, if you're in a situation where you're being charges under $100 by CLEAR
The credit applies on purchases directly with CLEAR
Purchases by the primary cardmember and additional cardmembers are eligible, though there's only a total of a $100 credit per account
You can buy a CLEAR membership for anyone (including friends and family), as long as you pay with your card
The statement credit will post within two to four weeks of an eligible purchase
What Is CLEAR?
CLEAR is essentially a technology company that stores biometric data to expedite clearing security at airports, and at select stadiums and other venues.
The way CLEAR makes your life easier is by allowing you to bypass the ID check at airports. While you still have to go through security, you simply go up to a CLEAR checkpoint at an airport, then your fingerprints or eyes are scanned, and then you bypass the ID check (though in some cases you may still be asked at random to show your ID).
It doesn't matter whether you have Pre-Check or just "regular" security, as the CLEAR associate will direct you past the ID checker and into the appropriate line.
You can read about my experience with CLEAR in this post.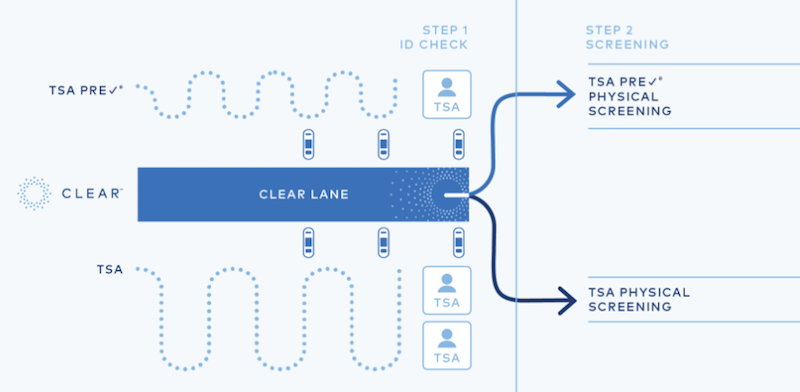 CLEAR Is Available At 60+ Venues
CLEAR is currently available at 60+ venues — this consists mostly of airports, though also includes some stadiums and other venues. Not all terminals at eligible airports have CLEAR, though you can expect to find CLEAR in some capacity at the following 32 airports:
Atlanta (ATL)
Austin (AUS)
Baltimore (BWI)
Birmingham (BHM)
Boston (BOS)
Chicago (ORD)
Cincinnati (CVG)
Cleveland (CLE)
Dallas (DAL & DFW)
Detroit (DTW)
Fort Lauderdale (FLL)
Houston (IAH)
Las Vegas (LAS)
Los Angeles (LAX)
Miami (MIA)
Minneapolis (MSP)
New Orleans (MSY)
New York (JFK & LGA)
Newark (EWR)
Orlando (MCO)
Phoenix (PHX)
Salt Lake City (SLC)
San Antonio (SAT)
San Francisco (SFO)
San Jose (SJC)
Seattle (SEA)
Washington (DCA & IAD)
Westchester (HPN)
How Do You Sign Up For CLEAR?
The process of signing up for CLEAR is super easy. You can initially register online, which should take just a couple of minutes. Your payment will already be processed when you register.
Then the next time you're at a CLEAR airport you can simply see a CLEAR representative, and they'll walk you through the registration process, which consists of them taking your biometric data.
Note that unlike with Global Entry, there's no "interview" required here. CLEAR is essentially just verifying your biometric data, so they're not assessing how "risky" of a passenger you are.
How Does CLEAR Compare To TSA Pre-Check?
CLEAR, TSA Pre-Check, and Global Entry, are complements and not substitutes:
CLEAR gets you expedited ID checking at eligible airports
TSA Pre-Check gets you expedited security screening at eligible airports, as you don't have to take off your shoes, or take liquids or laptops out of your bags
Global Entry gets you expedited immigration when entering the US, allowing you to go straight to a kiosk and skip the main lines
When it comes to memberships:
A Global Entry membership gets you Global Entry and TSA Pre-Check, but not CLEAR
A TSA Pre-Check membership just gets you TSA Pre-Check
A CLEAR membership just gets you CLEAR
The ideal situation is to have a Global Entry membership and a CLEAR membership, as you're then covered for all three programs.
How To Get The Best Value With CLEAR
Ordinarily, a CLEAR membership costs $179 per year, so with the Amex Green credit, you'd be paying just $79 per year. However, no one — literally no one — should be paying that much for a CLEAR membership.
Pay No More Than $119 Per Year For CLEAR
At the absolute most you should be paying $119 per year, before factoring in your $100 Amex Green CLEAR credit. How? Just for being a member of Delta SkyMiles or United MileagePlus you get a reduced rate of $119 per year.
No status is required, that's what you get just for signing up for their free programs:
So with the Amex Green credit, you should be paying at most $19 per year for CLEAR, which is awesome.
Save Even More With Airline Status Or Credit Cards
You can save even more on a CLEAR membership if you have airline status:
The Amex Green credit applies even if you're buying the discounted $109 membership.
CLEAR Family Plans
Note that CLEAR memberships are individual, so you can't bring friends or family along with you. The exception is kids under 18, as they can tag along for free without registering.
The good news is that CLEAR also allows family plans, where you can add additional people to your account for $50 each per year. The people you add don't even have to be immediate or biological family. As CLEAR describes it, you can even add "chosen family, or friends that feel like family."
My CLEAR Strategy
I had actually let my CLEAR membership lapse without realizing it. I didn't even realize it because I don't usually use it in Miami — in Miami only Concourse E had CLEAR, and they didn't used to have Pre-Check. However, it's my understanding that the Concourse E checkpoint now has TSA Pre-Check, in which case it's definitely worth it to me, as I can use CLEAR and Pre-Check together.
So I need to get CLEAR again, especially with them constantly increasing their number of locations.
So, what's my strategy? I haven't used my 2019 Amex Green CLEAR credit yet (I just picked up the card recently), so:
I plan to sign up for CLEAR shortly for $119, and then I'll still get $100 reimbursed
Come January 1 I'll get another $100 credit, so I can add Ford to my family plan for $50 with my card, and then I'll still have another $50 credit to add someone else
So for a total of $19 out of pocket I'll have three CLEAR memberships in the coming days.
Even if you don't yet have the Amex Green Card, if you get approved they can often issue you a virtual card right away, so you could still take advantage of the credit for both 2019 and 2020.
Bottom Line
The Amex Green Card is an incredibly well rounded and compelling Amex card for earning Membership Rewards points.
The card has a reasonable $150 annual fee to begin with, and offers 3x points on dining, travel, and transit.
Beyond that, the card offers up to $200 in credits. To me the CLEAR credit is more or less worth face value, and with it being the end of 2019, you can get the 2019 credit now, and the 2020 credit in a few days.
By paying just $19 out of pocket I'll be able to get CLEAR memberships for three people in the next week or so… that's pretty awesome!
If you have the Amex Green Card, have you used your CLEAR credit yet?
The following links will direct you to the rates and fees for mentioned American Express Cards. These include: American Express® Green Card (Rates & Fees).