Credit card issuers are increasingly trying to offer lifestyle and experiential perks with their cards as a way of differentiating themselves. This is why we've seen Amex acquire Resy, and why Capital One is now partnering with OpenTable.
American Express has today announced a potentially useful way that they're bringing hard-to-get restaurant reservations directly to their app. But first a bit of background.
Premium Credit Cards Offer Concierge Services
All kinds of premium credit cards have concierge services, and generally the biggest request that they get is securing restaurant reservations. Frankly I've been disappointed by these services (this isn't specific to Amex) more often than not, to the point that I don't even bother trying anymore.
It just seems inefficient to have to pick up the phone, wait on hold, and verify all your personal details, only to eventually be told that the restaurant reservation you want isn't available.
It has also never been fully clear to me whether these concierges are actually picking up the phone and calling the restaurant to make a plea, or if they're simply looking at special inventory on a computer screen.
If the latter, then it sure would be nice if they would just cut out the middleman and let us directly view that inventory, no? Well, it sounds like that's exactly what Amex is doing.
Amex Adds Restaurant Reservations To Mobile App
Amex has revealed that they'll be introducing new restaurant reservation tool directly in their app, exclusively for US Platinum and Centurion cardmembers (including the business versions of the cards).
This will initially be available this month to a portion of the Platinum member base, and it will be expanded over the coming months, before being rolled out to all Platinum and Centurion members in early 2020.
When I first heard about this I figured that they were just integrating Resy into the Amex app in hopes of increasing the number of people who use it, but as it turns out, it goes beyond that.
This new feature will allow Platinum and Centurion members to search, book, and manage reservations for more than 10,000 restaurants worldwide through the Amex mobile app.
Amex says that dining is the number one request that they get through their Platinum concierge service, and it's also the top spending category for card members.
Currently Amex Platinum and Centurion members get access to exclusive tables through the concierge service, which has required picking up the phone. The idea is that in the future these reservations can be secured directly through the app.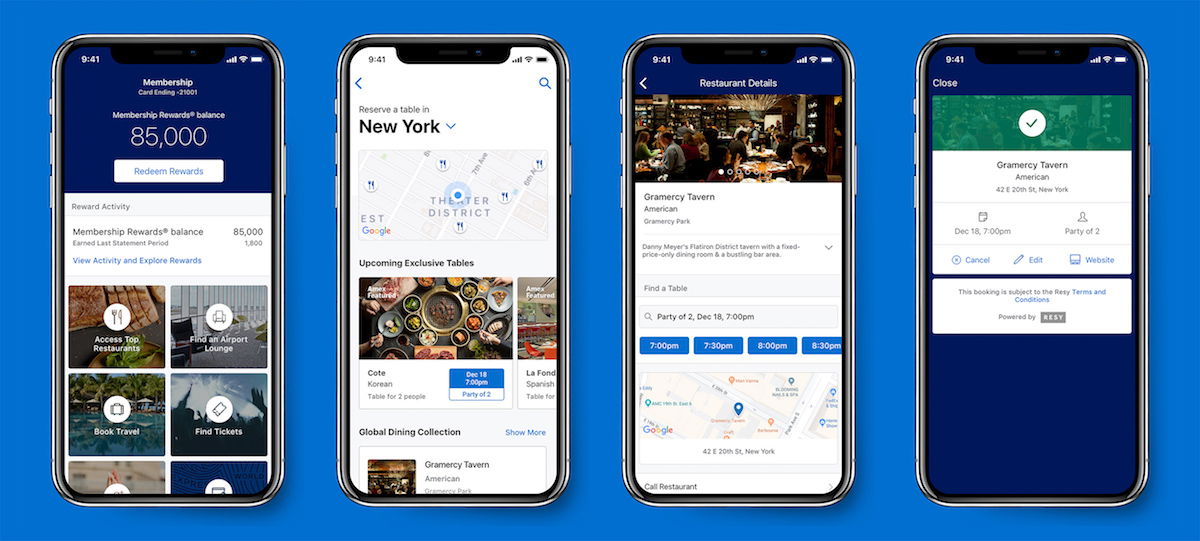 Bottom Line
I'm excited to see some of the services traditionally associated with the concierge be brought directly online. This should make the process of searching extra restaurant availability easier. If there isn't any extra inventory, at least not much time will be wasted.
It will be interesting to do a direct comparison of just how much extra inventory these concierge services have access to.
Are you excited to see Amex restaurant reservations to their mobile app (hopefully including hard-to-get ones)?