Update: This issue has been fixed, and Amex transfers to Aeroplan should once again be functioning as usual.
One of my favorite Amex Membership Rewards transfer partners is Aeroplan, which is Air Canada's spun off frequent flyer program (at least until 2020). Typically points transfer instantly at a 1:1 ratio. I transfer Aeroplan points to American Express all the time for premium cabin Star Alliance award tickets.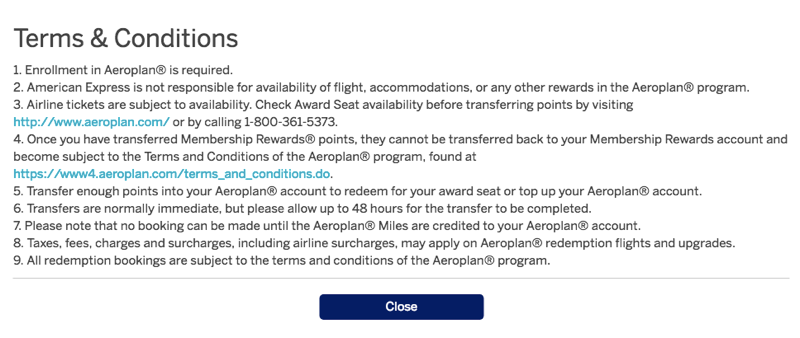 For example, you can redeem 70,000 miles for a one-way first class ticket between the US and Europe on Lufthansa, though there are carrier imposed surcharges. Otherwise you can redeem 110,000 miles for a roundtrip business class ticket from the US to Europe with two stopovers, which is also a great deal. If you choose your airlines carefully, you can avoid carrier imposed surcharges altogether.
If you're considering transferring Amex points to Aeroplan, it's worth noting that at the moment there are issues with Amex points converting into Aeroplan miles. The issue has been going on for at least a couple of days, and I'm told they're working on fixing it, but don't yet have an estimate of when it will be fixed. However, they're hoping things are back to normal in the next few days.
Unfortunately the issue isn't terribly obvious, which is to say there are no warning signs during the transfer process. Instead when you transfer points from Amex to Aeroplan they may be deducted, but won't instantly show up in your Aeroplan account, as they usually would. In other instances, they're just not being deducted from Amex accounts, and nothing happens at all.
I'll update this post as soon as things are fixed. In the meantime, I wouldn't recommend trying one of these transfers.
Has anyone tried to transfer points from Amex to Aeroplan in the past few days and had issues?