A few months ago American announced they would start service to both Hong Kong and Shanghai out of Dallas/Ft. Worth next year.The Shanghai flight will be American's third daily service (the other two being out of Chicago and Los Angeles), while the Hong Kong service is the most exciting, since it's a new destination for American, and provides for easy connections to their OneWorld alliance partner, Cathay Pacific.
While American and Cathay Pacific have long codeshared on flights to Hong Kong, there's no doubt there's a huge benefit to American flyers in being able to fly on American "metal," since Cathay Pacific flights can't be upgraded.
The icing on the cake on the new Dallas/Ft. Worth to Hong Kong route is that it will be operated by one of American's 777-300ERs, featuring their new fully flat first and business class products.
This makes Hong Kong the third foreign city to get 777-300ER service, after London and Sao Paulo.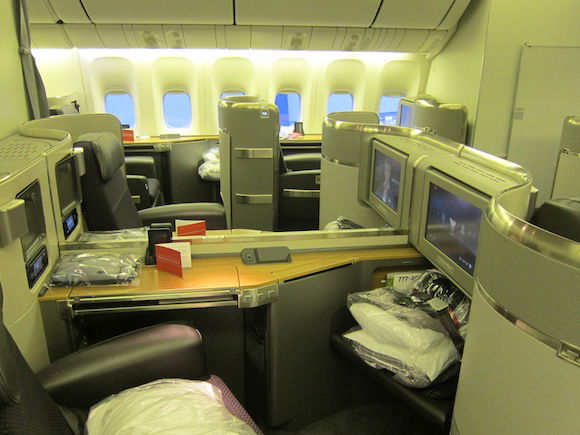 American's new 777-300ER first class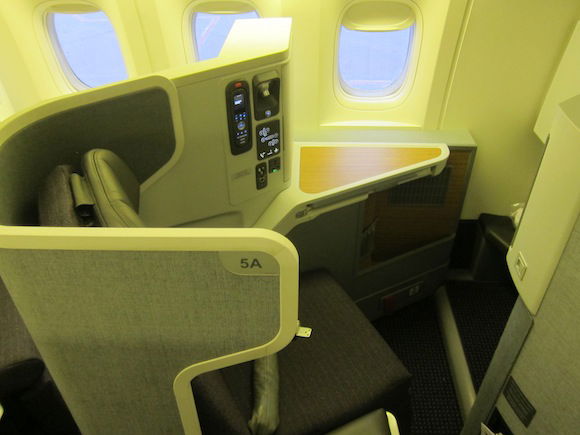 American's new 777-300ER business class
Anyway, while the route was announced a couple of months back, you haven't been able to purchase tickets until today. As a reminder, the route is scheduled as follows:
AA137 Dallas 12:15PM arriving Hong Kong 6:05PM (+1 day)
AA138 Hong Kong 1:30PM arriving Dallas 4:00PM
At 16hr50min westbound and 15hr30min eastbound, this will be American's longest flight.
Now that the flights are loaded into the system, unfortunately it looks like American hasn't loaded any saver first or business class award space on the flight, nor have they loaded any confirmable first or business class upgrade space.
I guess this isn't really surprising given that they're putting the new product on the route and hoping to sell the premium cabin seats, which is the only way this route will be viable given the distance and expense of an ultra long-haul route like this. I suspect we'll see award and upgrade space at some point, but it may be a while.
However, there's one aspect to award space on the new flight to Hong Kong that is really interesting, and that's the "AAnytime" award rates for the flight.
"AAnytime" awards are standard awards that are ordinarily double the cost of a saver award, and as long as there's still a seat left in that cabin on a flight, and AAnytime award should be available.
Between the US and Asia a one-way typically requires 70,000 miles for economy class, 110,000 miles for business class, and 135,000 miles for first class — in all cases exactly double the saver award rate.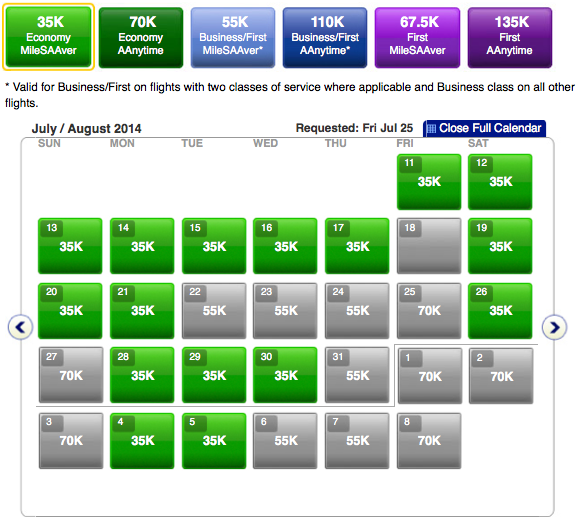 However, for the new route between Dallas and Hong Kong, the standard award rates are coming up much higher.
The displayed one-way award rates are 85,000 miles for economy class, 175,000 miles for business class, and 195,000 miles for first class.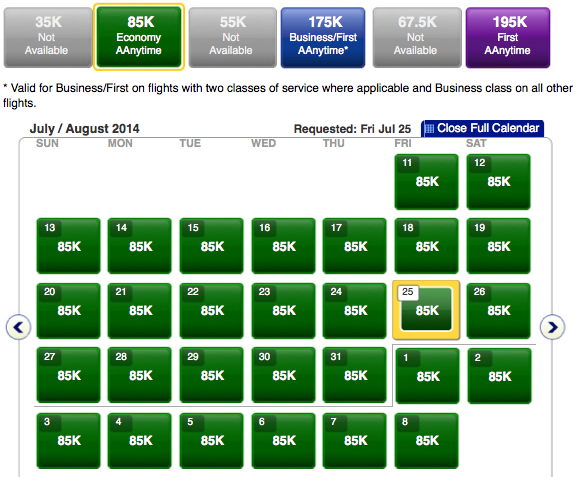 Those rates are 15,000 miles (~21% increase), 65,000 miles (~59% increase), and 60,000 miles (~45% increase) more expensive one-way in economy, business, and first class, respectively.
What are the possible explanations for this?
American is simply charging more for standard awards on this route.

Admittedly this will probably be American's most premium route, so in theory I suppose they could just be charging more miles for last seat availability on this flight.
American is typically pretty consistent though, so this would kind of surprise me, to be honest.
It's a computer glitch.

I mean, I suppose that's possible…
This is a sign of a devaluation to come, and American accidentally "leaked" new rates while loading this flight.

If this is the case, there are a couple of possible explanations.
It could be that American will just be raising standard award costs in the future, as we've seen several airlines do lately. It's a LOT more unprofitable for airlines to give up their last seat (which has a high chance of being paid for) to a mileage passenger than releasing a bunch of cheap saver award space for seats that would otherwise go out empty.
Otherwise it could be that the ratio of standard to saver award costs remains the same, and we may see American raise saver award costs to half of the new standard award costs
This could mean American's new saver award rates would be 42,500 miles for economy class, 87,500 miles for business class, and 97,500 miles for first class, one-way.
So those are my guesses – what do you guys think?
Update: It appears as if American is actually just making Hong Kong yet another region. While standard awards to China and Japan price at double the cost of saver awards, standard awards to Korea already price at substantially more, per American's award chart. So it looks like this is just an extension of that, and they're increasing the premium for a standard award further.
(Tip of the hat to Albert)