On a vast majority of flights in the US nowadays you'll hear an announcement in the gate area that they're "expecting a completely full flight, and won't be able to accommodate all carry-on bags." Gate agents will often announce that they're happy to gate check bags to your final destination as a courtesy, as if they're doing you a favor.
In many ways this is a beast that US airlines have created. Since they've been charging for checked bags, it has become increasingly common for people to carry-on more and more, in order to avoid extra fees. With the introduction of basic economy, which doesn't include a free carry-on for American and United passengers, the claim is that overhead bin crowding will be less of an issue. That certainly hasn't been the case on any flights I've taken so far
The good news at least is that there has been some innovation when it comes to overhead bins. Several companies are producing larger overhead bins that allow passengers to stack bags differently to maximize capacity.
American Airlines has announced that they've chosen Airbus to provide cabin upgrades to their fleet of 202 Airbus A321 aircraft. As part of this retrofit, American's A321s will be getting Airbus XL overhead bins, which supposedly provide a 40% increase in storage space for carry-on bags. This increased storage is because bags can be stacked sideways next to one another. This is the largest retrofit in Airbus' history.

The Airbus XL overhead bins that American is getting
The head of Services by Airbus has the following to say about these retrofits:
"Thanks to this Airbus cabin retrofit, passengers on American Airlines' A321s will be able to board faster and will enjoy an overall improved travel experience. This is exactly the type of added-value that our services can bring to airlines. This contract is a major step for Airbus into the US services market, and we are grateful to American Airlines for their trust in our expertise."
The claim is that this will also cause American to standardize their seat counts and interiors across the A321 fleet, to provide a more consistent travel experience. However, it's my understanding that American still won't be adding power ports to their ex-US Airways A321s, which is a bloody shame.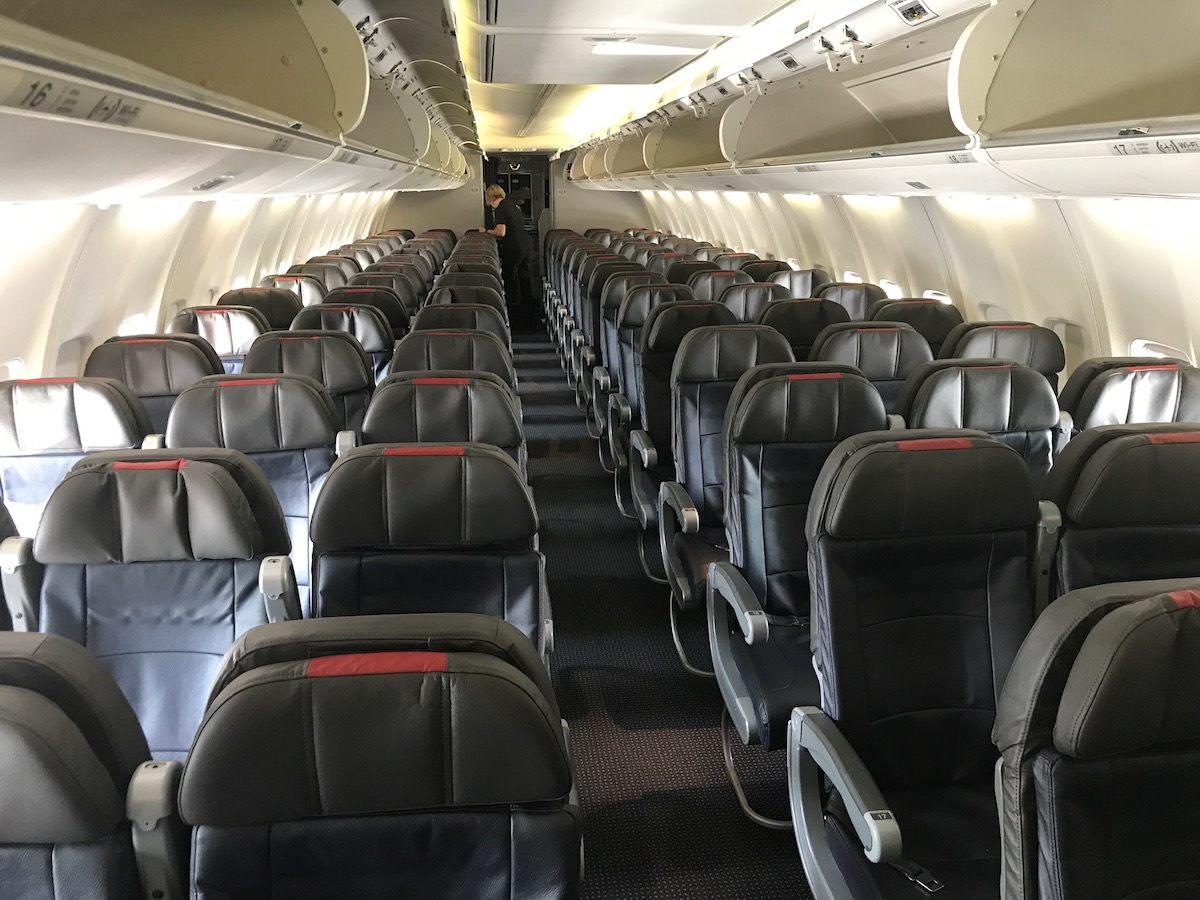 American's current Airbus narrowbody overhead bins
I've been on a fair number of flights lately with these larger overhead bins (including some recent flights on Delta A319s), though on every single one of those flights they still asked passengers to gate check bags. Why?
Passengers don't realize these bins are different, so place bags in the same way they did before, which eliminates any benefit of these bins
Flight attendants at US carriers are trained not to help passengers with their bags in order to avoid injury, and as a result they don't do much to help ensure the efficient use of overhead bins
Flight attendants at US carriers are so focused on closing the door on-time that they often don't actually care if there's still overhead bin space, as it's easier for them to just tell people to gate check bags
I'll be curious to see how much of a reduction we see in gate checked bags once American gets these new bins.
If you've been on flights with these larger overhead bins, did you notice a huge reduction in terms of the number of bags that needed to be gate checked?