Several weeks ago American Airlines was in the news for forcing a passenger to cover up on a flight. There were accusations of body shaming and racism, as many suggested a less curvy white woman wouldn't have faced the same scrutiny.
Now American Airlines is getting media attention for allegedly asking a passenger to take off her clothes in front of other passengers — but is there any merit to it?
In this case it involves a celebrity. Aubrey O'Day is an American singer-songwriter (apparently — to be honest I hadn't heard of her before this story), and she is throwing quite some accusations at American Airlines.
Did American Airlines Force A Passenger To Undress?
Yesterday evening O'Day Tweeted at American, claiming that a flight attendant made her undress in front of the entire plane because he didn't like her shirt, and made her turn it inside out in order to fly (I'll just quote the content of the Tweets but won't link to them, since I don't think it's cool that she included the flight attendant's name):
never have I flown & had the steward treat me like a punished lil child in timeout the entire flight.. including making me undress in front of the entire plane because he didn't like my shirt & made me turn inside out in order to fly.
@AmericanAir
[name of flight attendant] NEEDS TO BE FIRED.
When fans responded supporting her, she expressed her shock, saying she "had" to have her breasts in a bra out in front of "everyone" around her in order to not get kicked off:
yeah. I was SHOCKED. I literally had to have my breasts in a bra out in front of everyone around me in order to not get kicked off. The girl next to me held up her blanket cuz she felt bad.
When American Airlines asked her to share details about the incident, she said she had no interest in dealing with them:
I gave you his name. I literally have no interest in dealing with your airline any further. I'm that offended and disturbed. I wish I took @JetBlue
When someone on Twitter calls the flight attendant a sick perv, she says she doesn't think he was a pervert, but rather that he just hated her:
I didn't get pervert vibes. I got someone that I feel genuinely hated me. he wasn't kind. and I don't believe his feelings were handled correctly.
There are a couple of things that stood out to me when I first saw the Tweets:
What did the shirt say? Several people asked her what the shirt said, but she refused to address it.
Was she actually forced to take off her shirt in front of everyone, or was she just told she needed to change, and she decided to do it in front of everyone?
What Other Passengers Say
Not that TMZ is the world's most reliable source, though according to them, other passengers have a different story:
O'Day was wearing a black shirt with bold letters across the front that had the "F" word on it, uncensored
When the flight attendant asked her to change the shirt, she complained and said she was going to post about it on social media
O'Day claimed she didn't have another shirt, so she was then told she'd have to turn the shirt inside out if she wanted to fly
She could have gone to the bathroom, but chose to do so at her seat
I can't personally vouch for any of the above, though I would imagine at least some of those points are accurate.
A Clue As To Her Shirt?
I do think it's interesting to note that O'Day has posted a picture on Instagram of her wearing a "F*** TRUMP" t-shirt. She posted it with the caption "Make America Gag Again #MAGA" (you know, a campaign slogan we can all get behind!).
That shirt was also black and had bold lettering. So it sounds like that could have been the shirt, or maybe it was another one.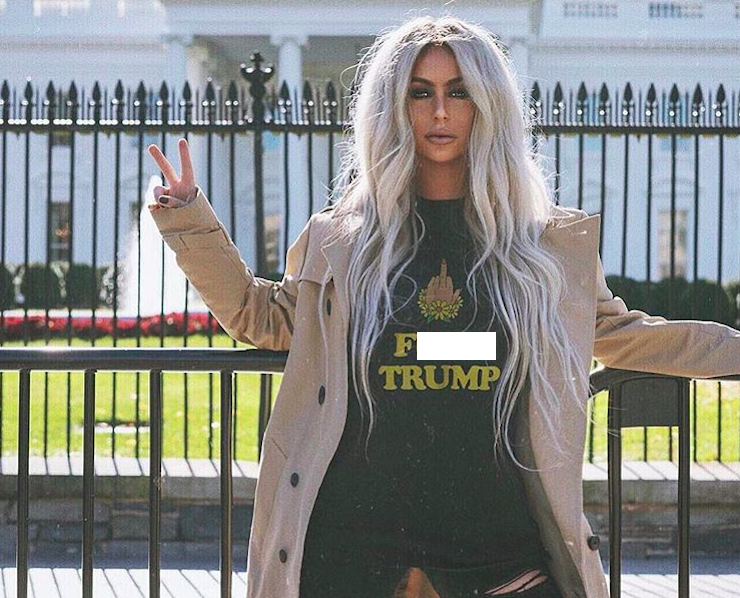 What's American Airlines' Dress Code?
American Airlines has a pretty simple dress code. They say:
Dress appropriately; bare feet or offensive clothing aren't allowed.
If she was in fact wearing a shirt that had the "F" word written on it, I would agree that's offensive, and she should have been asked to change.
Bottom Line
We don't know all the details here yet. O'Day is making some really bold accusations, but isn't forthcoming with the details, and one would assume there might be a reason for that.
It seems likely that she was wearing a shirt violating American's policy against "offensive" clothing, given reports from other passengers saying she was wearing a shirt with the "F" word on it (whether the shirt had anything to do with Trump or not is something I'm not sure of).
Unless the flight attendant was a complete perv (which O'Day herself admits she doesn't think he was), I can't imagine she was asked to change in front of the cabin. I imagine they asked her to change, and she just decided to do it at her seat.
If any passengers were on the flight and have more information, please let us know.