Last October I first wrote about how American has realigned their fare codes for domestic flights. With these changes, the forward cabin on two-cabin American Airlines flights are continuing to be marketed as first class, though the fare classes used for them are now aligned with business class.
With these changes:
The "F" booking class (full fare first class) changed to the "J" booking class
The "A" booking class (discounted first class) changed to the "D" booking class
The "P" booking class (discounted first class) changed to the "I" booking class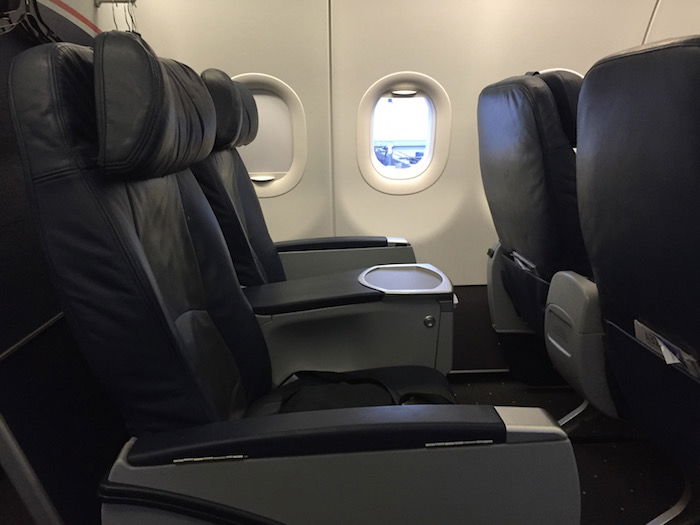 In practice there weren't supposed to be many implications of these changes for AAdvantage members. However, for those earning or redeeming partner miles, this meant there would be a few changes. For example, British Airways Executive Club members can now redeem fewer Avios for domestic flights in American first class (since they just have to pay the business class price), while they also earn fewer Avios for paid travel in American domestic first class (since they only earn based on business class rather than first class).
However, there's one very big implication for AAdvantage members as well, which has been implemented much more quietly.
American used to be extremely generous with confirmable upgrades
American was by far the most generous airline when it came to confirmable domestic upgrades. If you wanted to redeem miles or systemwide upgrades for an upgrade to first class on a domestic flight, you could almost always confirm that at the time of booking. That's because the fare class American used for upgrades was the same as their discounted first class fare class.
They used the "A" fare class to confirm upgrades, and on most flights there would be "A" fares available.
So getting a confirmed upgrade on a domestic American flight was a near guarantee, whether an elite or non-elite member. Well, that's not the case anymore.
American domestic upgrades are now tougher to confirm
Now that domestic first class is sold with business class fare codes, they've changed the fare codes they use for upgrades. This change didn't just happen, but rather was implemented a few weeks back.
There now needs to be "C" class inventory to confirm an upgrade on a domestic American flight. This is the same inventory American uses for confirmable upgrades on international flights, and as any frequent American flyer will know, confirmable upgrades to business class on international flights are very tough to come by.

Even looking months in advance, there are many routes where there's not a single flight with confirmable domestic upgrade availability anymore, even when searching for weeks at a time. In the past if you looked weeks in advance virtually every single flight would have upgrade availability, while now the opposite is true.
The easiest way to search for "C" space is through ExpertFlyer. If you're not a member but you're an Executive Platinum member, log into your account and then search for a flight. If you see "Systemwide Upgrade" written under the flight you're searching, that means there's confirmable space. Otherwise there isn't.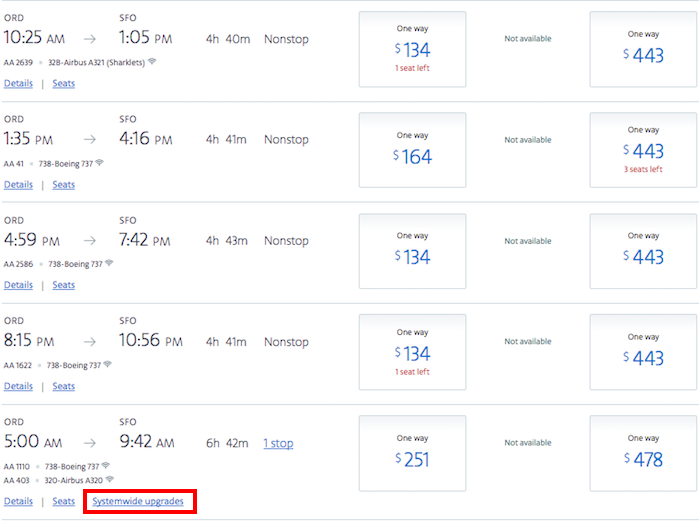 Bottom line
While this change kicked in a few weeks back, it certainly has a big impact for anyone looking to confirm an upgrade on a domestic American flight in advance. Regardless of whether you're using miles or a systemwide upgrade, expect you'll have to go out of your way to find confirmable domestic upgrade space, while previously it was a given. This is especially true on hub-to-hub routes.
Perhaps the one slight silver lining for elite members is that fewer non-elites will be able to use miles to upgrade, leaving more seats for elite upgrades. However, something tells me that the difference will be negligible.
Have you been impacted by American's lack of confirmed domestic upgrade space?