Nowadays it's not often I complain to an airline or hotel. Best I can remember, it's been at least a couple of years since I've sent a formal email complaint.
The last time I emailed American customer relations
American is my primary airline, and I do everything I can to compliment employees (whether it's by emailing customer relations, mentioning flight attendants on Twitter, or giving out "job well done" certificates), because I'd rather be focused on positive reinforcement.
I wrote on the blog about the last time I contacted American customer relations, which was last May after I had a great flight on American, and wanted to compliment the crew.
American customer relations does a great job in responding to Executive Platinum members quickly. Last time they responded to my email within 12 minutes. Unfortunately the response completely missed the mark, and didn't even coherently acknowledge what I was saying. It's frustrating when you can't even praise an airline employee without feeling like you're being misunderstood, and is a sad reflection of the airline's "premium" customer response team.
My most recent interaction with American customer relations
I emailed customer relations for the second time in a year yesterday (the previous exchange being the compliment I sent last year), and for the first time in years to complain.
I was flying American's A321 business class from New York to Los Angeles on Sunday night, and none of the power ports on the plane were working. This was extremely frustrating, as I had work I wanted to get done on the flight, though due to a mostly empty laptop and no power ports, I couldn't be productive.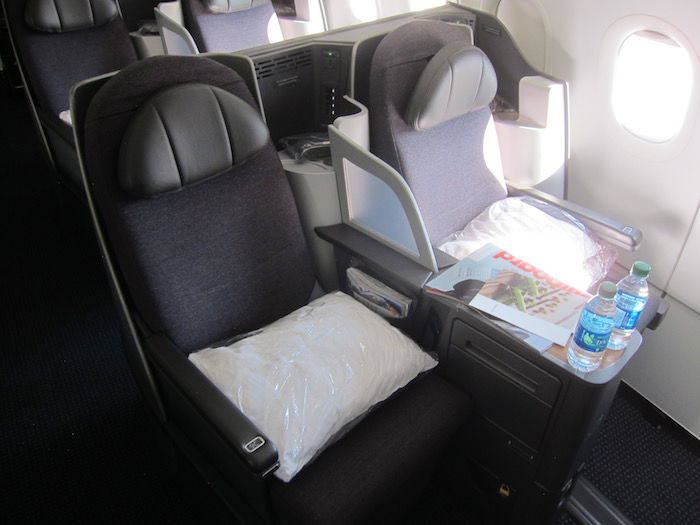 The crew said that the issue had already been written up on a previous flight and hadn't been fixed, which is what I find frustrating. To me the most basic amenities available on a plane are power ports and Wi-Fi, and on a transcon flight one is of limited use without the other.
Sure, if I'd known the flight wouldn't have had working power ports I would have come with a fully charged laptop. But American promises power ports on these flights, so my expectation was that I could charge my laptop onboard.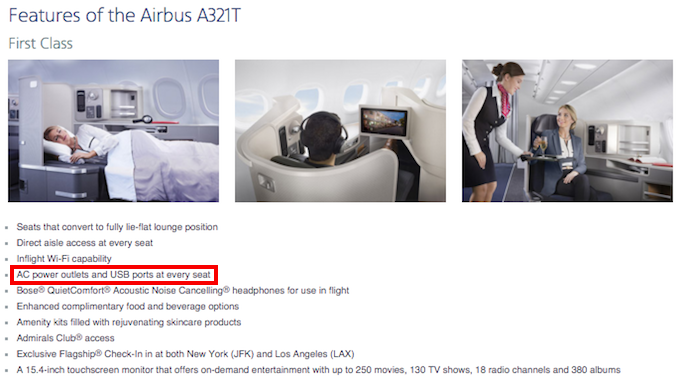 I sent American an email expressing my disappointment. I didn't even reference that the entertainment was glitchy and froze every few minutes (literally), or that the crew was extremely lazy. Because I generally find it makes sense to stick to the core, black-and-white issue. And that issue is that I wasn't able to work on a flight with a block time of 6.5 hours because they didn't have the power ports they promised available.
My point in the email was to say that the power ports on the entire plane were broken, which is terrible for a premium transcontinental flight. Furthermore, I explained that the power issue had been written up on a previous flight, and nothing was done about it.
The response from American
I received an email response 19 minutes after I submitted my complaint. That's insanely fast.
Unfortunately the only thing impressive was the response time, because just like last time, the response didn't address my issue:
Thank you for your interest in American Airlines, more specifically, the use of powerports during flight.

We are sorry to hear that there was no power to the power port when you plugged in. Each set of outlets in a row can provide up to 225 watts of power, combined, with a maximum of 150 watts per plug. If one device is pulling its maximum allotment, this leaves only 75 watts for the second plug, meaning there are times where there may not be enough power to run 2 devices. Regardless of the reason why there was no power, we are sorry that you were inconvenienced.

While we can understand your concern about the cabin deficiencies you brought up, we assure you our commitment to safety is absolute. No aircraft is ever permitted to leave the gate with any safety-related item that hasn't been repaired. There is no relationship between the reliability of customer service items, and the trustworthiness of the safety features of our aircraft.

Naturally you should expect a properly functioning aircraft seat whenever you travel with us. With that in mind and as a gesture of goodwill we've credited your AAdvantage® account with bonus miles. We hope you will give us another opportunity soon to demonstrate our ability to make your trip as enjoyable as possible.

We'll continue to provide updates as American brings you more technology options so that you can be more productive or more entertained during your flight. For more information, please visit www.aa.com/powerports.

Thank you for bringing this to our attention. We hope to have the opportunity to welcome you aboard again soon.
I was explicit that the power ports were broken on the entire plane. But they clearly didn't bother reading it:
They suggest that the issue may have been that other people in my row were using power ports
Instead of acknowledging the issue and saying that they'll make sure that the plane's power ports are fixed, they say that safety is their top priority, and that I can check American's website for more information on power ports
The "gesture of goodwill" they offered me was 2,500 AAdvantage miles. I would have been fine if they offered nothing, if they actually bothered responding to my email in a coherent way.
I responded with the following (strongly worded) email:
I appreciate the quick response, though am frustrated by the lack of comprehension of my very basic issue. I don't provide feedback to American often, and when I do, it's typically to compliment an employee.

This is the second time in a row I've emailed American where I feel like someone is responding to a different email than the one I sent (the last one, ironically, was to compliment a great flight attendant I had, something which seems easy enough to acknowledge).

The email I sent specifically referenced that power was out for the entire plane. It had nothing to do with my plug. It had nothing to do with the limit of watts per row. It just wasn't working for the entire plane, and the purser acknowledged it had been written up previously, and clearly nothing was done to fix it.

What value is there in responding to emails within 20 minutes if they don't address the actual issue? The response I receive certainly doesn't make me feel like my frustration for not being able to work for six hours is understood, or the importance of American delivering on their promises (you reference aa.com/powerports, which explicitly says there should have been power available on the flight).
Unsurprisingly, I didn't get a response time of 19 minutes to the above email, and for that matter haven't yet heard back.
Bottom line
While a small sample size, having my only two interactions with American customer relations over the past year be this incompetent leaves a bad taste in my mouth. Is it that tough for them to acknowledge a very basic issue and pledge that they'll get it fixed?
If this is how they respond to Executive Platinum members, I can't imagine how non-elite members are treated.
What has been your experience with American customer relations? Am I off base in my frustration?