American has just unveiled their latest global ad campaign, which comes with a new tagline — World's Greatest Flyers. Here's how American explains the concept behind the new campaign:
American Airlines' new ad campaign celebrates people from all walks of life – our customers and employees – traveling on American.

As the world's largest airline, with the best network, youngest fleet and competitive product, we need to focus on the people and the experiences we serve them to set us apart from the competition. American's customers and employees all impact the travel experience. We're celebrating the ways they elevate themselves from good to great flyers.

We developed this campaign from the inside out, listening to our employees and customers to discover what sets us apart. Our goal is to be the greatest airline in the world, by being the airline employees want to work for, customers want to fly and where investors want to put their money.
As a reminder, American's previous tagline was Going For Great. Perhaps they gave up on that goal, and realized that wasn't actually happening. Similarly, Qatar Airways recently changed their tagline from The World's 5-Star Airline to Going Places Together, perhaps also reflective of the direction the airline is headed. 😉
In all honesty, I find American's new ad campaign a bit ambiguous, which is perhaps the intent. "The World's Greatest Flyers" tagline is supposed to apply to their customers and employees, though I find the concept of that as an ad campaign to be a bit ridiculous. It's one thing to claim your employees are the best (which American can't do with a straight face), but to claim that the world's best flyers fly with your airline? Hmmm…
Given how much people share their flying experiences on social media, American wants people to use the hashtag #GreatestFlyers when sharing their small travel victories. Maybe it's just me, but Tweeting something with #GreatestFlyers feels very… not modest.
American will be taking out print ads, including the below one, which is visually stunning: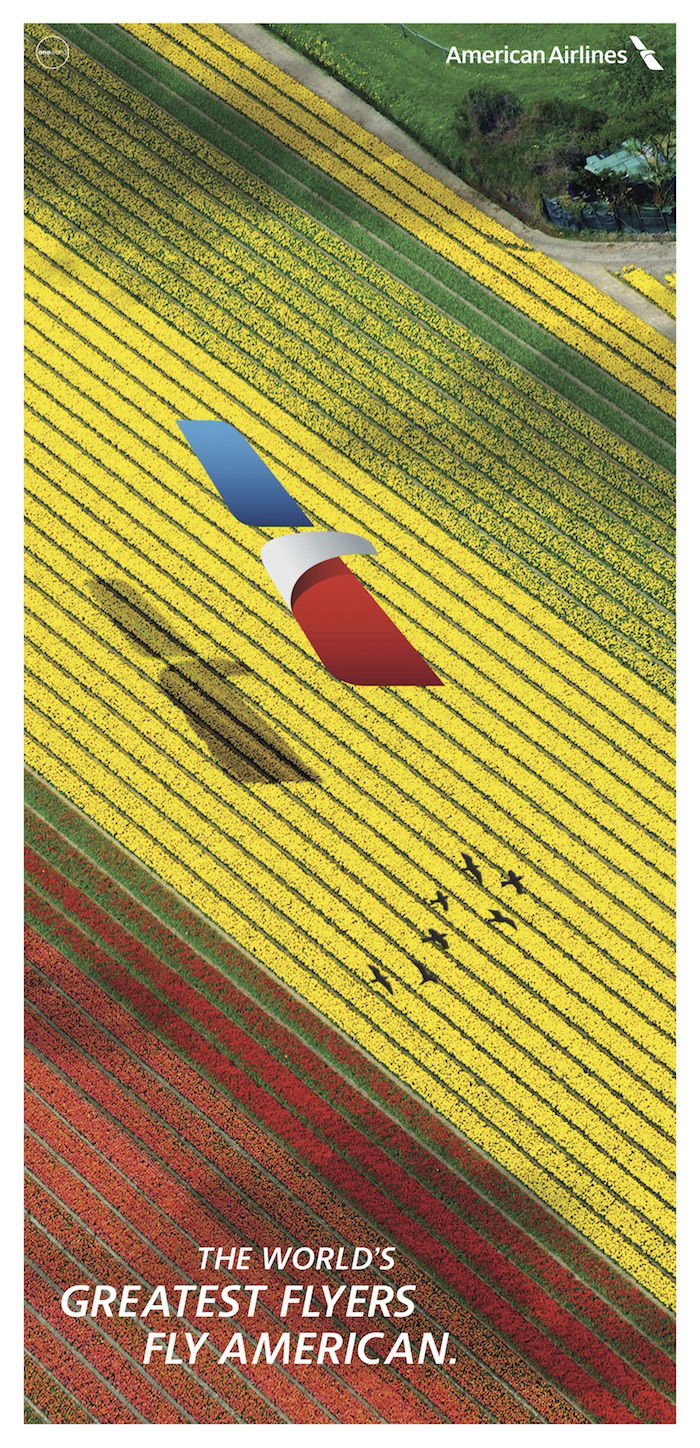 On the other end of the spectrum they also have exhaustingly detailed print ads, about the traits of the world's best flyers: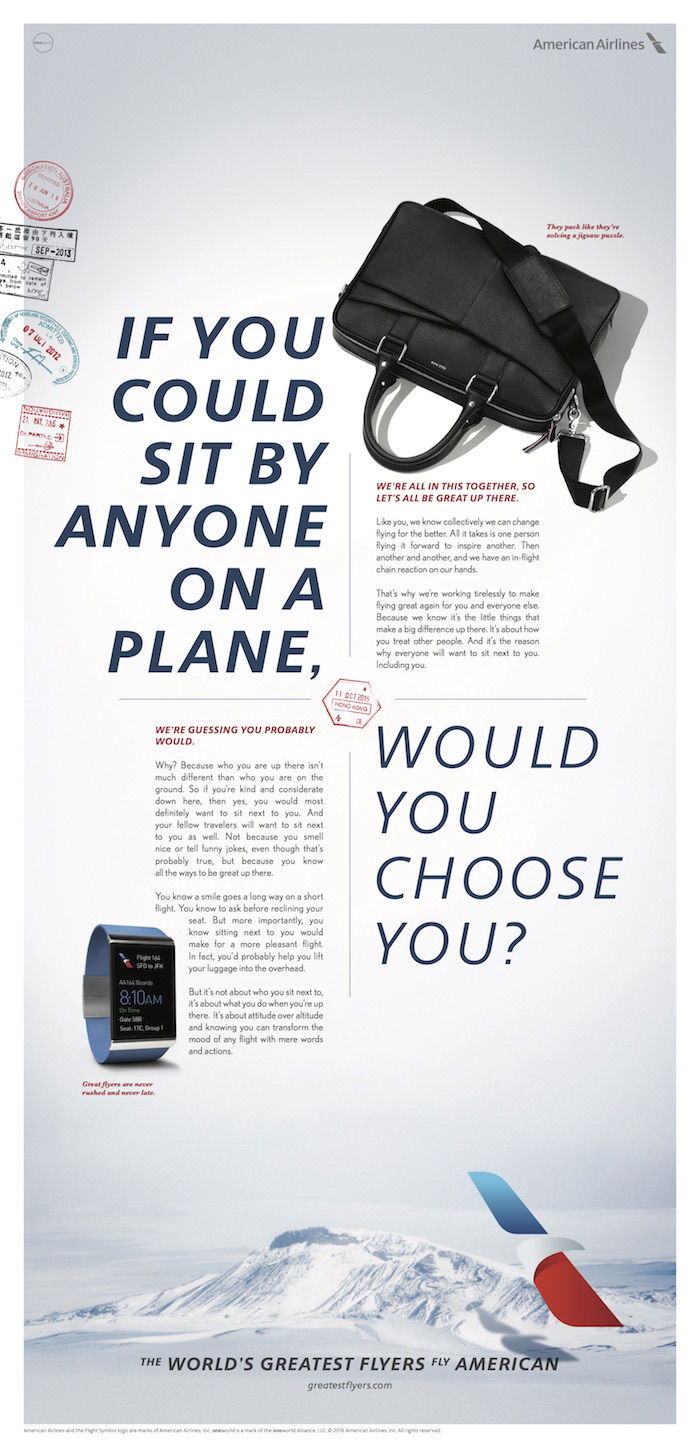 American is also doing some video ads, including the following:
https://www.youtube.com/watch?v=Duris_3coHU
Personally I love the visuals of these ads, but I just have a hard time connecting with the message of the ad as such.
Bottom line
I don't envy working in the marketing department of one of the US legacy airlines. Most people really don't like the US legacy carriers, but fly them out of necessity. So marketing a US legacy airline is almost like marketing the DMV or the IRS. Do I want the Internal Revenue Service's services? Not really, but what's the alternative? 😉
"Going For Great" was highly aspirational, and sort of cringeworthy, so I'm happy to see they dumped that. At the same time, "World's Greatest Flyers" seems pretentious, both as far as their customers and employees go.
If I were in charge of American's new ad campaign, I'd focus on their top-notch premium cabin hard products (at least on some planes), global route network, that they're the largest airline in the world, and perhaps even their history as a pioneer in aviation. But I'm not sure how this new ad campaign tells me why I should fly American.
What do you make of American's new "World's Greatest Flyers" ad campaign?