Reader Coloradomom asked the following question in the "Ask Lucky" forum:
I recently made AA EXP status and now have systemwide upgrades to use. I'd like to book an economy ticket to London for the middle of November and wondered which gateway would offer the best chance of an upgrade clearing. The AA system shows that confirmed upgrades are not available on any of the flights I researched, but I could waitlist for my chosen flight. I know DFW is difficult for systemwide upgrades because of all the EXP's flying out of there. How about CLT or PHL? AA flies the 333 to LHR from both of those airports and that would be a nice upgrade. I live close to ORD, but am not sure what kind of business product runs out of ORD to LHR. Any advice you, Ben, or your readers can give this new EXP would be greatly appreciated!
One of my favorite perks of being an Executive Platinum member are the eight systemwide upgrades you receive for achieving the status each year (and if you over-qualify, you may receive even more). They can be used to upgrade any revenue ticket by one class of service, pending upgrade space.
Up until now I've yet to ever miss an international upgrade, though it looks like my luck might soon change.
With that in mind, London is American's largest international gateway, so which route are you best off booking if you're looking to score an upgrade? Here are my thoughts along with "bigger picture" ways to maximize your upgrade odds:
Pick your day of the week carefully
As a general rule of thumb, mid-week upgrades are going to be easiest for transatlantic flights. Why?
If you're a leisure traveler, you probably want to minimize the number of days you have to take off of work, so want to utilize weekends as much as possible (making travel on Fridays, Saturdays, and Sundays most popular)
If you're a business traveler crossing the pond for the week, you're not likely travel on Tuesdays or Wednesdays, since you likely need a few days to take care of whatever you crossed the ocean to do
Of course there are plenty of exceptions, but in general you'll have the best odds at a transatlantic upgrade mid-week (the same is true for flights to/from Asia).
Analyze the seatmap
Ideally you'll use ExpertFlyer to check the loads on a given flight, and see how many seats are still for sale. Of course you want as many seats for sale as possible. The issue is that there are limits to how much inventory will show. American shows at most seven seats per fare class, so if a flight is "J7D7I7," that's good news (it means there are at least seven business class seats available in all three business class fare buckets). That being said, it doesn't tell you whether the cabin is 8% full or 80% full.
So that's why the seatmap is a good backup indicator. It's not a 100% accurate indicator of availability, but it's the best shot we have.
In general you'll want to pick a flight with:
The fewest number of business class seats taken on the seatmap (hopefully there's some correlation between that and the number of available seats)
The fewest number of "premium" economy seats taken on the seatmap (the assumption is that elite members are most likely to be on the upgrade list, and they're most likely to select seats in the exit row, Main Cabin Extra, etc.)
I don't really care how full the rest of the economy cabin is, since as an Executive Platinum you'd be prioritized ahead of non-elites for the upgrade.
For example, I'd do everything I could to avoid a seatmap like this, where all the premium seats in economy are taken: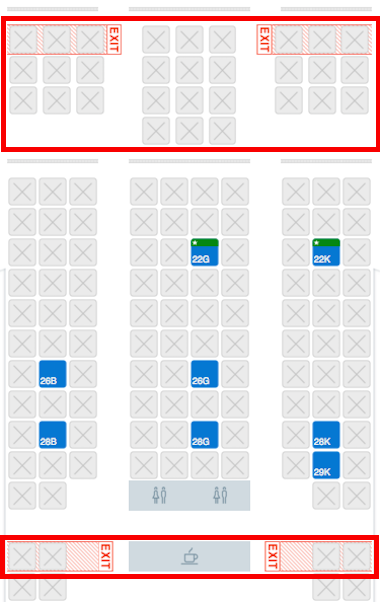 And would rather go with a seatmap like this, which still doesn't look great, but certainly looks better: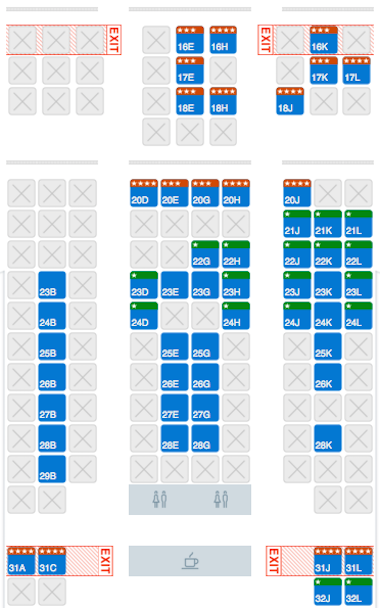 Which London routes are the easiest upgrades?
To get to the actual question, which routes give you the best odds at an upgrade to London?
As a general rule of thumb, the toughest upgrades are going to be on Dallas to London and Los Angeles to London. Those are two of American's most lucrative routes, and they frequently sell a lot of the premium seats on those flights.
So which routes are easiest?
Raleigh to London, which is typically operated by 767s with American's new staggered business class
Chicago to London, though that's operated mostly by 777s with the old business class product, so I'd try to avoid it
Charlotte/Philadelphia to London, which is operated by US Airways' A330s, featuring reverse herringbone seats
New York to London, which is operated almost exclusively by 777-300ERs featuring American's excellent reverse herringbone seats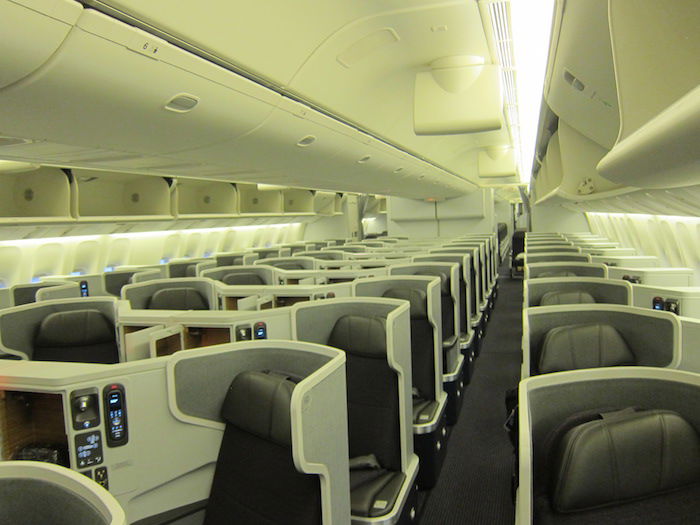 American 777-300ER business class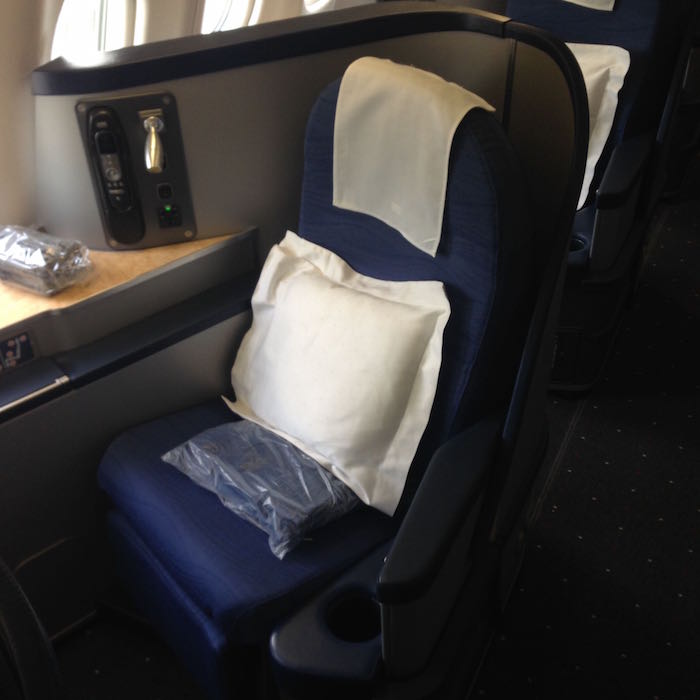 US Airways A330 business class
Miami to London can be an easy upgrade, though it's far from a guarantee, given the number of premium travelers connecting from Latin America flights.
So while it might sound counter-intuitive, I think New York to London is often one of the best routes routes to upgrade. If you get the upgrade, it's a fantastic business class product. And upgrades are fairly easy, since British Airways has so many frequencies in the market and is part of American's joint venture, and many people prefer flying with them (for whatever reason).
That being said, the issue is that there are limited domestic connections from JFK, as most flights from Chicago fly into EWR and LGA. With that in mind, flying on a US Airways flight through Philadelphia or Charlotte might be a better bet.
Bottom line
Avoid Dallas or Los Angeles to London. Chicago to London should be a fairly easy upgrade, but American primarily flies 777s featuring the old product on that route. Charlotte, Philadelphia, or New York to London is probably your best bet. Otherwise, American has one 767 between Chicago and London every day, which should feature the new product, and isn't a bad option.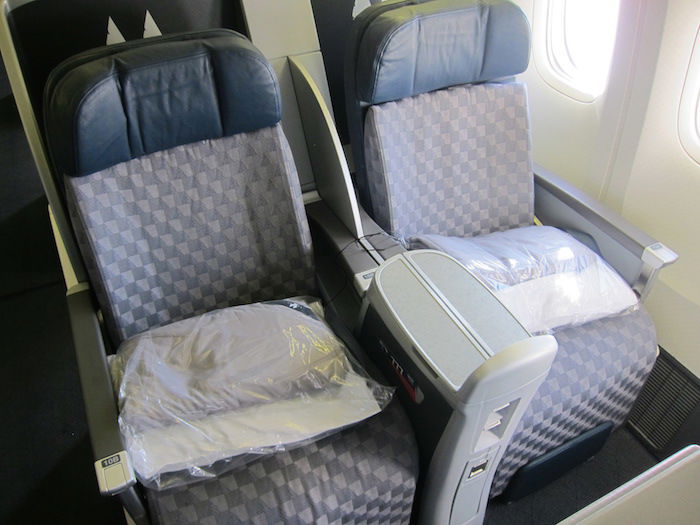 American's old 777 business class
What has been your experience with upgrading American flights to London?