No, that's not a typo. Yesterday Azriel "Al" Blackman celebrated 75 years of service with American Airlines. Al is an aviation maintenance technician, and there was a ceremony to commemorate him, for which Doug Parker, American's CEO, was in attendance. At the ceremony they dedicated a 777 in his honor — how cool! On top of that, Al was presented with a Guinness World Record for having the longest career as an airline mechanic. And is if that's not cool enough, he was then taken on a joyride above New York on "his" 777.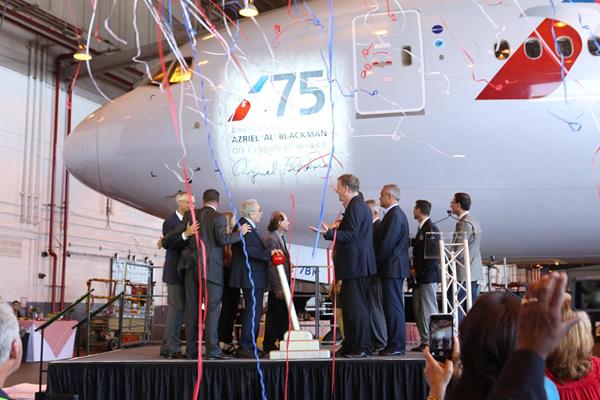 When Blackman was just 16 years old he graduated from Aviation High School in Manhattan and took a job with American Airlines (American Export Airlines at the time) as an apprentice in the Sheet Metal Shop for $.50 an hour. During his 75 years with American Blackman has worked on some of aviation's most fascinating aircraft. Although his shift technically starts at 5 a.m. Blackman arrives at the hangar just before 3 a.m. most days.

"When I first started as a junior mechanic Al was my crew chief and he was celebrating his 45th anniversary. I thought to myself, '45 years with one company. That's amazing,'" commented Robert Needham, senior manager Aircraft Line Maintenance, JFK. "Here we are celebrating his 75th, 30 years later, and it's just mind-blowing."

"When you like what you do, it's not work," commented Blackman.
It's clear Al has a real passion for what he does, and it seems like he works because he enjoys it, and not because he has to.
Here's a local Fox5 segment about yesterday's celebration, where he explains he'll keep coming to work every day (apparently two hours early, just because) for as long as he's physically able to:
Al, you're my hero! I can only dream of being alive at 91, let alone being a tenth as awesome as you are.