Earlier I shared how I have started filling out the post-flight surveys that airlines sometimes send out. On one hand I hate wasting my time filling out a survey that just contributes to a statistic. At the same time, it's clear that airlines really care about their survey scores (I've heard airlines justify some absurd things based on them), so maybe one small way I can contribute towards an improved experience is to tell airlines when I don't think they're doing a great job.
I wrote about the survey that I filled out yesterday after a paid first class transcon flight. I didn't even think it was an especially bad flight. It was just your run of the mill American Airlines flight. The flight was operated by an ex-US Airways plane without power ports. The flight attendant did his job efficiently, but wasn't particularly friendly. So I certainly wouldn't have complained, and I'd actually say the service he provided was pretty average for American. But that still left me giving the following survey results: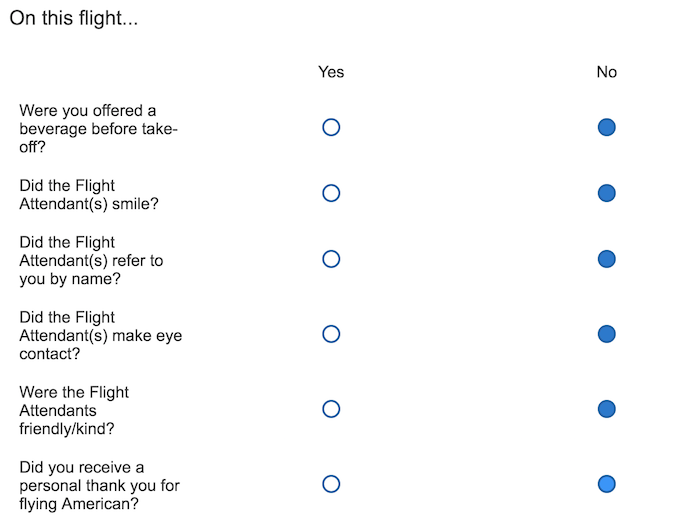 There's an interesting follow-up to this. Today, less than 24 hours after filling out the survey, I got an email from American Airlines customer relations. Before anyone thinks this is special blogger treatment, several people reached out to tell me that when they filled out surveys in a negative way, they quickly heard from the airline. My guess is that they flag particularly positive or negative responses, and contact those customers.
Here's what they wrote to me:
Thank you for taking the time to complete our survey after you traveled with us on flight ___.

While we realize you are disappointed with us, we are glad you took the time to offer your comments about your recent travel experience. Our goal is to be the very best in the airline industry in terms of customer satisfaction and your constructive criticism will help us improve in the areas where we need to do so.

A good company, particularly one in the service industry, relies on customer feedback to be sure that it is focused on providing the very best product. Constructive criticism — such as you've expressed — helps us maintain that focus. As our way of saying "thank you" for taking the time to share your insight, we have added 5,000 Bonus miles to your AAdvantage® account.

Mr. Schlappig, please give us another chance to serve you.
Clearly there's a difference between my expectations and American's expectations. Maybe this is a useless distinction to make, but I wasn't really disappointed, per se. I find it ridiculous that American has transcon flights without power ports (especially in first class), but I knew that going in. I guess American has higher expectations of their own service than I do, because I wasn't expecting pre-departure beverages, to be addressed by name, or to be thanked for flying American. Quite to the contrary, I find it to be blog-worthy news when I'm on a flight where a crew member thanks everyone for flying with the airline.
The reason I find this interesting is because I think American's survey is a bit unrealistic. I reluctantly fly American because they best suit my needs in terms of their route network, and I'm already on their "hamster wheel." They have good premium international lounges, I like being a oneworld Emerald, I like being able to earn AAdvantage miles on their partner airlines, and I get upgrades a fair amount of the time. But I don't fly American because I think anything about their domestic experience (in economy or first class) is impressive.
But if I'm going to fill out a survey, I'll say that I don't like the lack of power ports, that I don't think American AAdvantage is a differentiator, as it used to be, and that I wouldn't necessarily recommend American Airlines to a friend. Why on earth would I, based on the flight they're asking me about?
I guess the moral of the story is twofold:
Filling out a survey may land you some miles (which wasn't my goal, for the record)
I'd love to see some more realistic questions on this survey; rather than asking "what are the chances you'd recommend American Airlines to a friend?" how about asking "what are the chances that you keep flying American Airlines, given that you don't really have that many options?"