American Airlines made a couple of updates to their boarding process as of yesterday, March 31, 2014.
Under the old boarding process, American boarded in the following order:
First class, uniformed military, and Executive Platinum members
Platinum and Gold members
Priority Access passengers
Passengers without overhead luggage
Boarding groups 2-4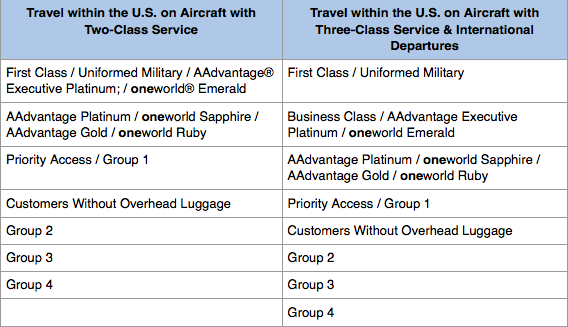 However, under their new boarding process, American is no longer boarding Executive Platinum members with first class. Instead they're boarding in the following order:
First class and uniformed military
Executive Platinum and Platinum members
Gold members
Priority Access passengers
Boarding groups 2-4
So not only do Executive Platinum members no longer board with first class, but it seems American also eliminated the boarding group for those without overhead luggage. They introduced this last year, so I guess it wasn't proving all that beneficial for them.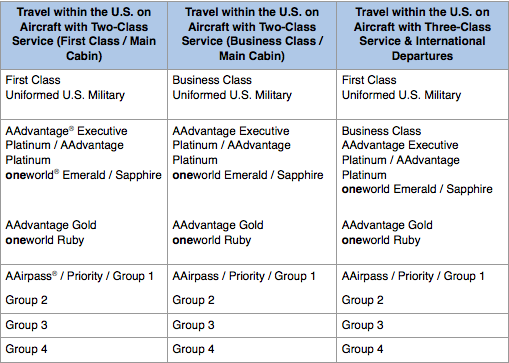 What's interesting is that they're not actually adopting US Airways' boarding process, as US Airways boards all elite members and first class at once. Their boarding process is as follows:
PreferredAccess

First/Business Class
Dividend Miles Preferred
American Airlines AAdvantage elite
oneworld Emerald and Sapphire members

Zone 1

Bulkhead seats
Exit row seats (without under-the-seat storage)

Zone 2

US Airways Premier World Mastercard® holders
US Airways® Visa Signature® card holders
ChoiceSeats
Exit row seats (with under-the-seat storage)

Zones 3 – 5

We board zones 3-5 back to front!
So color me puzzled. I found American was always amazing about taking care of top tier elite members, so I'm kind of surprised they would make this change, especially since it's not like they're "aligning" processes yet. With American, Executive Platinum members are the only elites to get unlimited complimentary domestic upgrades, so it was nice to at least be able to board with first class for the few times upgrades didn't clear.
On the plus side, American still takes great care of Executive Platinum members seated in the main cabin — you receive a free snack and drink, which takes quite a bit of the sting out of an upgrade not clearing.