I feel like this might be the latest source of controversy on planes, for all the wrong reasons.
American Airlines now allowing BLM uniform pins
American Airlines has announced internally that employees can wear Black Lives Matter (BLM) pins on their uniforms while on duty. Typically airlines have strict uniform standards, and pins can only be worn if explicitly approved by the company.
It's worth noting that American isn't the first airline to authorize these kinds of pins to be worn, as Delta Air Lines not only allows employees to wear BLM pins, but there are actually custom Delta BLM pins.
As Jill Surdek, American Airlines' SVP of Flight Services, said regarding this change:
"American is truly committed to having an inclusive culture that is welcoming to all and a reflection of our country and world. One symbolic way to show our support is through a uniform pin. We are working with our Black Professional Network on designing a specific pin that may be worn with the uniform. In the interim until this pin is produced, to recognize the significance of this moment in history, we are allowing people to wear a Black Lives Matter Pin."
It's worth noting that American Airlines also has approved pins for Christians, veterans, and LGBTQ groups.
The company clarifies that this isn't intended as a political cause, but rather as a universal cause about humanity and equality:
"Fundamentally, Black Lives Matter is an expression of equality. It doesn't mean other lives don't matter, rather that in our society black lives should matter and be valued the same as others. That's not political."
Some American Airlines staff are offended by this
The New York Post is reporting that this move has "irked" some of American's employees in New York, including those who have relatives who are cops. As one flight attendant said in an email to airline management:
"I take offense to this. Serious offense. My husband is a LEO (Law Enforcement Officer), as was my deceased father and as far as I'm concerned ALL LIVES MATTER. I am completely disgusted at the fact that we can't show support for our GOD, our COUNTRY, our LEOs but when it comes to BLM organization (which is controversial in itself), American Airlines says that's obviously different. And we can. How is that right? Well, I don't feel included."
Okay, so:
American Airlines has approved pins for Christian groups that employees can wear on their uniforms (so you can "show support for God"), and your airline is named after a country, so you're showing quite a bit of patriotism there, no?
This person doesn't seem to understand how "inclusion" works; it's not about making everyone feel catered to with every decision, but rather it's "the act or practice of including and accommodating people who have historically been excluded" (of course this person doesn't understand the concept, which is why they also don't understand BLM)
Nobody has ever questioned whether "all lives matter" (see the below)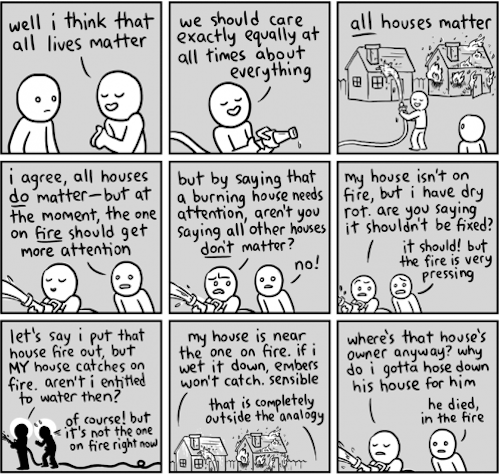 Another flight attendant claimed that those who refuse to wear this pin will "be ostracized and labeled as racist." He also described BLM as "a terrorist organization that promotes violence to further their agenda."
Based on what this guy is saying, I'm guessing that it won't be his lack of wearing a pin that gets him labeled as a racist…
If you're ready to boycott American Airlines…
I'm seeing people all over Twitter threaten to boycott American Airlines. Let's ignore the merits of the Black Lives Matter movement for a moment…
If you're triggered by the phrase BLM and are going to boycott airlines over this, then you're going to have to significantly rethink your transportation strategy:
With the exception of Allegiant, every single major US airline has put out a statement showing support for the Black Lives Matter movement; I'm sure it's a coincidence that Allegiant was also the last major US airline to make masks mandatory
Amtrak has put out statements in support of Black Lives Matter
Most car rental companies, car manufacturers, and ridesharing services, have put out statements in support of Black Lives Matter
So, um, I think your transportation options going forward are probably quite limited. You'll have to walk, and even be careful which shoes you choose to wear.
To those who are suddenly boycotting American Airlines over allowing employees to wear pins, why is this the final straw, and not all of the previous things the airline has done to show support for the organization?
Bottom line
American Airlines is now allowing employees to wear Black Lives Matter pins. A vast majority of airlines have shown support for BLM, so this is a logical extension of that. American Airlines allows employees to wear pins for several groups that have historically been considered controversial, including the LGBTQ community.
If this is specifically what causes you to boycott American Airlines, then, well, I'm confused… on the plus side, if people follow through with their boycott, maybe we'll see fewer mask incidents on planes?