I don't really have a huge stake in this anymore since I no longer live in Tampa, but I was quite excited to see American's new route announcements today.
American has announced four new routes out of Los Angeles, as follows:
Edmonton, Alberta operated daily, beginning Oct. 2
San Antonio operated twice daily, beginning Oct. 2
Tampa, Florida operated daily, beginning Nov. 6
Vancouver, British Columbia operated twice daily, beginning Oct. 2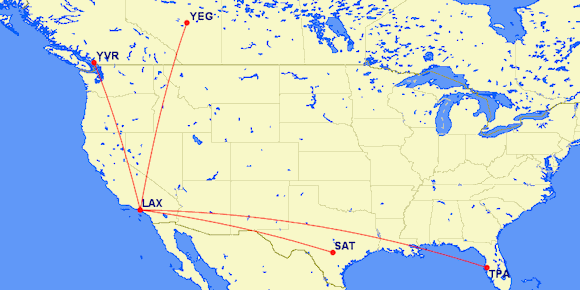 The new routes to Edmonton, San Antonio, and Vancouver, will be operated by US Airways Express CRJ-900s. These feature nine first class seats and 70 economy class seats. Meanwhile the new route to Tampa will be operated by an American 737-800. These feature 16 first class seats and 134 economy class seats.
Admittedly these aren't especially exciting route announcements in general, though personally the Tampa route thrills me. I lived in Tampa for over a decade and my parents still live there, so I'm excited to be able to fly there nonstop from Los Angeles. Delta already operates this route daily — sometimes twice daily — using A320 and 737-800 aircraft.
Tickets on these new routes will go on sale starting Saturday, June 21, 2014. I'm curious to see whether the service for the new Tampa route will feature eastbound morning flights and westbound evening flights, or eastbound redeye flights and morning westbound flights. I'm hoping for a redeye on the eastbound flight, and then a morning departure from Tampa.
Back in February Alaska announced daily service from Seattle to Tampa, which actually commences tomorrow, June 20. I love Alaska's Mileage Plan program, so being able to fly them nonstop between my two "home" cities is pretty exciting (even if they don't have power ports or built in entertainment).
I suspect upgrades will be quite easy out of Tampa, as they currently are. And on top of that here's to hoping for a double miles promotion on the four new routes!