As most of you probably know, American had a pretty major mistake fare earlier in the year, whereby they were selling business class tickets between Washington and Beijing for ~$450 roundtrip. They ended up honoring these tickets.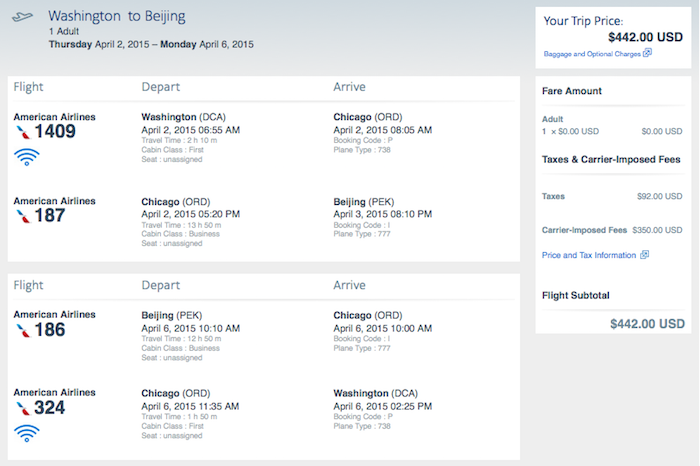 American likely honored the fare because at the time Department of Transportation regulations were extremely pro-consumer, whereby airlines had to honor mistake fares under almost all circumstances. However, earlier this month the DOT updated their stance on mistake fares. Specifically:
As a matter of prosecutorial discretion, the Enforcement Office will not enforce the requirement of section 399.88 with regard to mistaken fares occurring on or after the date of this notice so long as the airline or seller of air transportation: (1) demonstrates that the fare was a mistaken fare4 ; and (2) reimburses all consumers who purchased a mistaken fare ticket for any reasonable, actual, and verifiable out-of-pocket expenses that were made in reliance upon the ticket purchase, in addition to refunding the purchase price of the ticket. These expenses include, but are not limited to, non-refundable hotel reservations, destination tour packages or activities, cancellation fees for non-refundable connecting air travel and visa or other international travel fees. The airline may ask the consumer requesting out-of-pocket expenses to provide evidence (i.e. receipts or proof of cancellations) of actual costs incurred by the consumer. In essence, the airline or seller of air transportation is required to make the consumer "whole" by restoring the consumer to the position he or she was in prior to the purchase of the mistaken fare. The enforcement policy outlined in this notice is temporary and will remain in effect only until the Department issues a final rule that specifically addresses mistaken fares.
American reached out to let me know that they're updating the AAdvantage terms & conditions in light of the recent DOT ruling. I really do appreciate their transparency in proactively letting me know. The changes are underlined below:
Certain airline tickets are not eligible for earning mileage credit. These include, without limitation, the following: all tickets issued as AAdvantage awards or other free ticket promotions including free or reduced rate tickets; companion tickets; charter flight tickets; travel agency/industry reduced rate tickets; infant tickets; items occupying a purchased seat; unpublished fare tickets, including consolidator fares, tickets issued as a result of a fare published inadvertently or by mistake and tickets issued subject to special provisions.
In other words, American explicitly reserves the right not to award mileage credit on mistake fares.
While I'm of course not excited about that change, I can hardly blame them. Heck, I'd probably do the same if I ran an airline, as that will probably greatly discourage people from taking advantage of mistake fares in the future.
What do you make of the changes to the AAdvantage terms & conditions regarding mistake fares?