Sometimes we see airlines offer bonuses when you convert hotel points into airline miles, and we've just seen the latest such promotion introduced.
Bonus When You Convert Hotel Points Into American Miles
Through October 30, 2019, American is offering a 25% bonus when you convert select hotel points into AAdvantage miles.
The bonus can be used for multiple hotel partners, and bonus miles should post to your AAdvantage account within seven business days of when the initial conversion posted to your account. There's no limit to how many bonus points you can earn through this promotion, and registration is required using promotion code HT925.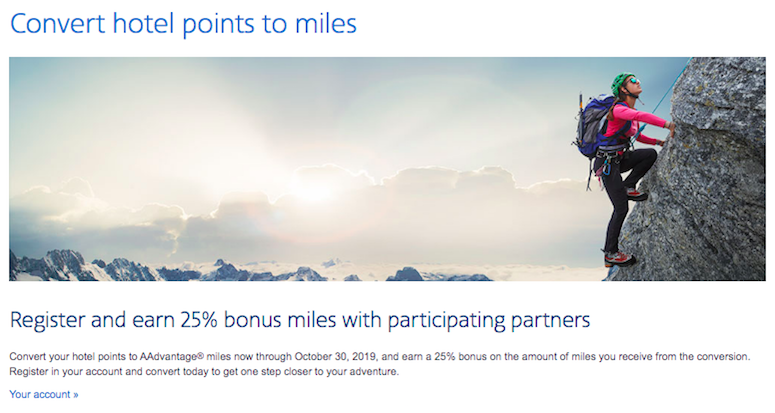 The following four of American's hotel transfer partners are eligible for this promotion (I'll also list their regular transfer ratios):
Best Western Rewards (5:1)
Choice Privileges (5:1)
IHG Rewards Club (5:1)
Marriott Bonvoy (3:1)
Why You Should Consider Marriott Transfers
Of the above four partners, there's only one partner where converting hotel points into AAdvantage miles could represent a good deal, in my opinion, and that's with Marriott Bonvoy.
Marriott Bonvoy points convert into AAdvantage miles at a 3:1 ratio, and you get a 5,000 mile bonus when you transfer 60,000 points.
So if you transferred 60,000 Marriott Bonvoy points you'd earn 25,000 AAdvantage miles, and then you'd earn a 25% bonus on top of that, for a total of 31,250 AAdvantage miles.
This means that Marriott Bonvoy points can potentially convert into AAdvantage miles at a 1.92:1 ratio.
Based on my valuation of points, this is actually a pretty fair transfer ratio. I value American AAdvantage miles at 1.4 cents each, and I value Marriott Bonvoy points at 0.7 cents each. Based on those valuations, you're coming out slightly ahead by transferring points, though this all comes down to which redemption option you value more.
Bottom Line
American seems to offer a 25% bonus on hotel points transfers about once a year, so I guess this is their 2019 promotion.
While I wouldn't speculatively transfer points without a particular use in mind, there are circumstances where this could represent a great deal. Not for redemptions on American flights (given American's terrible award availability), but rather for travel on American Airlines partners in business class.
While I'm personally not thrilled with American AAdvantage or Marriott Bonvoy, personally this isn't a rate at which I'd transfer points based on my own situation.
See this post for the best credit cards for earning American AAdvantage miles, and see this post for the best credit cards for earning Marriott Bonvoy points.
Anyone plan on taking advantage of American's 25% transfer bonus?