I fly American a fair bit internationally, though a vast majority of it is on their Boeing 777-300ERs, which is their flagship plane. That's because these planes feature reverse herringbone seats in business class, which is among my favorite type of business class hard product. It's also because all of American's 777-300ERs are configured in the same way, so there's no chance of a last minute aircraft swap to the same plane with a different configuration.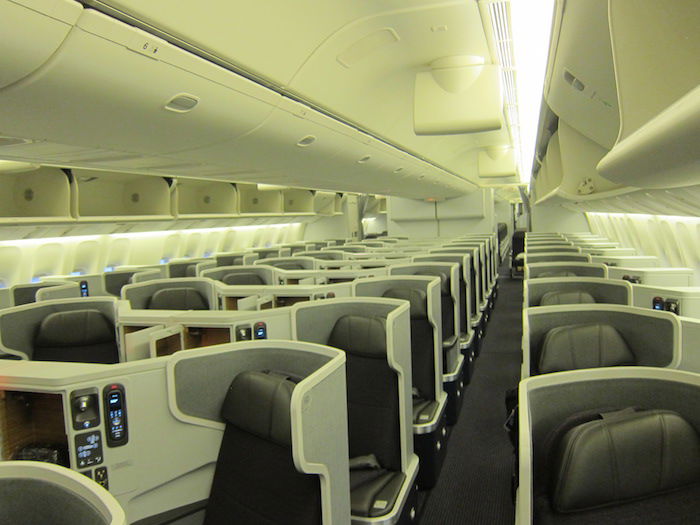 American's 777-300ER business class
I've also flown American's new 767 business class, as well as their old 767 business class, their A330 business class (on ex-US Airways planes), and their old 777-200ER first class.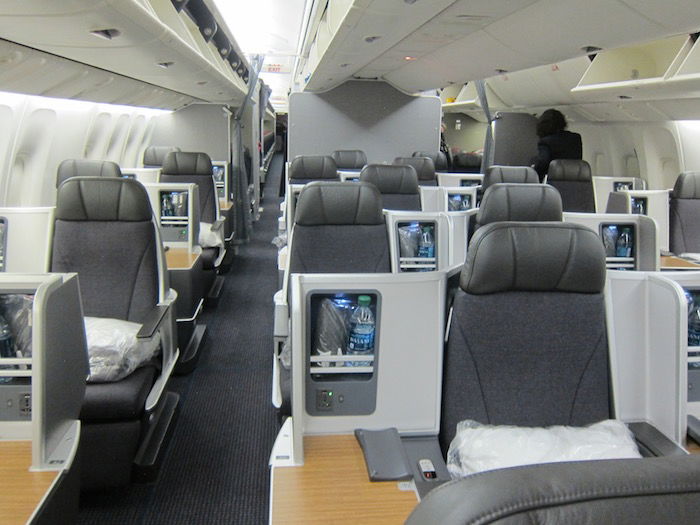 American's 767-300 business class
But up until yesterday I hadn't flown American's new 777-200ER and 787-8 business class product. American first announced this product in April 2014, and it was yet another type of fully flat product with direct aisle access from every seat (as if they didn't have enough already). They first introduced it on some of their 777-200ERs, and then on their newly delivered 787-8s.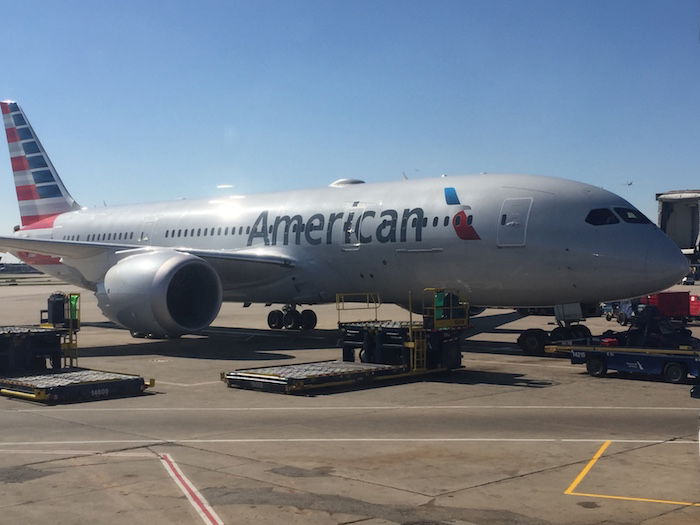 American 787-8
Why didn't American just go with the same reverse herringbone product on these planes? Apparently because they were licensing it from Cathay Pacific (it's the same business class product they have) exclusively for the 777-300ER, and it ended up being cheaper for them to just develop a new product altogether for their other planes.
Unfortunately in September 2015 American announced they were suspending their 777 refurbishments, due to some issues with the seat manufacturer. American still hasn't announced who will be taking over the contract, though it means American will have yet another type of business class seat. The lack of fleet commonality is mind-boggling.
All that being said, yesterday I flew American's new 777-200 business class product for the first time. It was just for a flight from Miami to New York, so I didn't get to fully experience it. But I figured I'd still share my thoughts, with the promise that I'll have a more in-depth review when I fly this product to China twice on the 787 over the next couple of months.
American's refurbished 777-200s have a total of 45 business class seats — there are 21 seats in the forward cabin and 24 seats in the rear cabin.
The seats alternate between being forward facing and rear facing.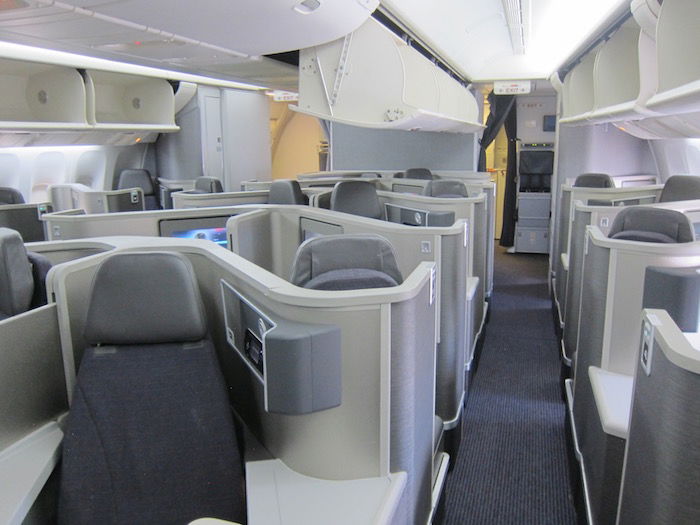 Much like with a reverse herringbone configuration, even the center seats are fairly private, so you'll have to lean forward if you want to talk to the person seated next to you, as there's a barrier between seats (and there's also a partition you can raise if you're traveling alone and in the center section).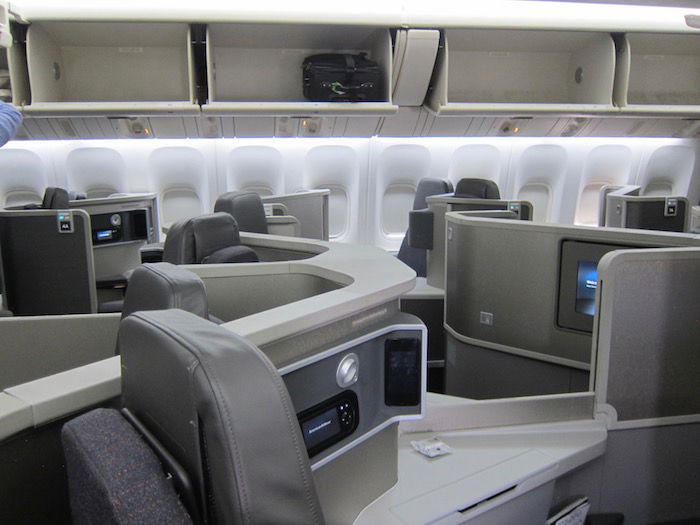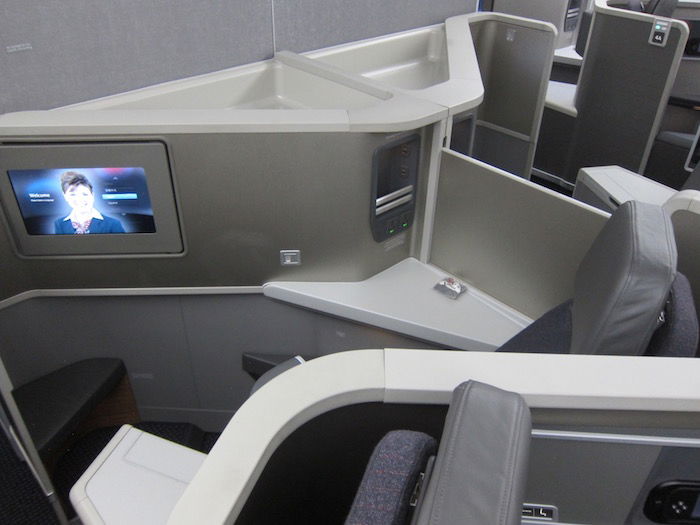 I assigned myself seat 4L, which is a rear facing business class seat.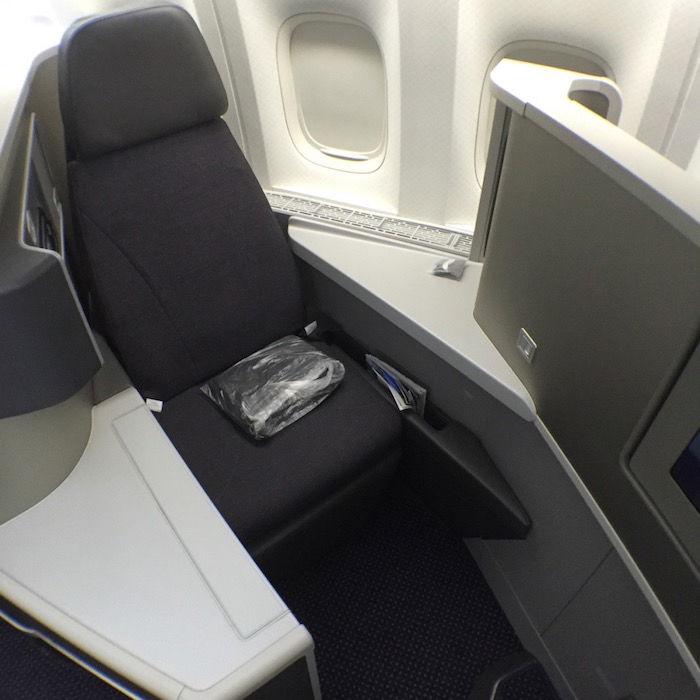 The rear facing business class seat was awesome, as it featured two large side tables. That has to be among the most side table square footage of any business class seat out there.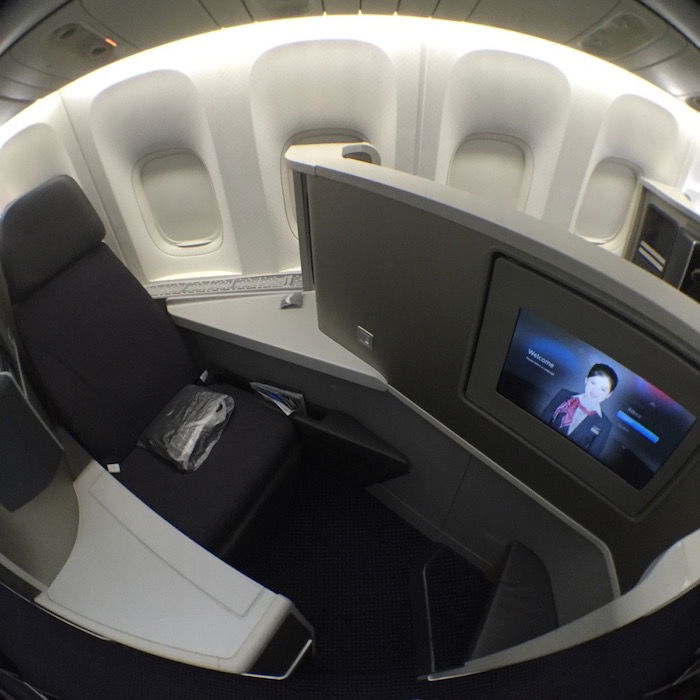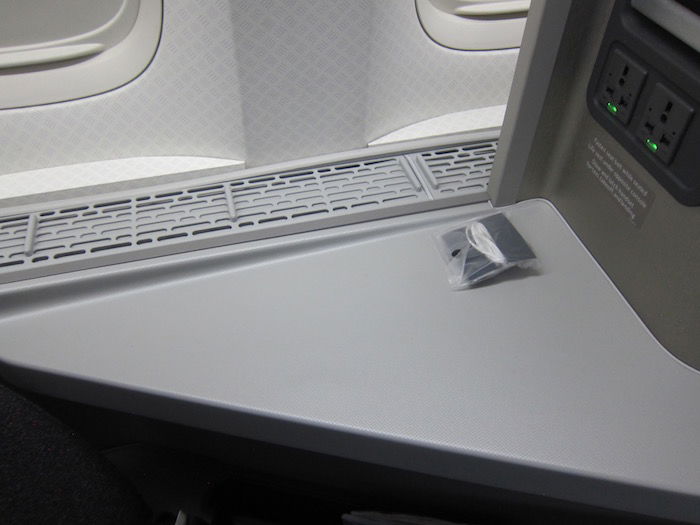 Speaking of square footage, the tray table was massive. It came out easily though was also fairly inflexible, in the sense that you couldn't slide it around as much as in other business class products. It basically had one position, and took up a lot of space.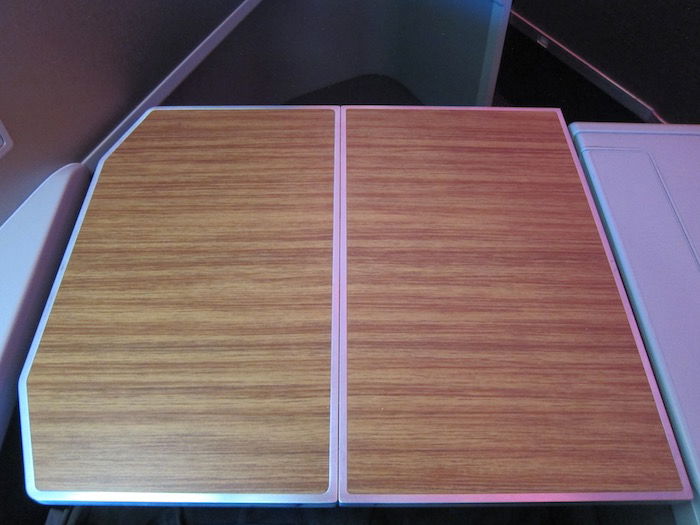 The forward facing seats are the same general design, though the major difference is that they only have one side table, on the window side. They open up to the aisle, so you just have a retractable armrest on the aisle side.
One other thing worth noting is that the forward facing seats have a harness you have to wear during takeoff and landing, so you have to buckle up the same way you would in a car. The rear facing seats don't have that, however.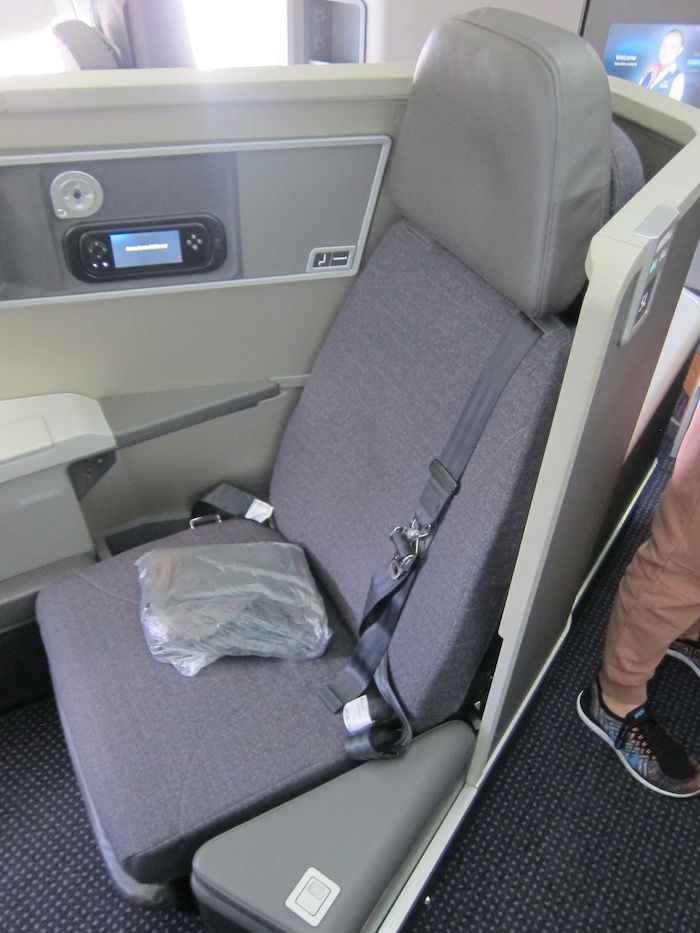 The seats all had ottomans, which were rather small. The good news is that there was no vertical barrier, so the area for your feet was less constrained than in a reverse herringbone configuration.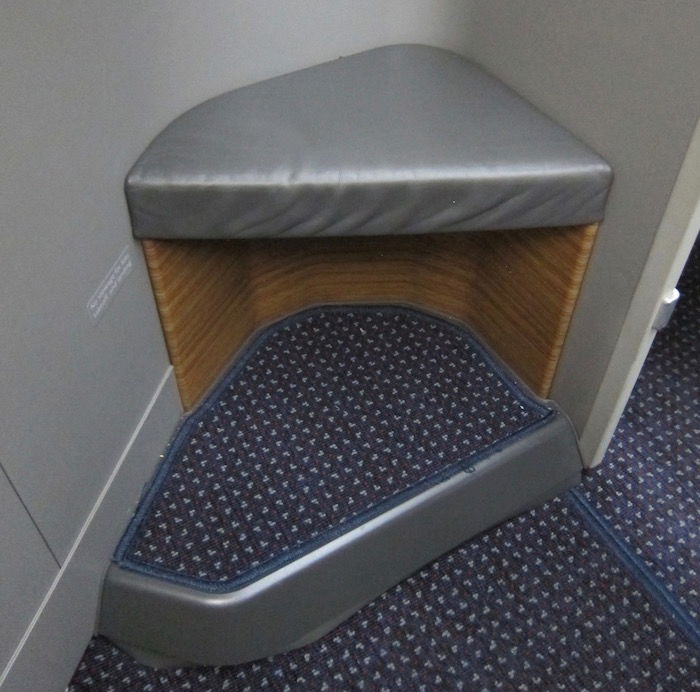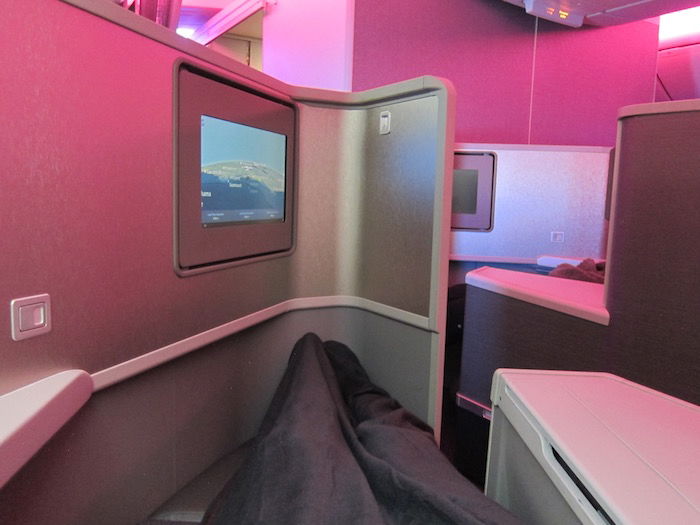 To the side of the seat were two USB outlets and two 110v outlets, along with a small storage unit. I love that there are four outlets for charging electronics.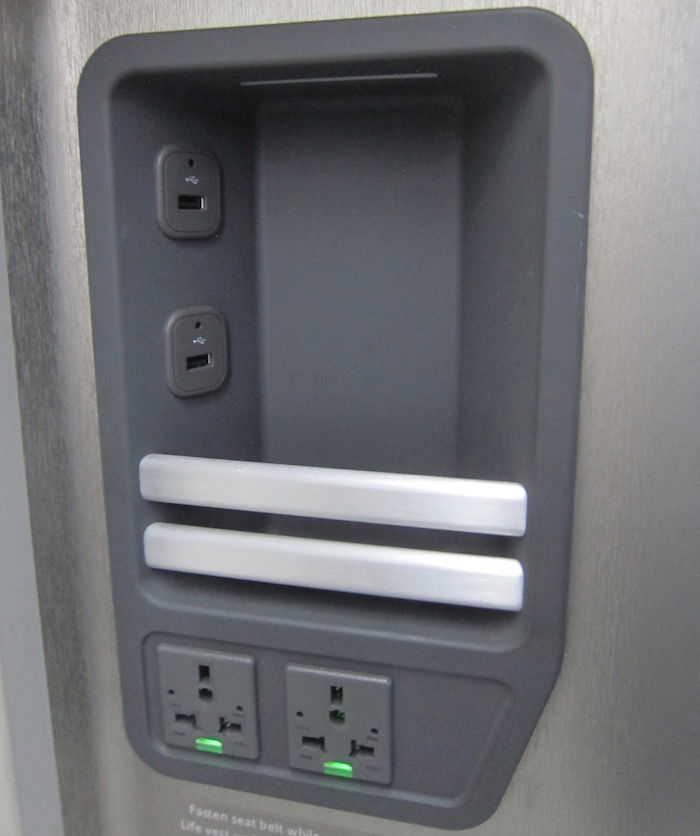 Then on the opposite side of the seat are the entertainment controls, seat controls, and a reading light.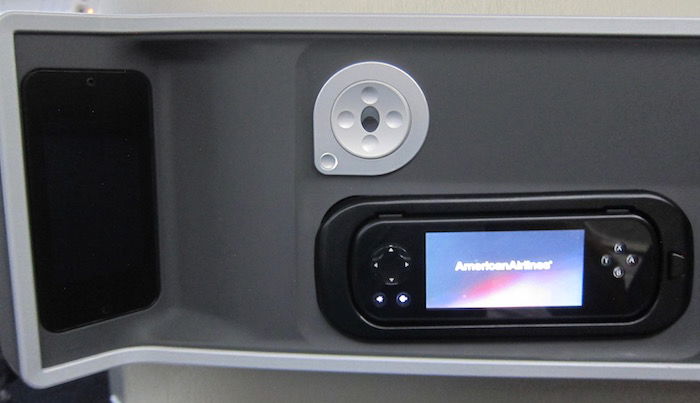 I only briefly put the seat into the fully reclined position, though I couldn't help but feel like the bed itself wasn't very long. When I stretched out fully I took up the full length of the bed, while there are usually an extra few inches in a reverse herringbone configuration.
One other good thing about the refurbished 777s is that they feature Wi-Fi. It's also provided by T-Mobile, and the pricing is the same as on all of American's longhaul flights.

There are two other downsides to these seats I should note.
First of all, the seats are connected in a rather annoying way. Due to the forward and rear facing nature of the seats, each set of two seats was one "unit." That meant if the person seated in the seat in front or behind you (whichever is attached) got up or shook their seat in any way, you could feel it. This wasn't a huge deal on a short flight, but on a long flight I could imagine it would get really annoying, especially if it wakes you up.
Second of all, in a reverse herringbone seat you don't really have to look at anyone. Because this configuration features a combination of forward and rear facing seats, you do sort of awkwardly look at the person seated across from you in the center section. It's not problematic and you're not staring at them directly, but I would feel like I'm being "watched" if I were in one of the center seats.
Bottom line
All things considered I really liked this product. For American's new 777-200 business class, the rear facing window seats are definitely preferable, due to the additional side table. Personally I also like sitting backwards, especially if it gets me a view of the engine and wing throughout the flight. 😉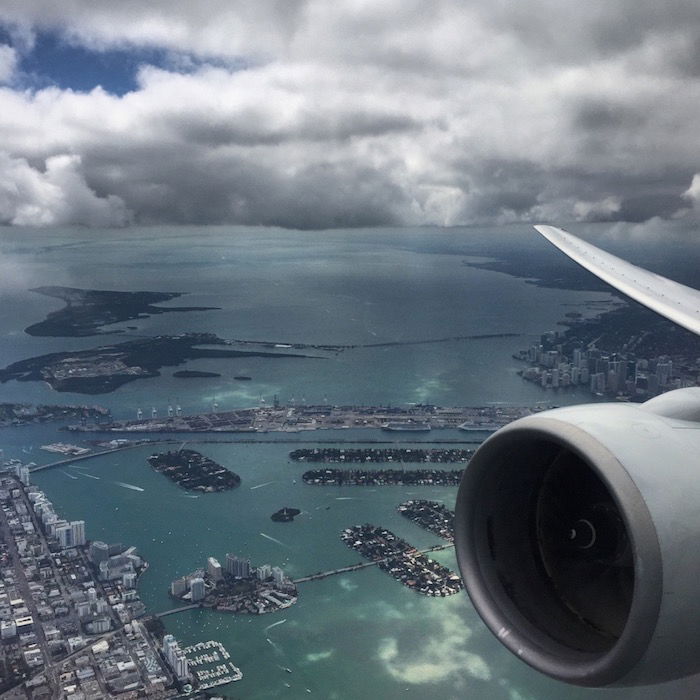 How does this compare to American's 777-300ER reverse herringbone business class? That's a toughie. I'd have to fly it on a longer flight to be sure, though I think I might prefer this product marginally, at least in a rear facing window seat. Why?
While there's not much storage as such, you have two side tables, so you have plenty of space to make your own
I like that there's not a vertical barrier for your feet — in a reverse herringbone configuration you still have to wedge your feet underneath the seat in front of you, which can be tight if you have big feet
So as of now I don't have a strong preference for one product over the other, though overall I was impressed, as I had heard quite a few complaints about this type of seat. I liked it.
If you've flown American's new 777-200 or 787-8 business class product, what did you think?