Over the past few years we've seen some luxury travel providers introduce over-the-top vacations using (shared) private jets. I guess it's only the logical next step in the luxury travel market. We've seen this concept come to life in a couple of different ways.
Four Seasons 757 Private Jet Experience
Four Seasons offers 757 trips around the world, that stop at various Four Seasons properties. The plane has 52 fully flat business class seats. Overall I think the concept is great, given that Four Seasons actually has hotels to fly people to, and many of them are remote, so it's convenient to be able to fly direct between these airports, when you'd often otherwise have to connect, deal with long layovers, etc.
https://www.youtube.com/watch?v=VbL_IYACw7k
Crystal 777 Air Cruises
Then you have Crystal, which used to primarily be a cruise line, but they've been expanding into other luxury travel markets as well. One of those is that they've specially configured a 777 to offer "air cruises." The 777 is impressive, especially given that it has a dining room and bar.
https://www.youtube.com/watch?v=S8852Stl3yE
However, since day one I've thought the concept is a total flop:
The 777 has 88 seats, so that's a lot of seats to fill
Crystal doesn't actually have hotels, so it's not like they're flying people between their global properties, and that there's a real brand to be loyal to here
The 777 is too big to land at many airports, so they're limited in terms of the types of itineraries they can do
It's my understanding that the concept hasn't worked out at all as they've expected. They've been chartering the plane to sports teams, and their first "air cruise" includes a trip to Fiji and Bora Bora, with stays at Marriotts, InterContinentals, and Conrads. While those are fine hotels, they don't really match the category you'd expect when chartering a 777.
Crystal's CEO recently "stepped down," and it's my understanding that it may be related to what a bad investment this has been for Crystal. I don't know what they were thinking. I'm curious to see what happens with this plane long term.
Aman's Global Private Jet Experience
The Four Seasons concept sounds to me like it could work, while the Crystal concept doesn't. But even the Four Seasons concept doesn't sound that exclusive — you're sharing a "private" jet with 50+ other people, and that's not something I'd want to pay $100K+ for (not that I'm in a position to spend that much on a trip anyway).
I just learned about a round the world private jet tour that actually has me foaming at the mouth. If money were no object, I'd spend my entire life in Aman Resorts. Aman is my absolute favorite hotel chain, and they have boutique properties in all kinds of remote destinations. The Aman experience is simply incredible.
I just got an email about Aman's "global private jet tour," which looks insane. For example, they have a tour from April 15 through May 6, 2017, that will travel to Aman properties in Japan, China, Vietnam, Thailand, Bhutan, India, Greece, Montenegro, and Italy. Here's the very brief explanation of the journey:
Drift from cherry blossoms in Tokyo to sailing Phuket's Andaman Sea; trek the Himalayas and glide down Venice's Grand Canal – all in a single, one-of-a-kind adventure. Taking in nine countries over 22 days, Aman's round-the-world private jet expedition in 2018 will uncover the outstanding natural beauty and rich cultures of Japan, China, Vietnam, Thailand, Bhutan, India, Greece, Montenegro and Italy. Travelling on a fully customised private jet, as one of no more than 16 passengers, you will have access to a private bedroom and ensuite shower while in the air, and a personal car and guide when on touch-down.
There will be at most 16 guests, who will be accommodated on an Airbus A319 in a private configuration. Then for the flights to & from Bhutan, passengers will fly on Gulfstreams, given airport limitations.
Here's the flight itinerary for the journey: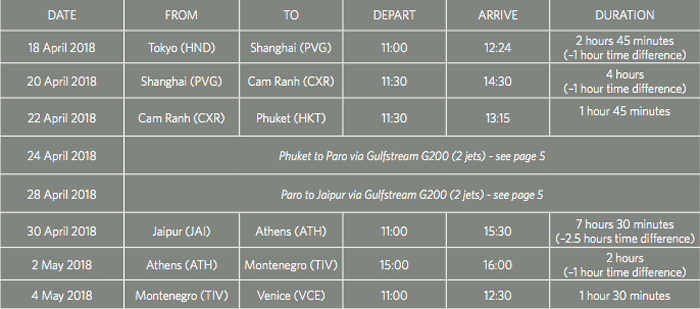 Here's a picture of the A319 they'll be using: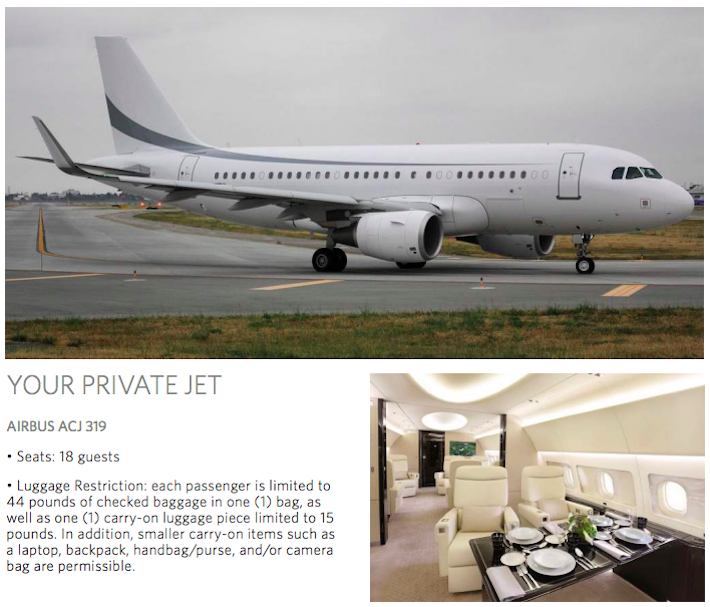 If you want to read about the trip, there's a 70 page brochure about it that can be found here.
The cost? A cool $114,888 per person, based on traveling as a couple.
If I had a hundred million dollars, I'd book this in a heartbeat. For what it's worth, the pricing of this is roughly comparable to Four Seasons' private jet experience, in which case I'd totally spring for Aman over Four Seasons.