Airlines pay a 7.5% federal excise tax on the fares of the tickets they sell. When multiplied across thousands and thousands of passengers each day, this really adds up. The key is that this tax only applies to the actual fare, and not the fees. Anything that is optional is a fee, and not part of the fare.
So the airlines, particularly the low cost carriers, have become very creative about shifting more of the cost of the ticket from fare to fee. There are fees to check bags. Fees to select a seat. Fees for food and drinks. And since they are all optional fees, the airline doesn't pay the excise tax on them.
But one of the more interesting fees that a few low cost carriers have introduced is a fee to use their website. Spirit charges up to $18.99 per ticket in what is essentially a convenience charge for booking online. Allegiant similarly has a $13 website charge. That means you can save money on both Spirit and Allegiant tickets by buying them at the airport.
Of course, these airlines don't actually want everyone to buy their tickets at the airport. It costs them money to staff the counter, after all. More importantly, they lose all of the $13 or $18.99 of revenue from those that ticket at the airport. Clearly, if they had to choose, they'd rather keep 92.5% of something (and give 7.5% to the government) than get nothing at all.
So ideally, they only want price sensitive customers to know about this option. In other words, they would prefer that their customers buy the ticket online. But if the choice is between giving them a discount or not making the sale at all, they'll cave and advise them to buy their cheap ticket at the airport.
This is called segmenting the market, and is a staple of first year MBA programs.
Allegiant Air uses search terms to segment their customers
While researching Allegiant's electronic usage charge for buying tickets on their website, I noticed some interesting tricks they are playing to get Google and the other search engines to help them segment their customers. This is going to require wading into the murky world of Search Engine Optimization, but let me explain.
If you search for Allegiant buy tickets at the airport, you'll get a page that looks like this.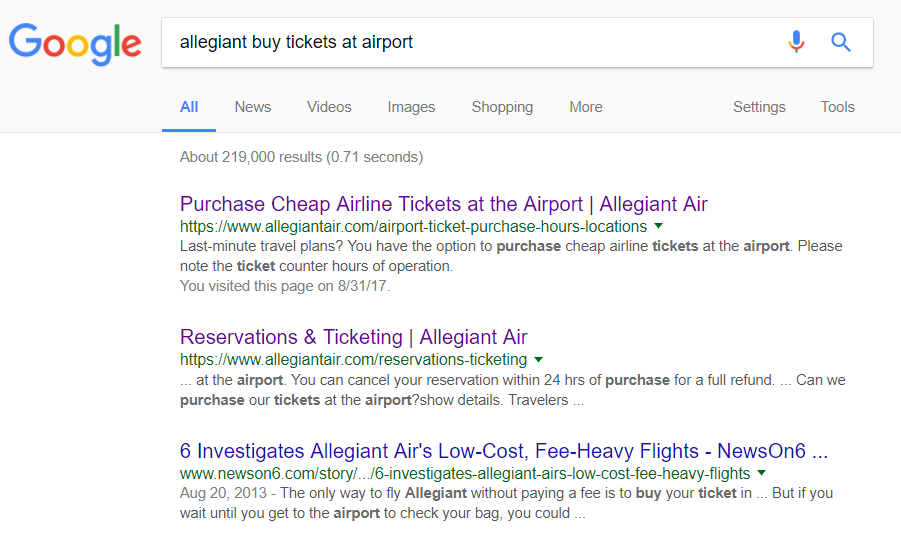 Search results for buying an Allegiant ticket at the airport
The first result is a result from Allegiant Air that clearly says that you can purchase cheap airline tickets at the airport. The page title is actually Purchase Cheap Airline Tickets at the Airport, after all!
But if you follow the link, you end up with this page, that lists the hours that you can buy tickets at various airport locations.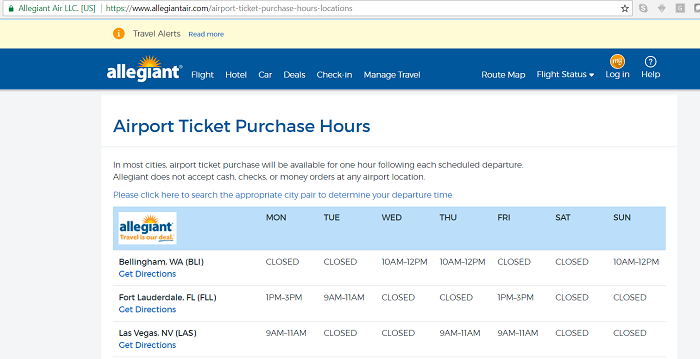 The purchase ticket at the airport page doesn't actually say anything about getting a discount
You'll notice that nowhere on the page does it say "cheap". In fact, it says nothing about saving money at all. It makes it seem like you could buy tickets at the airport if you really wanted to, but that's about it. Go load the page and do a search for the word cheap. It literally doesn't appear on the page at all!
So how do they get this to show up in Google search results without putting it on the page?
They list cheap airline tickets as a keyword.
They make the page title Purchase Cheap Airline Tickets at the Airport.
They set the page description to Last-minute travel plans? You have the option to purchase cheap airline tickets at the airport. Please note the ticket counter hours of operation.
None of this shows up when you actually load the page, however. It's all in the meta fields that help the Google robots figure out what the page says. So effectively they are telling Google it says one thing, when in fact it says nothing of the sort, and Google is basically taking them at their word.
Here's the relevant source code. The word cheap appears five times in the source, despite never showing up on the actual webpage.


Allegiant Air sneaky source code to optimize their ranking for "cheap airline tickets" without actually telling you how to get cheap tickets
This is really textbook MBA-style market segmentation. Price sensitive customers — those who explicitly search for how to save money on airfare — will see the page description that says they'll save money by buying tickets at the airport, while less price sensitive customers will be kept in the dark.
Allegiant Air's FAQs are also deliberately misleading
If you simply browse the Allegiant Air website, you'll find the FAQs that say that you can buy tickets for same day travel at the airport. That's true of course. What it doesn't say is that you can actually buy tickets for future travel as well.


Allegiant Air FAQ regarding buying tickets at the airport
So it's doubtful that anyone simply browsing the Allegiant Air website would ever figure out that they can save money by booking their tickets at the airport. And of course, that's probably the intent.
Bottom line
I'm sort of fascinated by the clever tech tricks that Allegiant has used to obfuscate the fact that you can save money by buying their tickets at the airport.
If you search for cheap tickets, you get the information. If you click around on the Allegiant website, you don't. They use words in the meta fields for the website that don't appear on the page, which seems to indicate that they only want customers searching for specific words to find this information. It's almost like they are relying on Google to do their dirty work. I mean, I'm sure other companies are employing similar tactics — or worse — but it seems sort of shady to me.
What do you think of Allegiant's SEO strategy? Sneaky or brilliant?