Earlier today I wrote about Emirates' newest 60 second ad, which stars Jennifer Aniston:
This is a huge deal for Jennifer Aniston, as she's being paid $5 million for her advertising contract with Emirates.
In the first ad, Aniston is seen in a bathrobe on another airline (presumably based in the US) asking where the shower and bar are located. When she finds out there isn't one, she wakes up and realizes that it's just a nightmare, and that she's in fact on an Emirates A380. She relays the story to the flight attendant working the bar on the Emirates A380, and then asks if the plane could maybe fly for an hour longer, given what a good time she's having (a feeling anyone who has flown Emirates first class can relate to).
Anyway, there's another version of the ad which has also been released, which I thought was worth pointing out. I've always found it a bit ironic that several Middle Eastern carriers have bars, despite being in countries which (for the most part) prohibit alcohol. And they even use it as the source of marketing, as you can see in the above ad.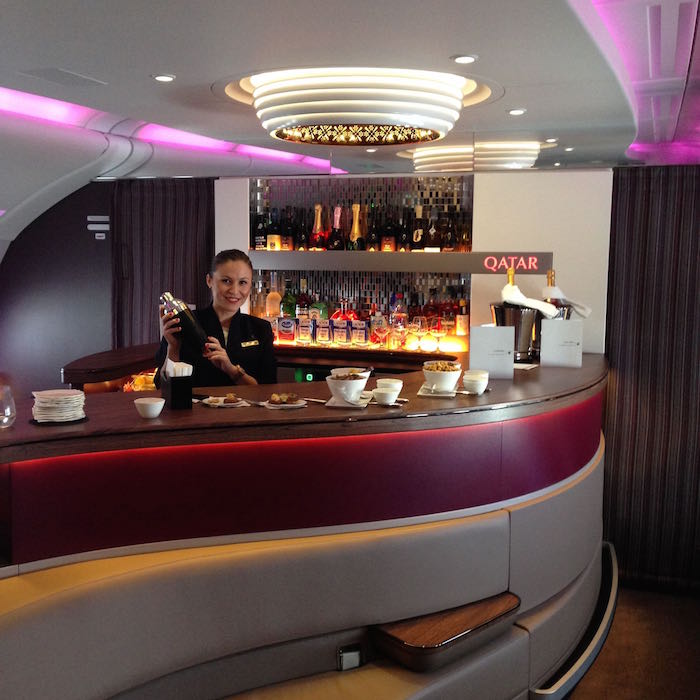 Qatar Airways A380 onboard bar
However, there's an alcohol-free version of the Emirates ad. In it, Aniston replaces the word "bar" with "lounge," and when she gets to the "lounge" she is served juice instead of a martini. Check it out here:
Too funny!