The "big" Middle Eastern carriers spend a lot of money on marketing. Given that they're largely built with the intention of transporting passengers who aren't actually traveling to/from the Middle East, it's important for them to build brand awareness and also seem relatable.
That's why it's not unusual to see them spend millions on sporting sponsorships, big-name celebrity endorsements, etc.
Earlier this year Etihad announced that Nicole Kidman would be their new brand ambassador, and she seemed like a good fit. Her first big commercial for them was Etihad's "Flying Reimagined" campaign, which is pretty whimsical and spectacular.
https://www.youtube.com/watch?v=sXlmF3eI9R0
Not surprisingly, she came under quite a bit of fire for her work with Etihad. Unions and human rights groups love to go after the Middle Eastern carriers. And while there's certainly a lot of progress left to be made in the UAE, I think it's unfair when Emirates and Etihad are put in the same category as Qatar Airways, which actually has some pretty egregious policies for their employees.
My point is, while the countries have policies I strongly disagree with, the companies as such are pretty progressive when it comes to their policies.
Anyway, it seems that Emirates is taking notes from Etihad. Emirates has hired Jennifer Aniston for their latest ad campaign, a deal which apparently landed her about $5 million (hey, that's only 1% the cost of their wine program).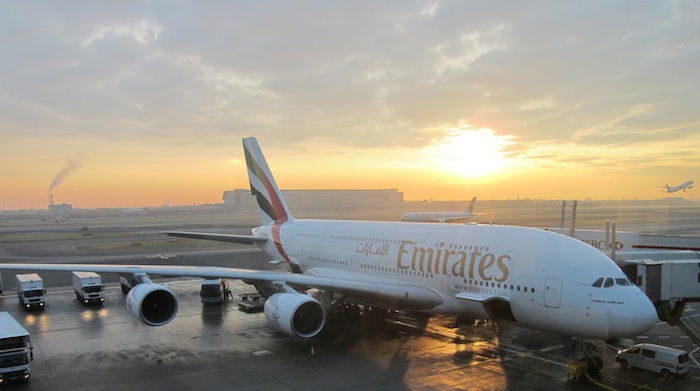 Via The New York Post:
Jennifer Aniston scored a very lucrative gift to herself ahead of her secret wedding to Justin Theroux. The actress has just landed a deal with airline Emirates worth around $5 million, sources exclusively tell Page Six.

We're told that Aniston, 46, has shot a campaign for Emirates, which is based in Dubai and is the world's biggest international carrier.

The move to sign the former "Friends" star comes on the heels of Nicole Kidman's ad campaign for Etihad Airways, the second-largest UAE airline after Emirates.

A source told us: "Jennifer Aniston has shot a high-profile campaign for Emirates as part of this deal, for which she is being paid around $5 million. She will appear across TV and print ads worldwide." Reps for the airline and Aniston declined to comment.
Jennifer Aniston is an interesting choice. On one hand she's easily recognizable, so I guess she's a good option in terms of generating awareness around the brand. On the other hand, she's very "girl next door," and I would have assumed they're going for a more "glamorous" look.
I'm curious to see what the finished ads look like — perhaps they're going for a different angle than I'm expecting here.
What do you make of Jennifer Aniston being the new star of Emirates' ad campaigns?