Alaska Airlines has announced today that they'll be opening an Alaska Lounge at San Francisco Airport Terminal 2 in 2020.
The new 8,500 square foot Alaska Lounge will be on the top floor of SFO's Terminal 2, so will feature the highest viewpoint of any domestic lounge at SFO. Currently the only other lounge in terminal is an American Airlines Admirals Club.
As Alaska's VP of the Bay Area, Annabel Chang, explains:
"We are thrilled to announce this landmark investment in the Bay Area that will provide guests flying through SFO with our modern and comfortable lounge experience. SFO is our second largest hub with an average of 150,000 passengers flying on a daily basis, and we want to ensure airport visitors can rest, relax and enjoy our wide array of lounge offerings."
So far the airline has released the following rendering of the new lounge: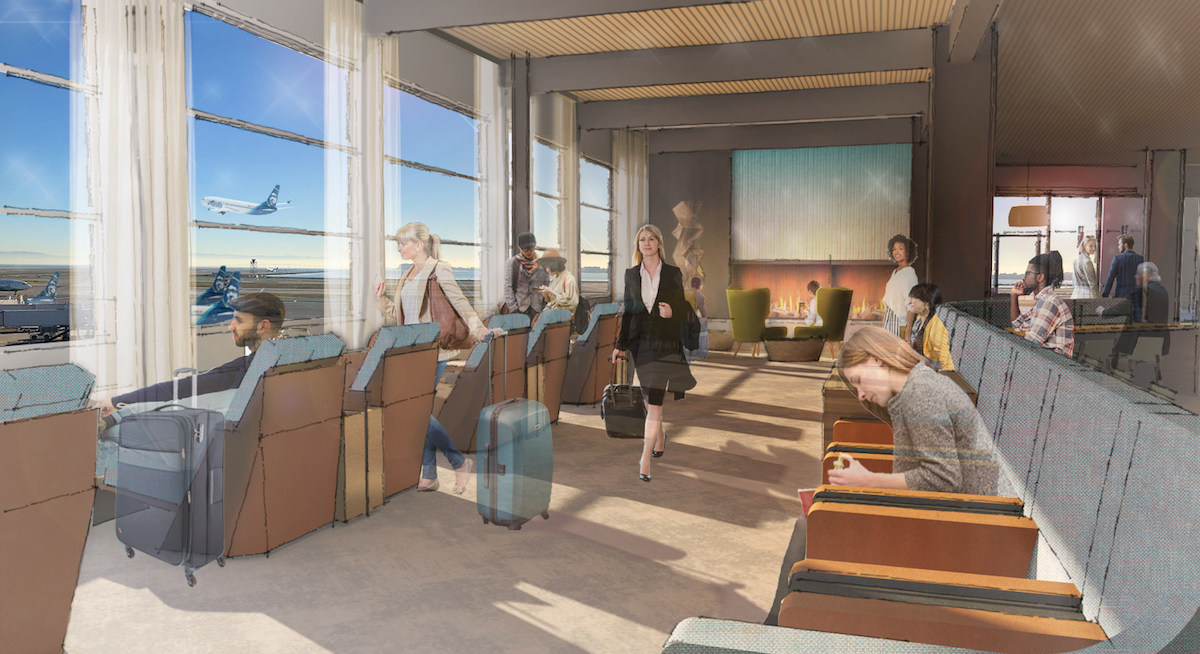 An Alaska Lounge at SFO is so long overdue:
Alaska used to have a lounge at SFO, though it closed over five years ago
Alaska flyers with a lounge membership used to have access to the Terminal 2 Admirals Club, but that was cut as of January 1, 2018
Select Virgin America flyers used to be able to buy access to the Virgin Atlantic Clubhouse, but that's no longer possible
Alaska Lounge members flying out of the International Terminal have access to the Cathay Pacific Lounge, but that's not useful for most Alaska flights
Now San Francisco is a massive hub for Alaska, given that they acquired Virgin America, so there's more need than ever before for a lounge
I know the airline has been trying to open a lounge at SFO for quite a while, given that San Francisco is their second biggest station, after Seattle.
But the problem has been the lack of space in Terminal 2. So it's great to see that they've finally come up with a solution that will allow lounge access in this terminal, and it seems that's being accomplished by adding space on the second level of the terminal.
Note that this likely coincides with American leaving Terminal 2. In 2020 American will move from Terminal 2 to Terminal 1 at SFO. While American has an Admirals Club, the plan is for that space to be used for retail, given what prime real estate it is.
It's not yet known whether the Alaska Lounge San Francisco will be open to Priority Pass members. As it stands, the Alaska Lounges in Anchorage, Los Angeles, New York JFK, and Portland belong to Priority Pass, while those in Seattle don't.
The problem is that even those Alaska Lounges that do belong to Priority Pass often have capacity constraints, which is a point of frustration for many.
My initial guess is that the SFO lounge won't be open to Priority Pass members, given what a big station SFO is for the airline, yet the lounge will only be about 8,500 square feet.
What do you make of the new Alaska Lounge SFO?