On Monday we learned that Alaska and Delta are cutting ties as of May 1, 2017. The two airlines have been frenemies for years, as Delta's presence in Seattle has continued to grow. Even so, they seemed better off together than separate.
However, Alaska's takeover of Virgin America finally caused Alaska and Delta to cut ties, likely due to the increased number of routes on which the airlines overlap (Virgin America competes in many of the same transcon markets as Delta).
While this is bad news for frequent flyers, I have to commend Alaska for announcing several positive changes to help offset losing Delta as a partner. I'm feeling pretty great about Alaska Mileage Plan at the moment.
Why the partnership between Alaska & Delta was dysfunctional
In 2014 I wrote a post explaining what's going on between Alaska and Delta in Seattle. The gist is that in 2012 Delta announced their plans to expand service to Seattle, and they wanted to partner more closely with Alaska. The idea was that Delta would add international flights out of Seattle, while Alaska would provide the domestic feed for those flights.
However, Alaska may have been a bit naive in thinking Delta didn't have other motives. That's because once Delta added a lot of international capacity, they started replicating Alaska's regional routemap. After all, why should Delta send passengers onto Alaska flights when the airline could operate the flights themselves?
As a result, the airlines have continued to work together on paper, though have spited one another repeatedly.
Still, it always seemed to me like the two airlines were better off working together than not. Why? Because Alaska has an incredible route network within the Pacific Northwest and up and down the coast, and ultimately both airlines benefited from that. It gets Delta passenger one stop routings for longhaul flights, and also fills Alaska planes. Some of those are routes that it doesn't make sense for Delta to operate themselves.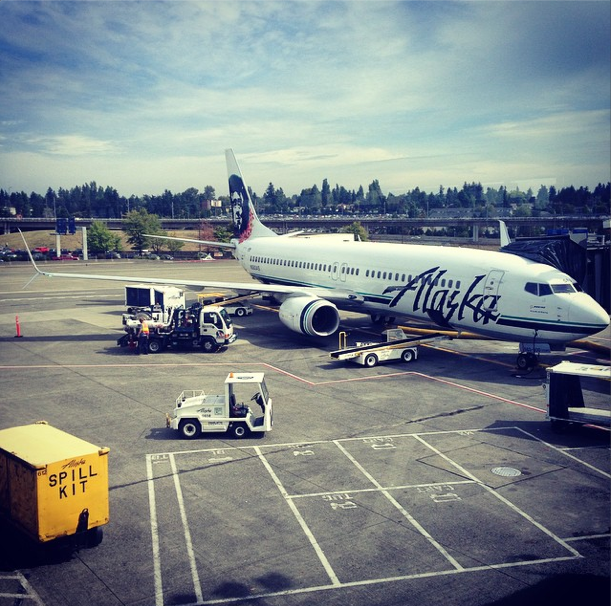 What's the loss from Alaska & Delta cutting ties?
Alaska has filed with the SEC regarding the implications of the Alaska & Delta codeshare agreement being cut. Alaska expects that the financial exposure from terminating their codeshare agreement with Delta will be $5-10 million in 2017. That's less than I was expecting.
Really Alaska is estimating that the lost revenue through the Delta codeshare will be $15 million, but that they'll be able to recapture between $5-10 million of that, given that Alaska serves many of the same markets. That seems somewhat optimistic, as it assumes people are going out of their way to choose Alaska over Delta.
The much bigger share of the pie is with their interline agreement, which will continue. That's when you book a ticket through an online travel agency that's on multiple airlines.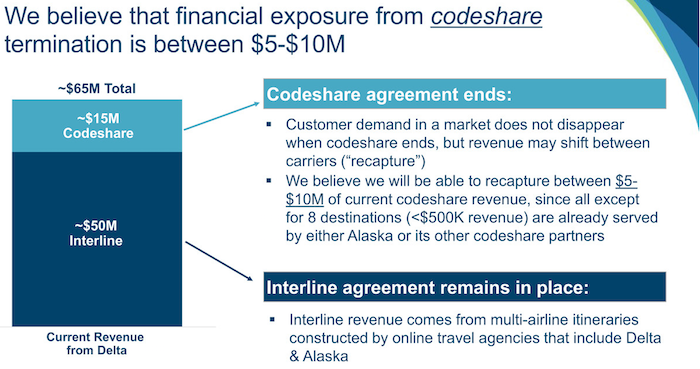 It's also interesting the degree to which the partnership between Alaska and Delta has declined since it peaked in 2013. The revenue from the Delta interline and codeshare agreement has decreased from $235 million in 2013, to just $65 million in 2016.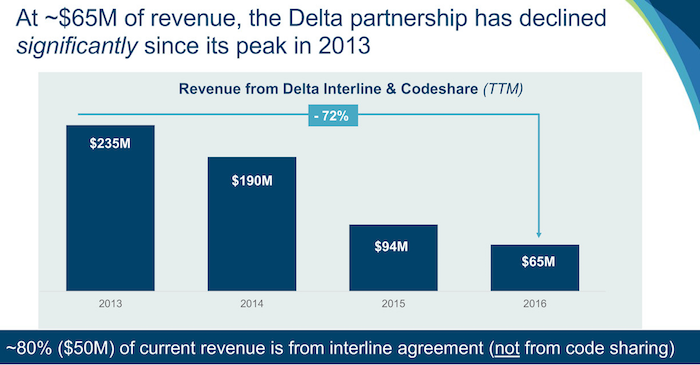 Bottom line
The impact here isn't quite as big as I was expecting, given the scale of both Alaska and Delta operations in Seattle. At the same time, the interline agreement is the much bigger source of revenue here, and I don't see much changing there.
Regardless, it's interesting to see the numbers behind this agreement.