Last May, Alaska Airlines announced an interesting way in which they'd grow their presence in the Seattle area. Seattle-Tacoma International Airport has experienced a huge amount of growth the past few years. Not only has Delta turned it into a hub, but hometown favorite Alaska has continued to grow, as have several other airlines. So while SeaTac was a mid-size airport several years back, it now feels like a major international airport, and is having capacity problems.
At the time, Alaska Airlines announced that they'd start offering passenger service to Paine Field (located North of Seattle) as of the fall of 2018. Paine Field is home to the Boeing Everett Factory, which is the world's largest building by volume, and also where Boeing's widebody aircraft are assembled. This will make for some great plane spotting for avgeeks flying out of the airport. Alaska's logic for adding service out of there is that for many residents North of Seattle, this could save them over an hour of time for their airport commute. That's a big community, as the North Sound is home to more than a million people.
Today Alaska Airlines has revealed the routes that they'll initially serve out of Everett's Paine Field.
Alaska Airlines will offer 13 nonstop daily departures to eight cities from Paine Field-Snohomish County Airport in Everett, when they start service this fall. Alaska Airlines intends to operate all jet service out of Paine Field (presumably Embraer 175s) to Las Vegas, Los Angeles, Orange County, Phoenix, Portland, San Diego, San Francisco, and San Jose.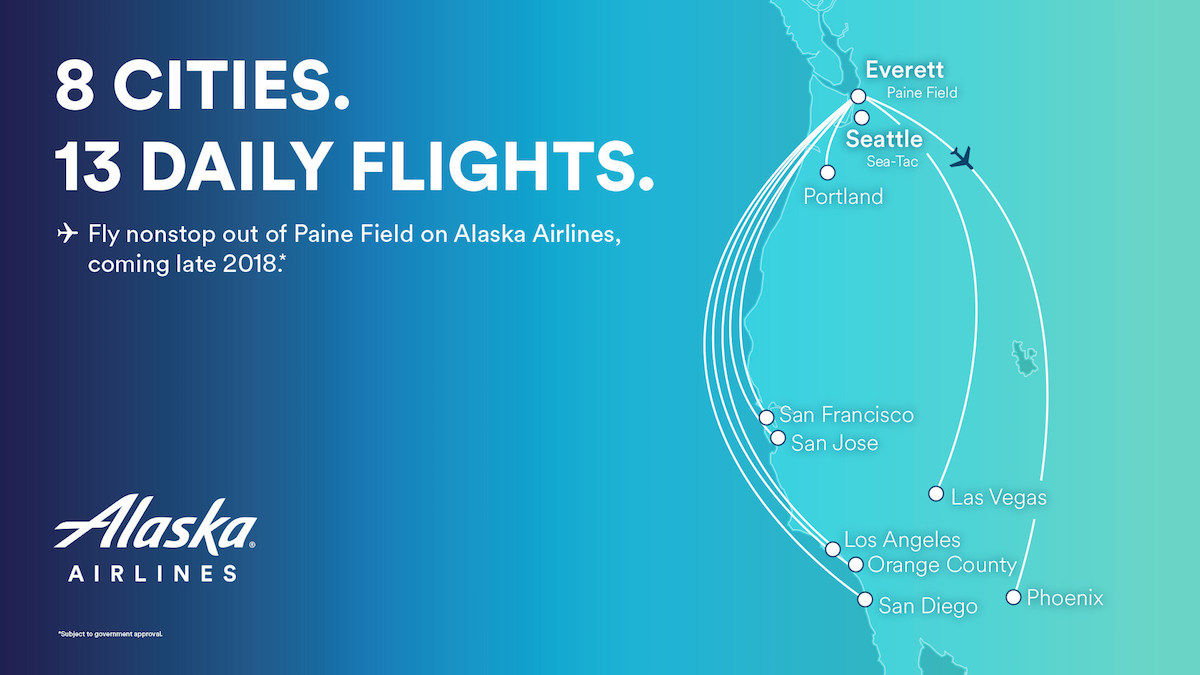 Exact flight times will be announced later in 2018, subject to government approval.
I'm pleasantly surprised by just how many destinations they'll be flying to out of Paine Field. Having 13 flights to eight destinations means that most flights will likely be once daily, while a few routes will offer multiple daily flights (who knows, maybe we'll see several daily flights to Portland, which seems like the most logical route, and once daily flights in other markets).
On one hand that's logical enough, and I imagine over time they'll try to increase frequencies out of Everett. There's certainly some tradeoff here for those living in the area. On one hand, they'll potentially be spending a lot less time getting to the airport. On the other hand, they'll have access to much more limited schedules — rather than the dozen daily flights that Alaska operates in some of these markets out of SeaTac, passengers will have access to once daily service.
I can't wait to give one of Alaska's Paine Field flights a try later this year!
What do you make of Alaska Airlines' Paine Field routes?