I've always respected that Alaska Airlines does things differently than "the other guys." Unlike American, Delta, and United, they don't offer basic economy fares, and they continue to award miles based on how many miles you fly rather than how much you spend on your tickets. They also continue to have a really compelling award chart for partner redemptions.
As I wrote about a couple of weeks ago, the airline is starting to lose thier mojo, as they're having a hard time balancing being a favorite among employees, customers, and Wall Street. Discontent at the airline is growing among employees, some customers perceive that they're not as special as they used to be, and for the past few years they've been facing an attack at their home airport of SeaTac from Delta, which has driven down prices. On top of all of that, the airline actually tries to differentiate themselves, and it's tough to differentiate yourself while not being able to command much of a revenue premium.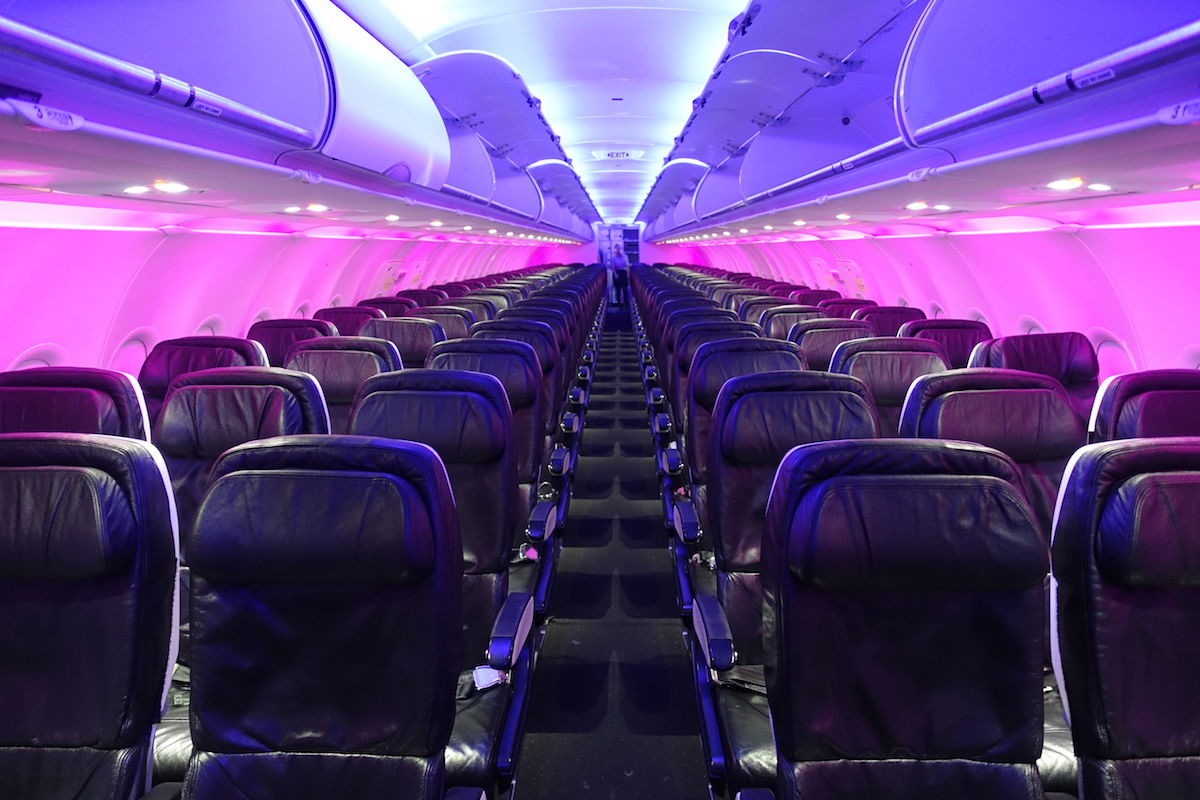 Economy cabin of a Virgin America A320
That brings us to yesterday's Alaska earnings call, where Alaska's Chief Revenue Officer, Andrew Harrison, said the following:
With a single reservation system, we will be able to address upsell and segmentation opportunities which the legacy carriers are executing on today and that we have not been able to participate in. There are a number of ways for us to participate. Basic economy is just one of those, fare families and ancillary bundles are others. And whatever approach we take, we are committed to tapping into the opportunity before us to increase upsell and ancillary revenues. This particular opportunity would represent incremental revenue above our stated synergy targets for the merger. We are just beginning to evaluate the full potential of upsell and will share more with you on our future calls.
On that same topic, later in the call Alaska's SVP of Revenue Management and & e-commerce, Shane Tackett, said the following:
I think that Andrew mentioned segmentation, obviously, basic of sort of where everybody else has gone. We have modeled the impact. Andrew just mentioned, we think it's north of $100 million once it's fully out and running and sort of optimized, which — that would take some time. I would just say, other airlines, I think, it took a year or more to get to market and sort of fully roll it out to every — their network. I think some of them are still expanding it now into international. And I think we'll go faster than that. We certainly are going to be motivated to be faster than that, but it's not something that's going to hit like Q2, as an example. And I'll just say, we haven't decided on what this would look like for us. And it could be something that's like basic. We tend to not do me toos of sort of the network carriers, our business is a little bit different. It usually doesn't need the same product set. So we're looking forward to being able to talk with you guys in the future call about what this might look like for us.
I think it's worth noting here that Alaska isn't saying that they're going to introduce basic economy as the other carriers have. As they say, they tend not to do "me toos of some sort of the network carriers."
However, they also note that they see a revenue upside of over $100 million from changes that "address upsell and segmentation opportunities."
In addition to basic economy, they mention fare families and ancillary bundles as other ways to capitalize on the market. We're not yet sure exactly what this would look like, though one thing is for sure — if they want to see a revenue increase of over $100 million, they're going to make some changes to their fare structures that we don't like. 😉
I suppose we could see them selling bundles, like priority check-in, security, and boarding, for some amount or money, or fares that come with a free checked bag. However, I don't see them getting that quite the revenue upside they'd like without something more widespread.
We'll have to wait and see how this plays out. Given the situation Alaska is in, I have a hard time imagining they won't be introducing something along the lines of basic economy.
The good news is that there are different ways to introduce basic economy, as we've seen that American and United have introduced more restrictive basic economy fares than Delta has. I could see Alaska introducing basic economy but not actually making it that bad. Here's to hoping, at least.
How do you see this playing out for Alaska Airlines?
(Tip of the hat to @elysium55)