Yesterday I returned from my long weekend trip to Madrid, and Ford was kind enough to pick me up from LAX. He was even waiting in the arrivals hall. Initially I attributed that to him being sweet, but it may also have to do with the fact that I was in the customs hall for about 30 minutes without cell phone reception (more on that later, but I'm sure you can guess what it involves).
He was there when I exited customs & immigration, and said he had been waiting for about 15 minutes. Not too bad!
He had parked right across from the terminal, and upon exiting handed the ticket to the attendant operating the booth.
The cost for 20 minutes of parking?
$150!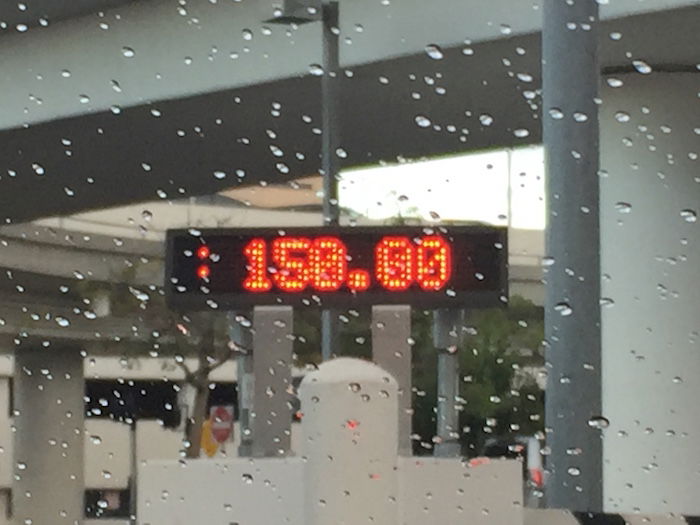 At first we both laughed out loud, thinking that it was some error which could easily be fixed. Perhaps the decimal point was off on the screen, and the real cost was maybe $1.50, or hell, maybe even $15?
Nope. She insisted the cost was correct. Apparently he had been parked there since October 29. Which clearly wasn't the case. Ford explained the situation to her, and she got on the phone for a few minutes. A few minutes later a "manager" appeared.
Usually it's easy to have a reasoned discussion when a conflict arises. But there's not much you can say here other than "um, no, I've only been here for 20 minutes."
We asked to see the ticket itself again (usually they print the time you entered on it), but he refused to give it back unless we paid. When Ford explained he wasn't paying and that it was an error, the guy asked for his driver's license and took down his license plate, saying that if he refused to pay he could just report the debt to the county, and then he could take it up with them. He presented that option as if he were doing us a favor. Because nothing sounds more pleasant than trying to fight the county over $150 of parking fees.
The irony is that each toll booth has a big sign asking how customer service was, so it was very tempting to pick up the phone and call. 😉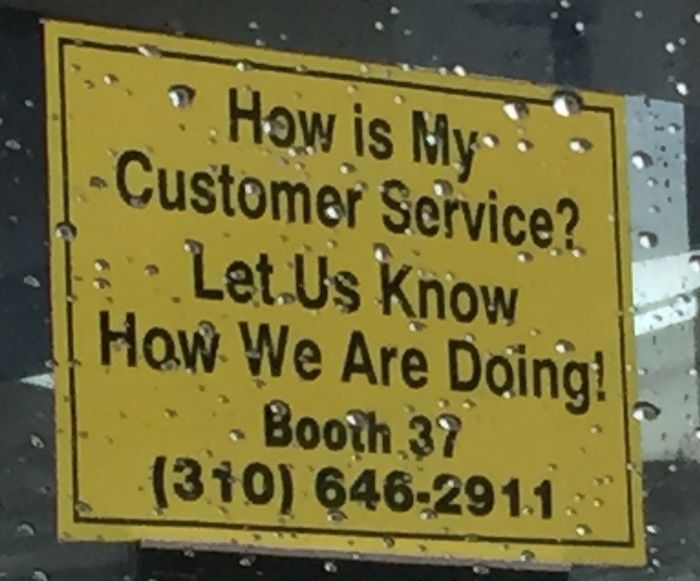 Ford kept a hard stance and said "I'm not paying $150 and I'm not giving you my driver's license, since I haven't been parked here that long."
Then it seems the problem became apparent. Ford had a trip last week whereby he parked at the airport for a few days, though he paid that. And it was a different parking lot altogether. But the date overlapped with the date he claimed the car was parked. Ford pulled up his credit card statement through his phone, and showed it had been paid for.

The guy still didn't buy it. At this point he called over his supervisor (how many freaking levels of supervisors can there possibly be there for an airport parking toll booth???). Ford explained the situation to her — "I've been here for 20 minutes, and it seems they're trying to charge me for the last time I parked, but I already paid that and just showed him the credit card statement indicating that."
She looked at the guy and said "if he showed you the statement then what's the problem?"
And with that, we were on our way. 20 minutes later. And I guess we actually saved money, since we weren't charged at all (though that was probably simply a system limitation of them not being able to charge the correct amount).
Does anyone understand the technology behind these parking garages, and what was going on? The ticket was presumably printed correctly, but do cameras somehow track the license plates and charge based on that? If so, what's the point of the tickets?
So strange!