I'm just headed back to the US after an amazing long weekend in Madrid. While I flew out there with only carry-ons, I'm returning with some checked bags. Or more accurately, with three boxes (bonus points to anyone who can guess what's in them).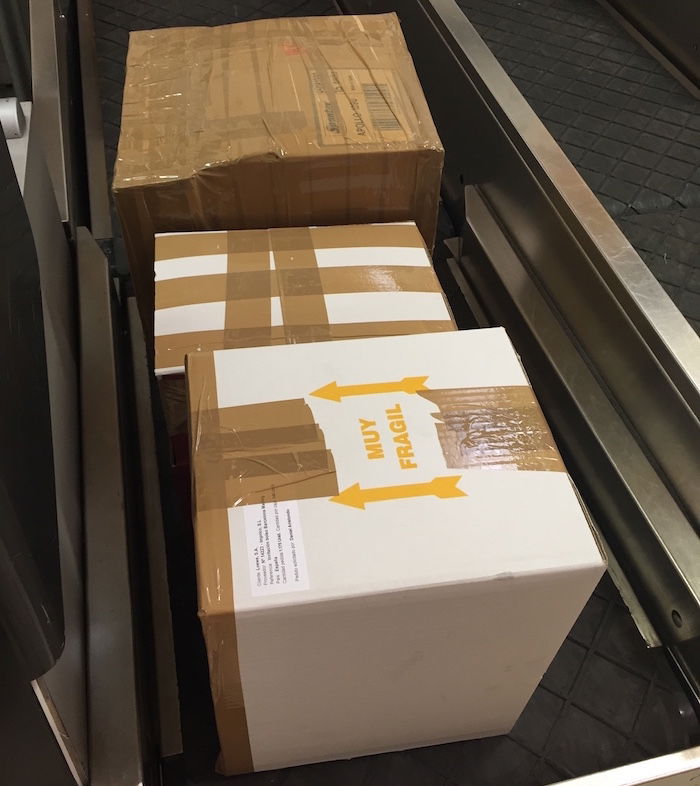 For my journey home I'm flying from Madrid to London in Iberia economy, connecting to a London to Los Angeles flight in American business class.
American allows business class passengers and Executive Platinum members to check three bags free of charge.

While my first flight was with Iberia, I know that within an alliance there's a policy whereby you get the highest baggage allowance on the itinerary when multiple airlines are involved.
While I knew that was a policy, I figured I'd see if I could find it in writing online. After all, if there's one thing I've learned over the years, it's to never assume airline employees know the rules.
As luck would have it, Iberia's website has a section which addresses exactly the situation I was in (bolding mine):
If your ticket includes an Iberia flight and a flight with another airline, the baggage allowance of the company that operates the most significant flight will apply. If Iberia is the first company, the allowance that appears on the ticket will apply. If you bought separate tickets with different airlines, the baggage allowance of the respective operator will apply to each ticket.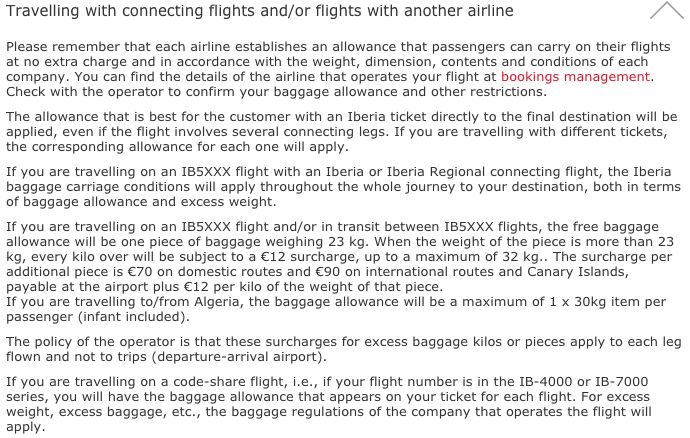 Perfect! The policy is in writing with both American and Iberia, what could possibly go wrong?
Well, I went to check-in at the Madrid Airport this morning in the business class line, and the agent was super friendly. But he was also super confused when I placed three boxes on the belt. He explained I could only take two bags — the standard allowance of one bag, plus an additional bag for being a oneworld Emerald member. I pushed back a bit and showed him the rules published on Iberia's website.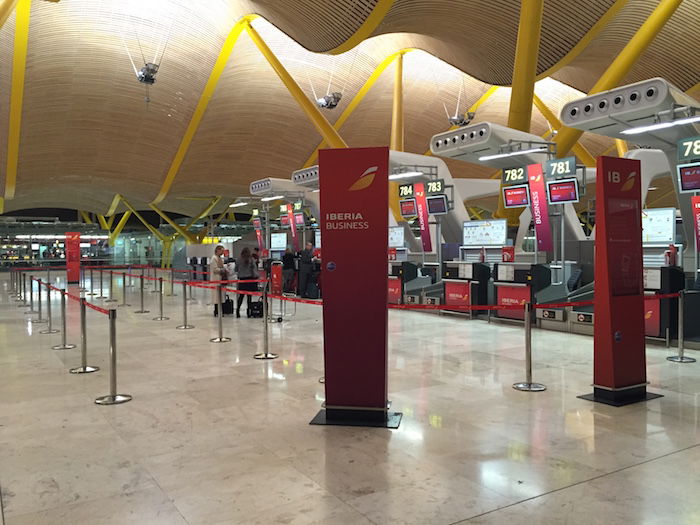 His English wasn't great, so he said he just needed to check with his supervisor, so he asked me to walk with him over to the Iberia business class ticketing desk. There he conversed with the supervisor for a couple of minutes, and they informed me "sorry, only two bags."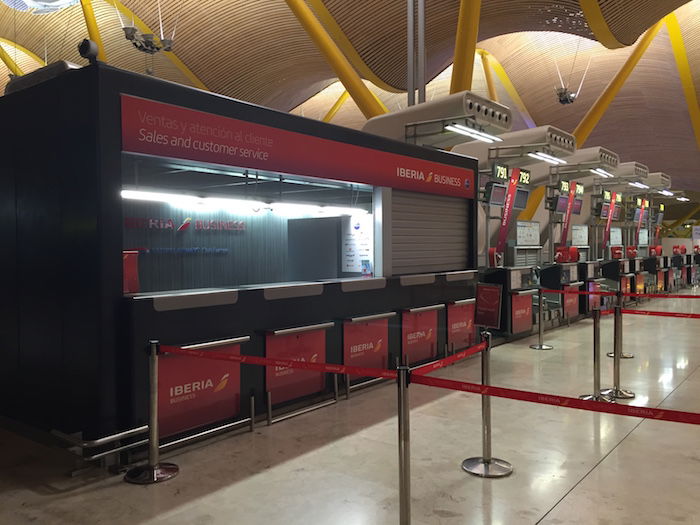 I showed the supervisor Iberia's policy in writing, which stated the baggage allowance for the most "significant" segment applies, and then showed her American's baggage allowance.
She explained that if I were in Iberia business class from Madrid to London then I could check three bags but since I wasn't, two bags was the maximum. She asked if I had upgraded, and when I stated I did, she asked why I didn't also upgrade from Madrid to London, in which case this wouldn't have been an issue.
The agent and supervisor were both extremely friendly about it, but I once again pressed them on the written policy.
At this point they called over a third person, who was apparently the ticketing supervisor's supervisor. I once again showed her the website. The three of them talked for a while, and then they all nodded. The original agent who helped me walked back to the business class check-in desk with me, and said "since many passengers today only have hand baggage, we will make an exception this time. But next time only two bags."
Bottom line
This is simply a good reminder that no matter how clearly the rules are published, it doesn't mean they'll be followed. It always pays to print out "proof" of the rules, but even then it's not fool-proof. In this instance all three staff were genuinely friendly and were trying to help, but it seemed their system wasn't easily allowing them to check three bags.
Admittedly airline rules aren't all that simple, but the amount of misinformation among airline employees never ceases to amaze me.