I just wrapped up an awesome long weekend in Madrid. It's a gorgeous city with friendly people, and I actually quite prefer it to the other parts of Spain I've visited. Which sort of surprised me, since I wasn't expecting that to be the case.
Of all the things I love about Madrid, I might just like their gin & tonic culture the most.
A bit of background, first. I love gin & tonic. It's my mixed drink of choice. Up until now I've been perfectly happy with Hendrick's gin and just about any type of tonic water. Heck, in the US I'm even impressed when I go to a bar or restaurant and am served cucumber with it.
But Madrid takes gin & tonic to a whole new level. Just about every place I've been has about a dozen choices of gin, and actually make them in a way better than I've seen anywhere else.
For one, every single bar and restaurant has had specific gin & tonic glasses, which I love. They're sort of like wine glasses, except thicker and larger. I'm such a fan that I'm actually shipping some back to the US, given that they're that awesome (hence my checked baggage situation from earlier).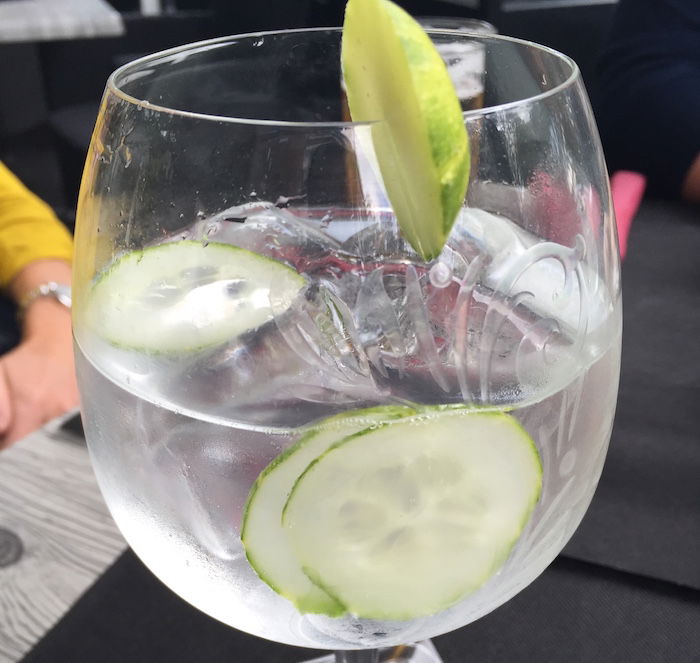 But it's not just the presentation, but actually how they're served. In every single instance they've been mixed table-side, in creative ways I've never seen before. For example, yesterday the server first poured the gin in the glass table-side, and then poured the tonic water into it with great precision over a bar spoon, which apparently causes the tonic water to sink to the bottom and mix in better. Brilliant!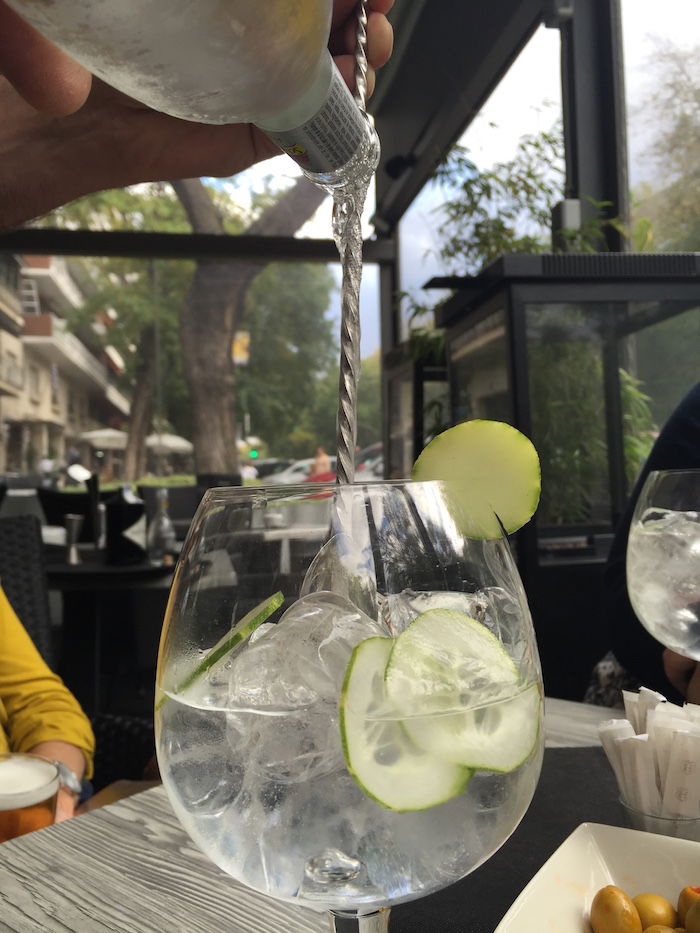 Ugh, I could have stayed in Madrid forever. I'm not someone who usually picks up things from my travels, given that I have nowhere to put them (after all, I live out of a carry-on so don't really value material possessions). But I loved the gin & tonic glasses so much that I had to bring them back to the US, since based on a Google search I haven't been able to find them for sale in the US (if I'm missing something, please let me know).
Bottom line
If you're a gin & tonic lover like I am, you have to visit Madrid. It has taken a lot of self control to not go to a different place for a gin & tonic for breakfast, lunch, and dinner every day.
Anyone have a similar experience in Madrid, or love the gin & tonic glasses there as much as I do?