Reader Trevor asked the following question on the "Ask Lucky" page of the blog:
Second question (referencing James (9334/5)) – Is there a resource to be able to tell which airlines are giving Rimowa kits on which routes?
While I'm not usually much of a collector, I am mildly obsessed with Rimowa amenity kits. I'm not exactly sure why, because I'm not actually a huge fan of Rimowa luggage. But what I love how the Rimowa amenity kits have the individual airlines' logos on them, and given how many colors they're in, they look kind of awesome. I'm so much of a fan that I kinda sorta took a trip to Asia in part to pick up my "missing" Rimowa kits.
I actually prominently display them in my living room, along with a bunch of airline teddy bears and rubber ducks (the rest of which are by my bathtub):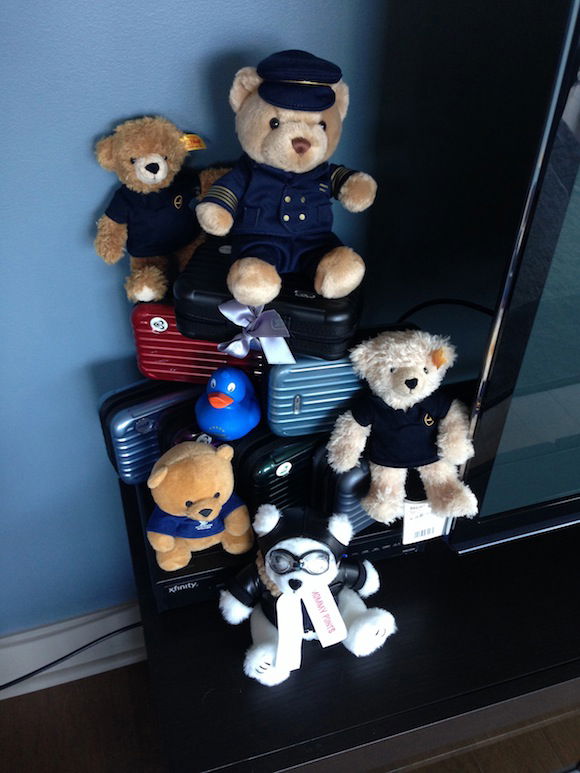 Yeah, and my mom wonders why I'm single…
Anyway, I can certainly appreciate the desire for Rimowa amenity kits, so figured I'd provide a quick rundown as to which airlines are offering them as of now. Keep in mind airlines are constantly changing whether they offer them or not, so this post is only current as of now.
ANA Rimowa Amenity Kits
ANA presently offers Rimowa amenity kits in first class on all flights to Japan.
On flights from Japan they offer Samsonite amenity kits.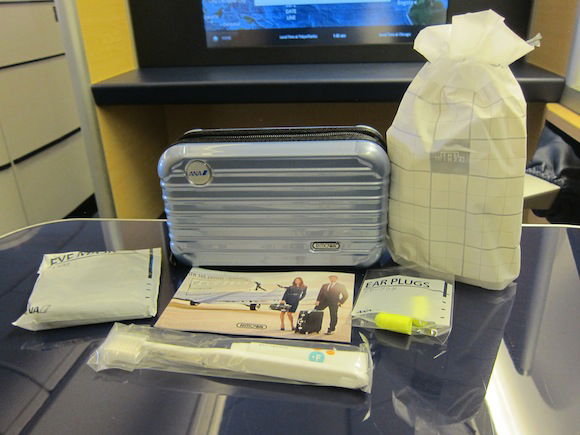 EVA Air Rimowa Amenity Kits
EVA Air is the Star Alliance's newest member, and after joining the alliance began offering Rimowa amenity kits.
They're the only airline to offer them in business class, but only on longhaul flights with Royal Laurel Service (which is their new business class).
EVA offers Royal Laurel service on all their flights from Taipei to New York, Los Angeles, San Francisco, Toronto, Paris, Amsterdam and London.
If you're on one of their flights with the old configuration (on the A330 and 747) then the premium cabin is Premium Laurel Class. They don't offer Rimowa kits on those flights.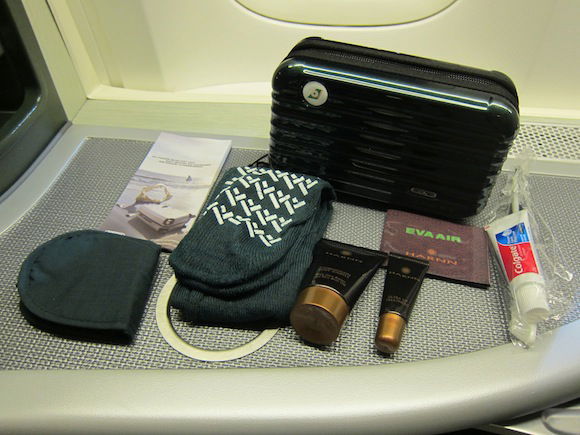 Thai Airways Rimowa Amenity Kits
While I love many aspects of Thai Airways, they're one of the most inconsistent airlines when it comes to almost all aspects of their operations. They do presently offer Rimowa kits, though Thai doesn't seem to provide the kits on all flights.
Anecdotally it seems like flights to Australia sometimes don't get them, while just about all other longhaul routes seem to get Rimowa amenity kits with some consistency.
Thai does offer the kits on their Bangkok to Tokyo Narita and Beijing routes as well, though don't offer any sort of amenity kits on their shorter flights from Bangkok to Hong Kong, for example.
When a Rimowa kit isn't offered on a longhaul flight, Thai instead provides a Tumi amenity kit.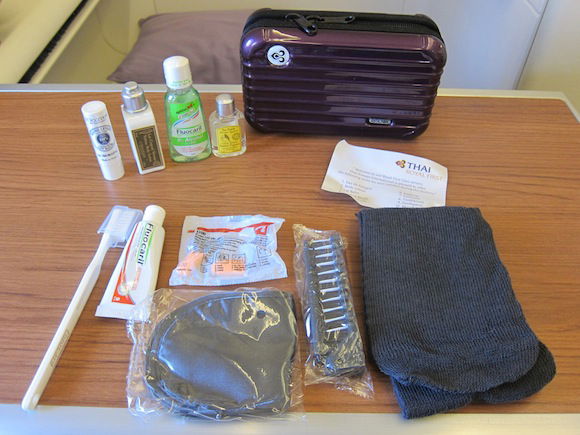 Lufthansa Rimowa Amenity Kits
Lufthansa Rimowa amenity kits have been on quite the hiatus. I got my last one back in 2008, so it has really been a while.
However, as of last week many are reporting them being available again in first class on Lufthansa longhaul flights.
Some reports indicate that flights are often stocked with both Bogner and Rimowa amenity kits, so you may have to ask for one.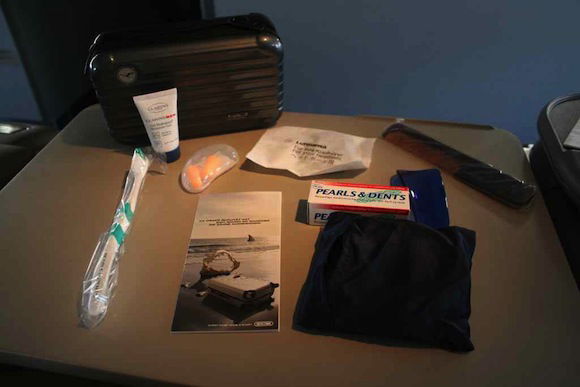 Best award routes to book to secure Rimowa Amenity kits
If you're looking to somewhat plan your award routing around collecting Rimowa amenity kits, here are what I think are your best options for doing so:
You can fly from the US to Tokyo Narita on ANA, and then from Tokyo Narita to Bangkok on Thai (which will potentially get you two Rimowa amenity kits). That should cost 70,000 United MileagePlus miles one-way in first class (if booked before February 1, 2014).
You can fly from the US to Frankfurt on Lufthansa, Frankfurt to Tokyo on ANA, and Tokyo to Bangkok on Thai (which will potentially get you three Rimowa amenity kits). That should also cost you 70,000 United MileagePlus miles one-way in first class (if booked before February 1, 2014), though the catch is it can be really difficult to find ANA first class award space between Europe and Tokyo.
EVA Air business class is readily available out of the US, and can be booked for 60,000 United MileagePlus miles one-way (if booked before February 1, 2014), or 90,000 US Airways Dividend Miles roundtrip.
Anyone else a big fan of Rimowa amenity kits?