I'm sure most of you get inundated with emails requesting feedback from all kinds of companies every day. This is especially common in the travel industry. After almost every hotel stay or flight I'll get an email asking me to fill out a survey. Up until recently I almost never did this. We're all busy, and sometimes the surveys are quite long.
The way I view it, if I have a serious compliment or complaint, I'd much rather send a dedicated email about that topic than spend my time contributing towards a statistic. But lately I've had a bit of a change of heart in this regard. I'm not going so far as to fill out every survey I get, but I have frequently started filling out the post-flight surveys I get from US airlines. Why?
These surveys matter to airlines… too much
I've had my fair share of conversations with executives in the airline industry over the years, including both on the product and loyalty program side. Sometimes they'll ask for feedback, and after I share my thoughts they'll act surprised and say "our survey scores in that area are really great." At that point my jaw usually drops, and I'm not sure what to say. Out of respect for the conversations I've had I don't want to get into too much detail, but suffice to say that you'd be shocked to know some of the areas where airline executives don't see any flaws in their offerings.
It reminds me a bit of Gordon Ramsay's "Kitchen Nightmares" show, which I find to be amusing. He comes into a struggling restaurant, and they don't understand why they don't have customers. Gordon says the food is absolute garbage, and almost without exception, the chef or owner responds "everyone loves our food."
Of course the difference is that US airlines are actually doing well and flights are full, but that's rarely because of anything great the airlines are doing, but rather just due to the lack of real competition.
Personally I don't think surveys are a great metric of performance
I think companies often weigh surveys too heavily. There are lots of reasons they aren't necessarily representative of the popular opinion on a topic:
Generally you either have to be really satisfied or really dissatisfied to fill out a survey, since it takes time to do and you're not being paid for it
Often questions are phrased in a way that favors the company, and that doesn't get at the core of some of the issues
Often companies will throw out the most "extreme" responses, both positive and negative, which really eliminates much of the feedback
I'm not saying surveys are a worthless metric, but personally I think they're often weighed too much.
Why I've started filling out surveys
I swear I'm not trying to be spiteful, but I feel like there's value in letting airlines know when aspects of their experience aren't great. If they're going to weigh this feedback so heavily and often tell us that they're doing well in an area where they're clearly not, or that they're making changes due to "customer feedback," then I guess I'll have to fill out surveys until their "feedback" changes. 😉
Maybe if they consistently get lower survey scores, they'll be more likely to change things. That's not because the CEO will necessarily care, but rather because people running individual departments know their performance evaluation will be based on many of these scores.
For example, I just filled out a survey regarding a recent (paid first class) transcon American Airlines flight operated by an ex-US Airways plane, and I was asked questions about both the onboard experience and the AAdvantage program. You can bet I left low scores for the lack of power ports, the lack of entertainment, the slow Wi-Fi, and more.
While I didn't even think the service was bad, I guess American has higher expectations of their own service than I do: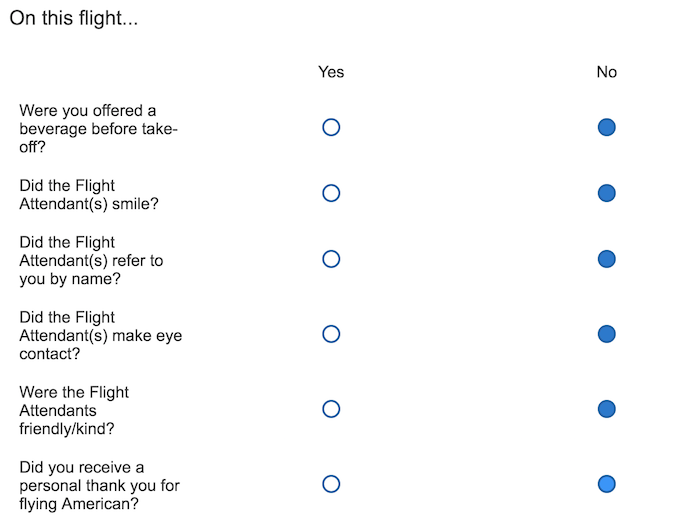 I wish my answers weren't the truth, but unfortunately they are. Like I said, I didn't even consider this to be a flight with bad service! On a small minority of flights am I being offered pre-departure beverages, being thanked for flying American, and addressed by name. Those things don't necessarily matter to me all that much, but if they're going to ask, I'll gladly let them know that they're failing in those regards.
Bottom line
If you're not filling out post-flight airline surveys, consider doing so, especially if you're unhappy. All too often I hear airlines justify decisions based on customer feedback, and say that their "survey scores" in a particular area are good, even when it's incomprehensible to me. Let the airlines know when you aren't happy with the product they're offering. Hopefully worse scores will light a fire under someone's rear.
To balance that, I also recommend acknowledging great employees. Personally I prefer sending a dedicated email for that, but you can also fill out a survey.
Do you fill out post-flight airline surveys? Under what circumstances?