It's the beginning of the year, which is a sad time for those of us who earn elite status with airlines and hotels. For most programs, your status qualification resets at the beginning of the year. So while on Saturday we had a sense of accomplishment for the miles and nights we put in, we woke up on Sunday to find that most of our accounts looked like this: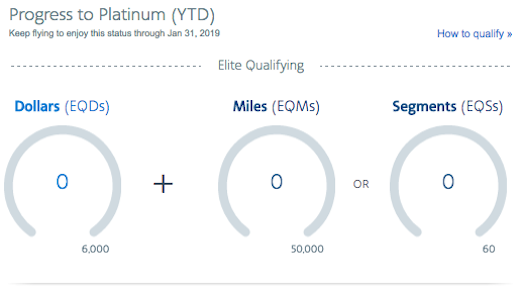 For those of us on the status hamster wheel, status resetting is bittersweet. It marks the end of one journey, but at the same time it also means we get to start all over in planning new adventures. In past years I would have probably already had a lot of travel planned on American at this point so I could work on requalifying for status, though this year I'm feeling a bit different.
In a backwards way, I almost feel a sense of freedom in not having any elite qualifying miles with American. I feel like I actually have the opportunity to make an informed decision about which program I want to be loyal to, rather than the usual approach I take, where I say "well, I've already started requalifying, so I might as well finish it off."
For the first time in years, I'm starting the year and seriously asking myself if I should even bother requalifying for status.
A couple of weeks ago I wrote a post with six reasons not to be loyal to an airline in 2017, and I'm increasingly finding that those points even resonate with my own travels.
Perhaps even crazier than not going for status, I'm thinking of possibly going for status with Delta. You can earn Delta status primarily through credit card spend, and given that they run a solid operation domestically otherwise, they might just be the best option. When you combine some domestic travel with some spend on Delta's co-branded credit card, you can earn Platinum or Diamond status fairly easily.
So I'm not sure what exactly my point is, other than to say that my overall feeling with status resetting this year is different than it has been in past years, to the point that I almost feel some relief. Anyone else have a similar feeling?