Once in a while we hear stories of passengers ending up on flights to the wrong destination. This can happen for a variety of reasons. Sometimes they accidentally book a ticket to Sydney, Canada, rather than Sydney, Australia. Sometimes operations break down and somehow someone ends up on a flight that's not to their intended destination. And sometimes you have people who intentionally sneak onto the wrong flight.
However, this story is the first time I can recall an entire plane flying to the wrong destination. No, this isn't a case where a pilot accidentally landed at another airport that was a few miles from the intended destination, or where there was a medical or mechanical diversion. Instead a miscommunication led to the flight being operated to a destination in the completely opposite direction.
34 passengers traveling on Nextjet (which is one of Sweden's largest regional airlines) landed hundreds of miles from their intended destination after they all got on the wrong flight, through no fault of their own. The passengers were departing from Sundsvall in central Sweden yesterday, intending to fly to Gothenburg, on the west coast. But instead they ended up in Luleå, in the far north. As you can see in the map below, they flew in exactly the wrong direction, and ended up over 600 miles from their intended destination.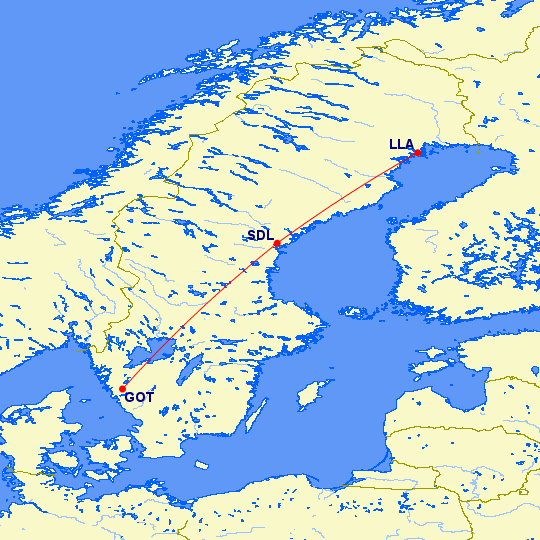 So, how did this happen? The airline had been forced to cancel their flight to Gothenburg due to bad weather, though it seems that passengers (and at least some ground staff) never found out about that. Instead the passengers had only been told that their flight was delayed, and their 5PM flight started boarding at 8PM.
The crew operating the flight was intending to go to Luleå all along, so they operated the flight as planned, and the passengers just had an unpleasant surprise on landing. On top of that, the passengers who had been intending to fly to Luleå were left behind.
Based on a story by The Local SE, it sounds like at least some of the passengers took the situation in stride:
"I just laughed. What can you do?" passenger Roger Leirvik told Aftonbladet.

Nextjet apologized for the incident. "It appears to have been a huge miss in communications between the airport in Sundsvall and us," said its marketing director Henning Lindberg.

The passengers spent the night in a hotel in Luleå and were to be flown to Gothenburg on Tuesday.
What a hilarious screw up. I still can't fully wrap my head around how this all happened. I could see passengers boarding the wrong flight, but at no point did the flight attendant or pilots say "welcome aboard this flight to Luleå?" I guess they didn't, but it just takes a comedy of errors for something to go this wrong. I guess that's why it's so rare.
(Featured image courtesy of Bene Riobó)