I can't think of another industry that has contracts with customers that are as one-sided as we see in the airline industry… but that's also how it has been for a long time.
Airlines basically promise nothing
Reader Vincent sent me an email about a frustrating experience he had with United Airlines. Vincent upgraded his girlfriend to business class for Valentine's Day on a flight from Seoul to San Francisco, and he paid $600 plus 30,000 MileagePlus miles for the upgrade (what a good boyfriend he is!).
Two hours into the flight a glitch in the entertainment system caused the crew to restart the system, and somehow this left the entire passenger cabin without "electricity" for the remainder of the overnight flight, meaning there was no entertainment, no charging, no Wi-Fi, no recline, and not even lights.
There was no goodwill offered by the crew, but after contacting customer care, an offer was made for a $200 voucher. United said there was nothing else that could be done.
Vincent finds this to be inadequate, and he's of course completely right — he paid a significant amount for an upgrade (I'd estimate $1,020 — $600 cash plus 30,000 miles, which I value at $420), but didn't get a flat bed, entertainment, power, or anything else. As he concludes:
"While I am certainly unhappy with the outcome, I am more frustrated with the immense asymmetry of power between carriers and customers in the marketplace. Though 2020 has brought about some positive changes, the current contracts of carriage continue to be one of the most customer-restricting and merchant-protecting agreements in the business world (e.g. United's CoC Rule 24-I essentially says no service is guaranteed and the class of service is unilaterally defined by the company). We have filed a complaint with the DOT but don't expect much as United technically didn't violate any of its obligations."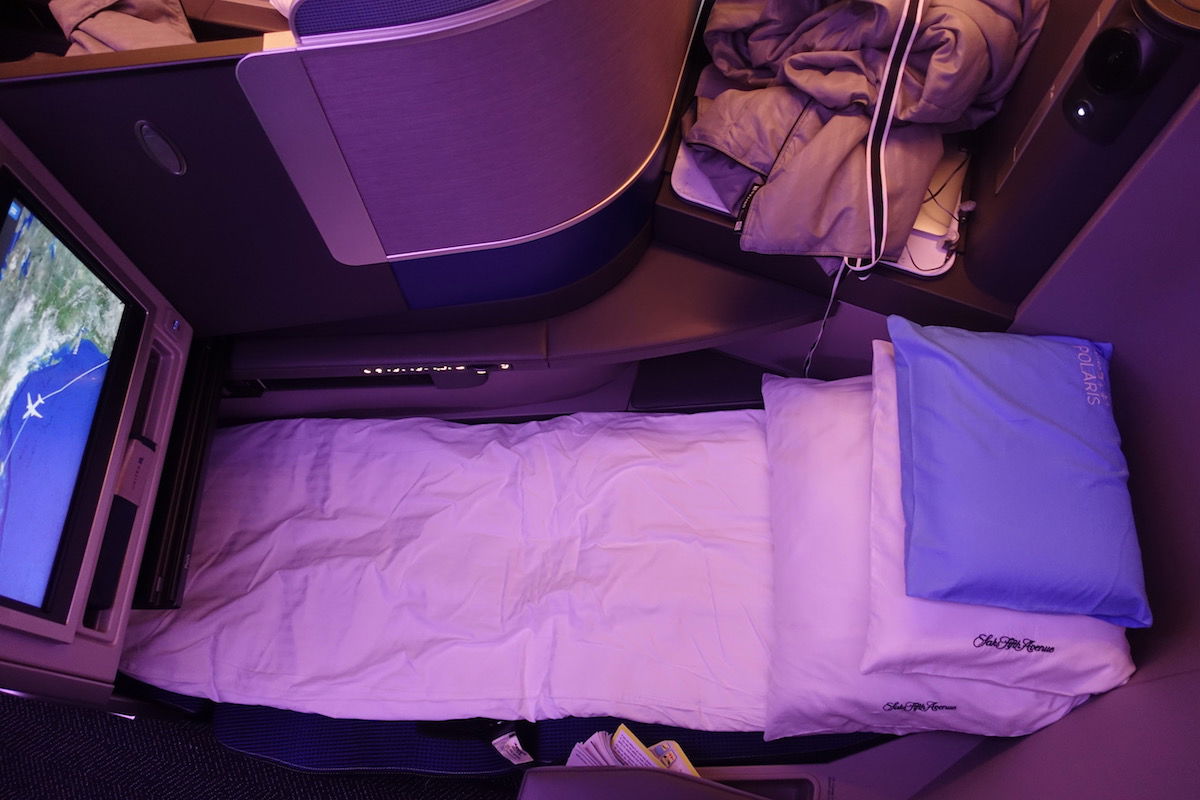 Airlines contracts of carriage promise very little
This is why people don't like airlines
In many ways I think consumers are unreasonably harsh towards airlines. The airline business is incredibly complex and low margin, and airlines really can't win with consumers. At the same time, is that surprising when we look at how they treat customers?
Imagine booking a stay at a Hampton by Hilton, and you're expecting complimentary breakfast, free Wi-Fi, a shower with hot water, etc.
But then imagine you're told a day before that your stay will be postponed by a week, and then when you arrive at the hotel you're told there's no breakfast, no Wi-Fi, no running water, etc.
Would you be expected to pay? Heck to the no. To take it a step further, Hampton by Hilton has a guarantee about customer happiness:
Making you happy makes us happy. So, if we can make your stay better, talk to any member of our team, and we'll make sure you're 100% happy. GUARANTEED.
Yet if an airline delays your flight, or doesn't offer basic services that are promised, you're out of luck, because those things aren't promised in the contract of carriage.
Hampton Guarantee, not coming to an airline near you
Can we do anything about it, though?
What can be done in situations where you're realistically not getting what you paid for, but airlines are unwilling to budge? There are a couple of routes you can go:
You can file a consumer complaint with the Department of Transportation (DOT); it won't necessarily get you anywhere, but airlines tend to take complaints filed through the DOT more seriously, and these complaints also count against the airline in terms of published statistics
You could dispute the charge on your credit card (in this case the cash co-pay for the upgrade); while the contract of carriage doesn't promise certain services, you can dispute a credit card charge if you're not getting the product that was promised, and airlines do promise certain amenities on their website
While I can't guarantee a credit card dispute would be successful, in many cases these disputes with airlines are successful, so it's worth a try given lack of other options.
Should the government get involved?
Airline contracts of carriage being totally one-sided is an accepted business practice, so one has to wonder if perhaps the DOT should step in and regulate a bit more. The US has generally been pretty lax when it comes to consumer rights for air travelers.
In other words, should airlines be allowed to promise one thing in their marketing, but then provide something totally different without any repercussions based on their contract of carriage?
I don't mean to play both sides here, but I can also appreciate the challenges associated with trying to regulate this, given the operational complexities that airlines face, plus how complicated pricing is in the airline industry.
For example, say you book a paid business class ticket from Seoul to San Francisco, and experience the same thing Vincent's girlfriend did. What regulations should the government put into place to prevent this situation from being so unfair? What percent of the fare should be refunded? What if just a power port doesn't work? What if just Wi-Fi doesn't work? What if the seat doesn't recline for half the flight, but does recline for the other half?
I'm not saying these hurdles couldn't be overcome, but I also recognize there might not be an easy answer here.
Bottom line
Airline contracts of carriage are completely one-sided. Airlines will market specific amenities and schedules, but the contract of carriage you agree to essentially makes it clear that nothing is guaranteed — not the schedule of the flight, not the amenities onboard, etc.
As consumers this is incredibly frustrating, and it's this uneven power dynamic that also contributes towards people having such disdain for airlines. While some people make petty complaints, I think Vincent's complaint above is very reasonable — if you pay 30,000 miles plus $600 to upgrade, and then you can't even recline your seat, you should get more than a $200 voucher.
What do you make of how one-sided airline contracts of carriage are? Is there a useful way this can be regulated?