Late last year Qantas opened their first class lounge at LAX, which is a spectacular lounge. Not only does it have beautiful decor, but it has a full Neil Perry sit down restaurant. I've argued it's probably the best airline lounge in the US.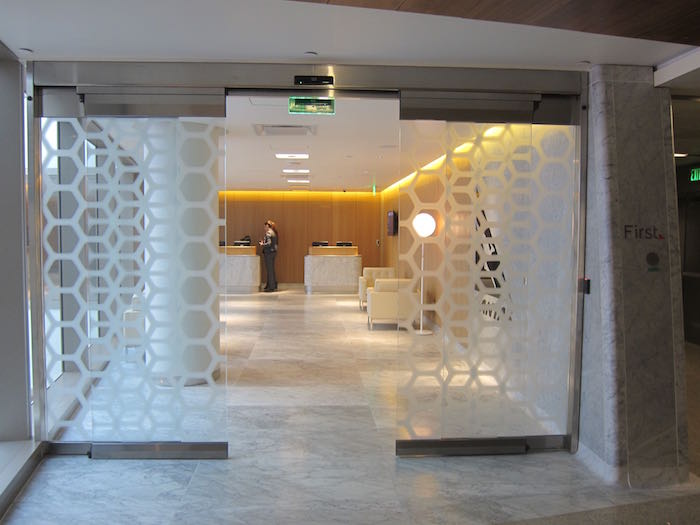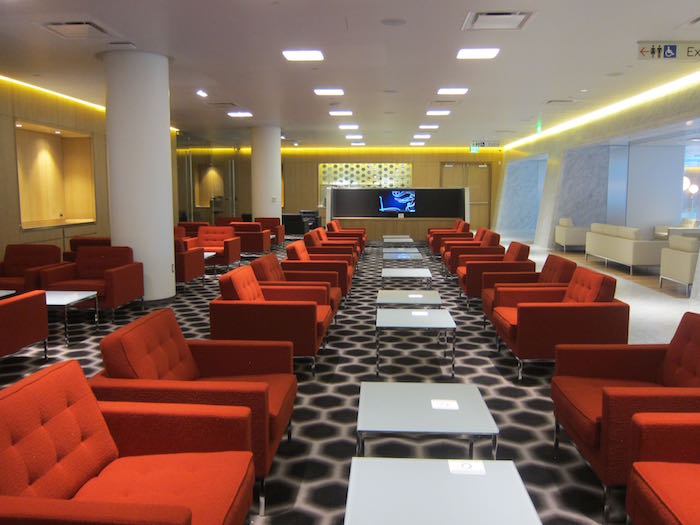 The Qantas First Class Lounge LAX is a oneworld Emerald lounge, as is evident based on the logo at the door.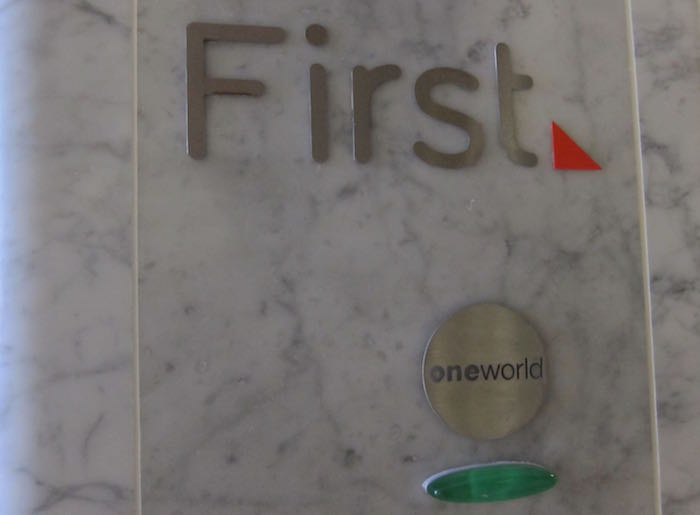 Oneworld Emerald lounges are available to the following customers:
International longhaul oneworld first class customers, either departing internationally out of LAX, or connecting internationally before 6AM the following day
Oneworld Emerald members traveling on oneworld itineraries, regardless of destination (excluding Emerald members through the AAdvantage program)
American Executive Platinum members receive access to oneworld Emerald lounges in the US only when on longhaul international itineraries
This isn't a rule which varies by lounge, but rather that's the policy for all oneworld Emerald lounges. Now, there are some oneworld lounges which don't allow Emerald members, like the British Airways Concorde Room or the new Qatar Airways Al Safwa Lounge. But those aren't oneworld Emerald lounges, and they make those rules clear. Aside from those exceptions, which are clearly stated on the oneworld website, you're good to go.
Anyway, that brings us to the Qantas First Class Lounge LAX, where the agents working the desk seem to be quite confused over who should have lounge access. People have reported being denied access when:
Traveling domestically with a foreign oneworld Emerald card (for example, a British Airways Gold member traveling from Los Angeles to New York)
American Executive Platinum members traveling internationally same day, but not out of LAX (for example, traveling from Los Angeles to New York to London)
But it seems the confusion over who should have access might actually come from higher up. FlyerTalk member sisamouth was recently denied access to the lounge (correctly, actually), and was shown the following email, which was sent from one of Qantas' lounge managers to the staff in the lounge:
From: <redacted>
Subject: Lounge Access
Date: September 17, 2015 at 12:06 PM
To: QantasFirst <redacted>

Hello Everyone,

I understand that there is some increasing confusion around lounge access, particularly in the mornings with American Airlines and other domestic flights. The AA website and access policy is a little contradictory, but this is a Qantas Lounge. I had a phone call with <redacted> this morning to clarify.

In a nut shell

Any one on an AA or other OW Domestic flight, originating their journey in LAX regardless of status or cabin to be flown, does NOT have access to the Qantas First or Business Lounges.
If an eligible guests has come in on an international flight (i.e. from Australia) and has a connecting flight on a oneworld carrier they are eligible to use one of the lounges.
If we witness or know of a passenger soliciting to eligible guests attempting to gain lounge access we are to deny access to that person. Same goes for people saying that their colleague will be coming shortly can they come in, they must wait till the eligible member arrives.
If someone bullies or forces their way into the lounge we have Jeff's full support to call the Airport Police to have this person(s) removed from the lounges and contact the Qantas Duty Manager to inform them of our actions.

It is important that we protect the integrity of the lounges and to not dilute the experience of those that are genuinely eligible. By allowing all and sundry in we compromise the service and product that we offer and cannot recover costs form other airlines when we allow extras in who do not have access.

When I return from Sydney in a couple of weeks we will hold some team briefings and training sessions so that we are ready when the connector tunnel opens between T4 and TBIT.
It's quite pathetic that this guy doesn't seem to understand oneworld rules. He is specifically suggesting that:
A British Airways Gold member traveling from Los Angeles to New York shouldn't have access to the lounge
An American Executive Platinum member traveling from Los Angeles to New York to London shouldn't have access to the lounge
And both of those are simply not true. Like I said, this is a oneworld lounge, and therefore it has to follow oneworld policy.
But to me, more concerning than the guy in charge not knowing the rules is the way he suggests handling a situation. "If someone bullies or forces their way into the lounge," he suggests calling the police. Of course there are cases where that's appropriate, like if someone goes into the lounge without permission.
But one could also reasonably interpret that as meaning that someone who tries to make their case based on the correct rules should have the cops called on them if they talk back at all. And we know frontline airline employees do sometimes call the cops on people, but I always assume those are "bad apples." In the case of Qantas, this actually seems to be the suggestion from the manager.
Bottom line
Perhaps before this guy returns to LA to do more "training sessions" he should read up on the rules himself. I  believe some people have reached out to Qantas to clarify the situation, though it's quite concerning to me that someone fairly high up at Qantas who is in charge of this department both doesn't know the rules, and also suggests calling the airport police as a means of dealing with such a situation.
What has been your experience with accessing the Qantas First Class Lounge LAX recently?