Currently the world's longest flight is operated by Singapore Airlines' A350-900ULR, as the airline flies nonstop between Singapore and Newark. That flight covers a distance of over 9,500 miles and can take up to 18 hours, so it's pretty incredible that the flight can be operated nonstop.
Qantas' big New York & London aspirations
There's another even longer flight on the horizon. For quite a while Qantas has been talking about how they'd like to be able to fly nonstop from Melbourne and Sydney to London and New York. They call this goal "Project Sunrise."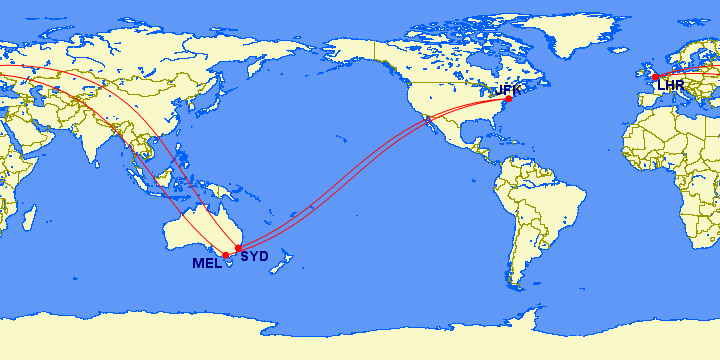 The catch is that currently no plane exists that can operate these 10,000+ mile, 20+ hour flights nonstop. So Qantas has asked Airbus and Boeing to develop planes capable of operating these flights.
What can Airbus and Boeing come up with?
You might be saying to yourself "wait a second, doesn't it take years to design new planes?" Yep, it does. So the expectation all along has been that Airbus and/or Boeing would modify existing planes to make this work, rather than developing new planes altogether.
Nowadays aircraft manufacturers are able to make improvements long after the planes are put into service. For example, Airbus recently announced an increased range for the A220, even though the plane is already flying.
In the case of Airbus they'd presumably modify the A350, while in the case of Boeing they'd presumably modify their 777-8, which will be starting service soon.
Qantas has had to adjust their expectations a bit since this project launched in terms of the number of passengers they'll be able to carry, but they still believe that Airbus and Boeing can develop planes that will be able to operate these flights in an economical way.
Airbus confirmed what they can do
There's an interesting update on this front — Airbus has just confirmed that they've been able to make modifications that allow both variants of the A350 to fulfill Qantas' requirements. So we could see either the A350-900 or A350-1000 be modified to meet the "Project Sunrise" requirements.
While I figured Airbus would be able to make it happen, I'm impressed that they've been able to make this work on both the -900 and -1000 variants of the plane.
The reality is that Airbus already wasn't too far off from this. For example, the A350-900ULR already has the range of ~11,200 miles, though this is based on limited capacity.
When will Qantas make a decision?
Qantas expects that Airbus and Boeing will give their final bids for the project by August, and then Qantas hopes to make a decision by the end of the year. Then Qantas hopes to start these flights by 2022, though I imagine that remains subject to change.
Bottom line
We've seen a lot of new ultra long haul flights added over the past several years. For the most part there aren't many more ultra long haul flights on the horizon, though Qantas' new routes will be making history, if/when they launch.
I can't wait to see which plane Qantas chooses for this project, and how they choose to configure these planes. While they initially wanted a four cabin plane with capacity for at least 300, we know they've had to make compromises.
So will they follow Singapore Airlines' lead on their A350-900ULRs and just have business class and premium economy, or what will they decide?
This should be an interesting one to watch, and it's exciting to know that at least Airbus knows they'll be able to meet Qantas' requirements.
Do you think Qantas will go with the A350 or 777-8 for Project Sunrise?