Update: Here's the latest on Airbus' proposal to Qantas.
We know that Airbus and Boeing are competing to build the world's longest range aircraft. Currently the world's longest range aircraft is the A350-900ULR. This plane is exclusively operated by Singapore Airlines, on their routes from Singapore to Newark, Los Angeles, and San Francisco.
However, some airlines want more than the 9,500+ mile range offered by that plane. For example, Qantas wants to launch nonstop flights from Melbourne and Sydney to London and New York, which is something they're referring to as "Project Sunrise."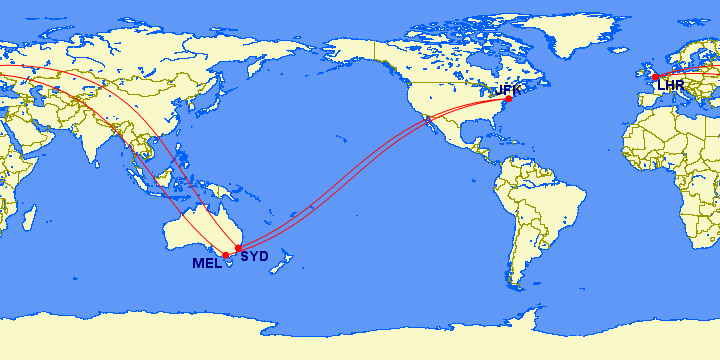 Both Airbus and Boeing have been competing to try and build something to Qantas' specifications, as presumably other airlines might be interested in this as well. The assumption is that Airbus would be building a modified version of the A350, while Boeing would be building a modified version of the 777X.
In June, Airbus confirmed that they had built a plane that was capable of meeting Qantas' needs, though at the time they didn't provide more details of what that would look like.
Well, while they still haven't officially confirmed anything, it's being reported that Airbus is preparing to launch the Airbus A350-1000ULR, which presumably would be the plane they've been talking about.
In other words, this plane would have the capacity of the A350-1000 (which is bigger than the -900), while it would have an even better range than the A350-900ULR.
Qantas' desired nonstop flights from Australia to London and New York would cover a distance of 9,950 miles to 10,573 miles, so they'd need to have a bit more range than the A350-900ULR, especially if they were hoping for a denser configuration. Singapore Airlines' A350-900ULRs only have 161 seats, with business class and premium economy, and no economy. This also greatly limits the weight of the planes, as well as the fuel burn.
Bottom line
We'll have to wait for an official announcement from Airbus, though the concept of the A350-1000ULR sure seems likely. Airbus had officially confirmed they've developed a plane capable of operating Qantas' desired flights nonstop, and as a concept the A350-1000ULR is exactly what you'd expect.
It'll be interesting to see if that's what Qantas goes with, or if Boeing has a contender as well. Regardless, it sure seems like Airbus is kicking Boeing's butt lately. That's partly due to Boeing's on problems (especially with the 737 MAX), though Airbus has also been innovating, like with the recent introduction of the A321XLR.
I'd be curious to see what other airlines might be interested in something like the A350-1000ULR.