Last November, Delta and Airbnb introduced a cool new partnership, where SkyMiles members could earn miles for their activity with Airbnb. This is the third partnership that Airbnb has with an airline, as they also have a partnership with Qantas and Virgin America.
Under this partnership, new Airbnb users can get $25 off their first qualifying Airbnb stay, and up to 1,000 bonus miles (for a stay of at least $150), plus earn one mile per dollar on stays going forward.
Airbnb & Delta are offering triple miles for a limited time
For a limited time you can earn more SkyMiles with Airbnb. For bookings through April 30, 2017, and for stays through April 30, 2018, SkyMiles members can earn:
2,000 bonus SkyMiles after their first stay of at least $150
3 SkyMiles per dollar spent with Airbnb (rather than 1)
As before, in order to earn bonus miles you have to start your Airbnb booking through deltaairbnb.com. This works the same way as an online shopping portal, meaning you have to enter your SkyMiles number on this website, and then will be redirected to Airbnb's website, which will track your activity and credit you miles.
No change has been made to how many bonus miles you can earn for hosting others — new Airbnb hosts can earn up to 25,000 bonus miles (this comes in the form of 2,500 bonus miles after earning $250 of hosting fees, another 7,500 bonus miles after earning an additional $750 in hosting fees, and another 15,000 bonus miles after earning an additional $1,500 in hosting fees).
Is earning Delta SkyMiles for Airbnb stays the best option?
Delta is the second U.S. airline to partner with Airbnb. Virgin America also partners with Airbnb, and offers one Elevate point per dollar spent with Airbnb. In general I'd say one Virgin America Elevate point is worth significantly more than one Delta SkyMile, so when the Delta and Airbnb partnership was first announced, I recommended sticking to earning Elevate points.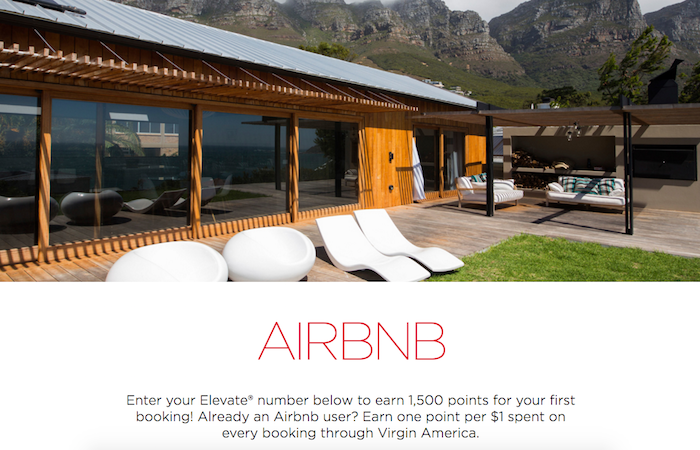 However, with the current promotion I'd certainly choose three Delta SkyMiles over one Virgin America Elevate point.
Bottom line
Ultimately I think three SkyMiles are worth about four cents, so this is the equivalent of a ~4% return on your Airbnb spend. That't not a reason to choose Airbnb over another type of accommodation, though if you'll be booking an Airbnb anyway, be sure you to do so through Delta's Airbnb page to earn bonus miles.
(Tip of the hat to View from the Wing)