While airberlin is a member of the oneworld alliance, they don't have very close relationships with the individual member airlines beyond that. For example, American, British Airways, Finnair, and Iberia have a transatlantic joint venture, which airberlin is excluded from.

Earlier this year American even cut their codeshare agreement with airberlin. While we don't officially know why this happened, I know that airberlin has lousy yields and they're in a bad financial situation, so there's a chance it wasn't worth American's time anymore, and that the whole situation was just too messy.
Or maybe there's more to it. Keep in mind that airberlin is partly owned by Etihad, and is part of the Etihad Airways Partners "alliance." So it's possible American cutting codeshare ties with airberlin was intended to send a message to Etihad (after all, as of next year they're cutting codeshare ties with both Etihad and Qatar).
Given that American isn't showing airberlin much love, it looks like airberlin is coming up with a new strategy for their flights to the US. JetBlue and airberlin have announced a new partnership for flights as of September 12, 2017. While we don't have the full details yet, at a minimum the airlines will have an interline agreement, allowing passengers to check bags through to their final destination, book both airlines on one ticket, etc. I wouldn't be surprised if that's expanded to a codeshare agreement at some point.
This partnership will include airberlin's flights between Germany and US gateways, and JetBlue's flights to the following 31 destinations:
From New York (JFK): Bermuda, Bridgetown, Boston, Buffalo, Charleston, Fort Lauderdale, Los Angeles, Orlando, West Palm Beach, Portland, Rochester, Fort Myers, Santo Domingo, San Francisco, San Juan, Santiago, Syracuse, Jacksonville, Raleigh/Durham, Tampa

From Boston (BOS): Atlanta, Buffalo, Baltimore, Washington (National), Denver, Newark, Fort Lauderdale, New York (JFK), Los Angeles, New York (La Guardia), Orlando, Philadelphia, Raleigh/Durham, San Francisco

From Orlando (MCO): Boston, Washington (National), Newark, White Plains, New York (JFK), New York (La Guardia)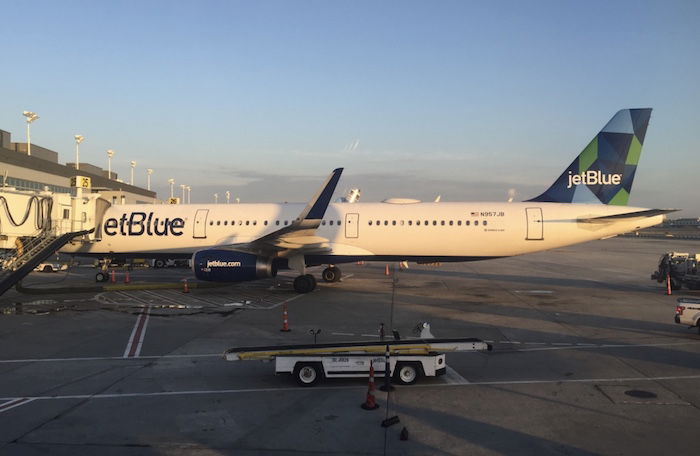 I'm not sure how many airberlin passengers intend to fly from Germany to Boston via Orlando, but I suppose it's a nice option to have. 😉
Here's what airberlin's chief commercial officer had to say about the new partnership:
"We are delighted that we have a new, strong partner at our side with JetBlue, in the important growth market in the USA. This is only the beginning of our co-operation. Together, we are working to extend our partnership in the coming months."
The two airlines plan to offer reciprocal frequent flyer benefits as well, though I suspect that will be limited to reciprocal points earning. As much as I love how many airlines JetBlue partners with, they don't offer much in the way of reciprocal points redemptions.
Given that American doesn't seem terribly interested, it's nice to see that they've found another US airline they can partner with. JetBlue is fantastic about working with foreign carriers, and they leave politics out of things, as they work with both Emirates and Etihad in a mutually beneficial way.
As I wrote about last week, I think the "big three" global alliances are slowly dying (or at a minimum, have seen their best days), and this is the perfect example of that. Airberlin belongs to oneworld, Etihad Airways Partners, and now is forming yet another partnership outside of both of those alliances, since American doesn't seem to want to cooperate with them.
What do you make of the new partnership between airberlin and JetBlue?