Cabin temperatures is something that is discussed frequently on this site. Ben is a huge fan of individual air nozzles/vents, regardless of the airline or cabin, which allows air to flow through what is otherwise often a very warm cabin.
I myself have really never understood why cabins are kept so warm, especially on overnight flights where you are given thick, warm bedding. You can be seated in business class and be given a warm blanket despite the cabin being well over 20C/68F. Even without using the pointless blanket, I often wake multiples times during the flight, drenched in sweat.
It makes for an uncomfortable night of sleep, even in a premium class.
Japanese airlines are especially notorious for doing this.
I have read that a warm cabin temperature is a deliberate ploy by the crew to send passengers off to sleep as quickly as possible, because a sleeping cabin is an easy cabin to manage. The problem is that if the temperature remains high after passengers fall asleep, they will wake up regularly because they are uncomfortably warm.
AirAsia India
Earlier this week, an AirAsia India flight 583 from Kolkata to Siliguri, Bagdogra was delayed by over four hours for mechanical reasons.
This is a fairly short, 277 mile domestic flight within India.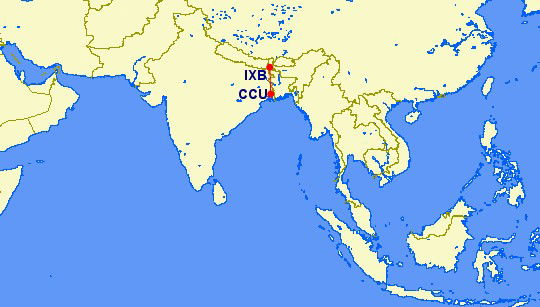 Because of the extended delay, the pilot encouraged passengers to leave the aircraft. It was raining heavily outside, so passengers refused (presumably the plane was not connected to a jet bridge, but details are vague at this stage).
Temperatures in Kolkata earlier this week have reached 40C/104F, with humidity as high as 90%. Combine this with rain, and you have extreme humidity, which entered the cabin as the doors were left open, for those passengers who wanted to leave the aircraft.
What happened next depends on who you ask.
The passengers say that the pilot turned the air conditioning on very strong in order to 'smoke out' the passengers and ensure they exited. When this air conditioning combined with the extreme humidity, it caused a thick mist within the cabin, causing many passengers to vomit and children to cry.
AirAsia says the air conditioning was simply turned on to lower the temperature, in the hot and humid conditions for the comfort of the passengers, and it was not a deliberate plot by the pilot to try and force passengers to leave.
A spokesperson has said:
"AirAsia India would like to confirm that flight i5583 from Kolkata to Bagdogra was delayed by 4.5 hours due to a technical requirement. AirAsia regrets the inconvenience caused to guests on account of this disruption and would like to reinstate that the airline always prioritises safety above all.

(The air conditioning) is a normal occurrence on-board all aircraft when the air conditioning is operated in high humidity conditions."
Here is the video from a passenger of the cabin full of mist — pretty scary stuff, that would make me evacuate pretty quickly:
https://www.facebook.com/dray.ioc/videos/1783369378373186/
AirAsia says passengers were provided with food and drinks to compensate for the delay.
Passengers deny this.
Bottom line
If the pilot was desperate for the passengers to leave, surely they could have provided appropriate protection against the elements to encourage them to do so.
I think I'm believing the pilot in this instance, and the awful mist on board was an unfortunate combination or the extreme weather conditions, and air conditioning that was on too strong.
What do you make of this situation? Have you encountered heavy mist on a plane before?
(Tip of the hat to View from the Wing)