Last October I flew Air Serbia business class from Belgrade to New York, and had a phenomenal experience. This is a fairly new route for them, and is also their only longhaul route, so it was clear how much pride they took in their product. From their great lounge in Belgrade to the onboard service, food, and wine, the entire experience blew me away.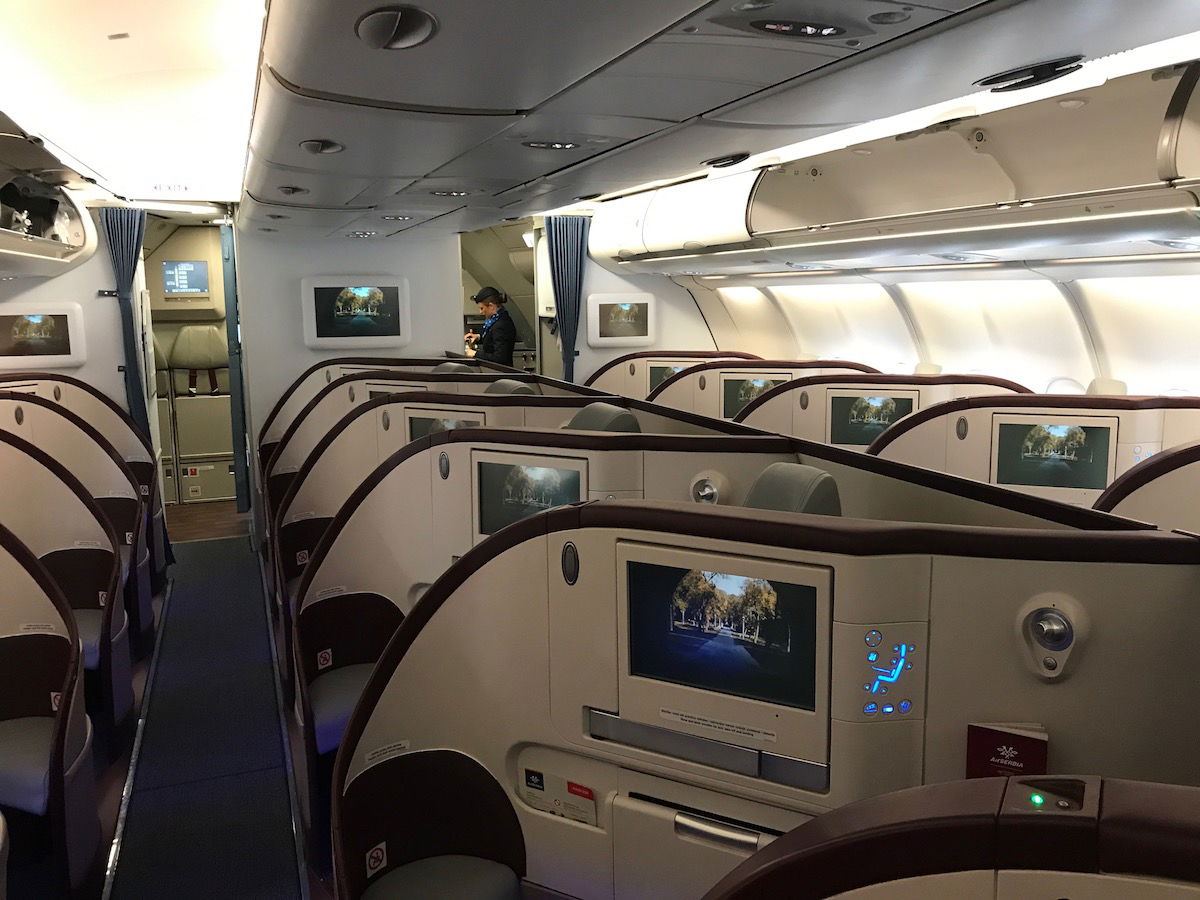 However, when I give an airline credit for what a good job they do, I feel like it's only fair to also share experiences that leave a bad taste in my mouth.
Last night Ford and I flew from New York to Belgrade to Tivat (in Montenegro) on Air Serbia. I redeemed Etihad Guest miles for the tickets, and the New York to Belgrade flight was in business class, while the Belgrade to Tivat flight was on a small prop plane without a business class cabin, so we were in economy.
The experience was solid all around, including the flight from New York to Belgrade. However, there's one aspect of the experience I found disappointing.
As mentioned above, we booked these tickets using Etihad Guest miles, and those reservations need to be made by phone. When I made the reservations with Etihad Guest, they told me that since it was a mixed cabin itinerary, I would need to book the New York to Belgrade and Belgrade to Tivat flights on separate records. This is because they don't allow mixed cabin awards on some partner airlines, apparently.
That's not a huge deal, since the connection was on the same airline, so being on two records doesn't typically have many implications.
I had a suspicion it may cause an issue in one area, though, and unfortunately I was right. I was hoping that common sense would prevail, but nope.
When we landed in Belgrade we headed to the Air Serbia Premium Lounge, which is a lovely space. I presented our business class boarding passes from New York to Belgrade, and then our economy boarding passes from Belgrade to Tivat (since the plane didn't have business class). The friendly associate scanned the boarding passes and took a few moments to look at them in the computer.
"You can't use the lounge because you are in economy."
"But we are coming from New York in business class and connecting on a flight without a business class cabin."
"Yes, but I don't see that in the computer since it's a separate ticket. If it were the same ticket you could use the lounge."
"I understand it's not in the computer on that ticket, but you can see our business class boarding passes from New York. This is because I booked the ticket through Etihad, and they don't allow mixed cabins."
"Yes, but Etihad is a separate airline and we have our own policies."
"I understand, but Etihad owns a stake in Air Serbia, and Air Serbia even uses Etihad Guest as their frequent flyer program."
"My hands are tied, I am just following the rules."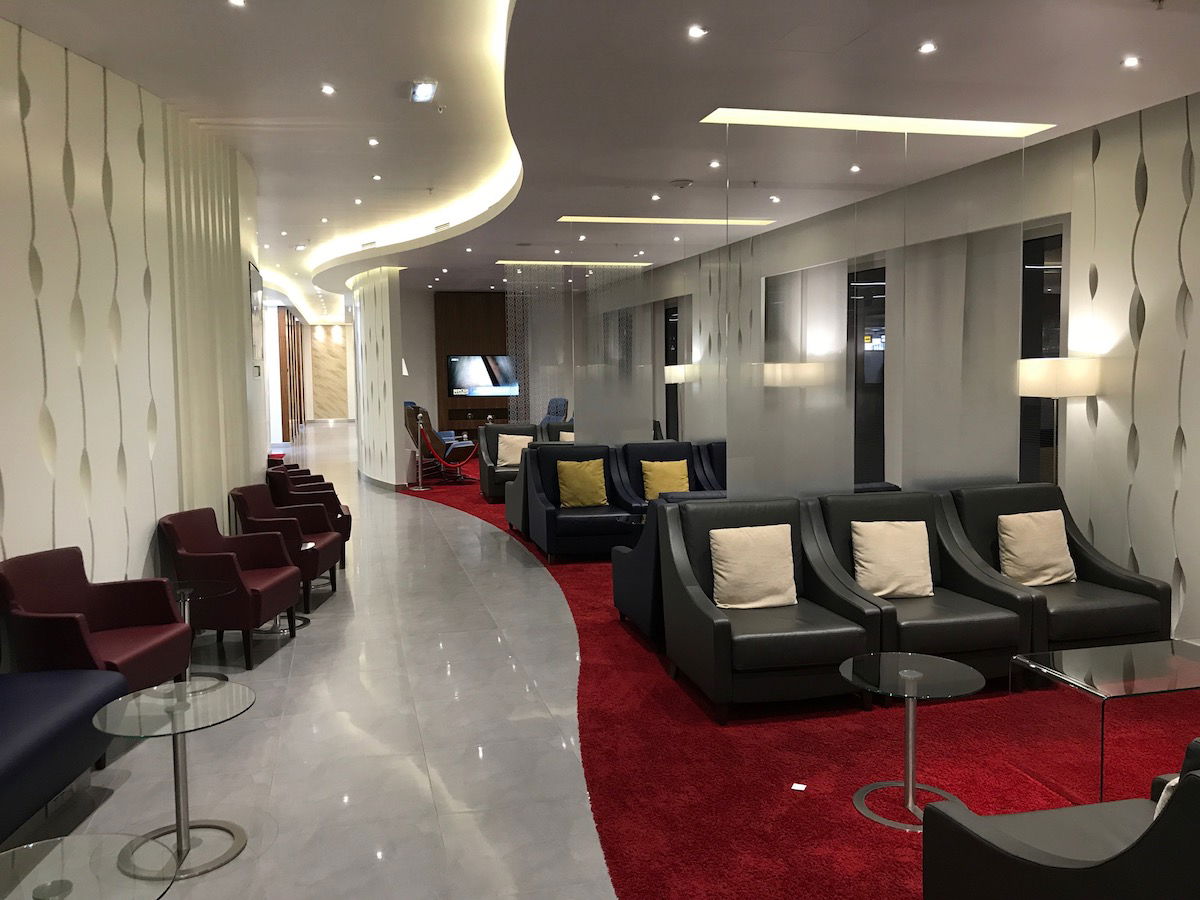 Let me be clear here, I never believe in letting frustration out on front line employees, and this lady was just doing her job… down to a "T," unfortunately. So I'd like to think I was being polite to her, and wasn't going to escalate the situation further with her.
It's unfortunate when rules get in the way of common sense. The only reason we didn't get lounge access was because we were technically on separate tickets, which was only because Etihad doesn't let you mix cabins on one ticket. Etihad isn't just any "partner" — instead they have an equity stake in Air Serbia, they arranged the lease of the plane that makes the New York route possible, and Air Serbia even uses Etihad's frequent flyer program.
So we ended up paying for lounge access, at the cost of 45EUR per person (it's a special trip, and I thought it was worth it). However, it certainly left me with an unfavorable impression of their customer service. Not because the attendant wasn't friendly — she was — but rather because of the lack of common sense that was being applied to the situation.
When we finally entered the lounge, we were literally the only guests there.
After we were in the lounge for about 30 minutes, the lounge attendant came up to us and said "here's a small gift for you," and handed us two plastic Air Serbia luggage tags. Hmmm…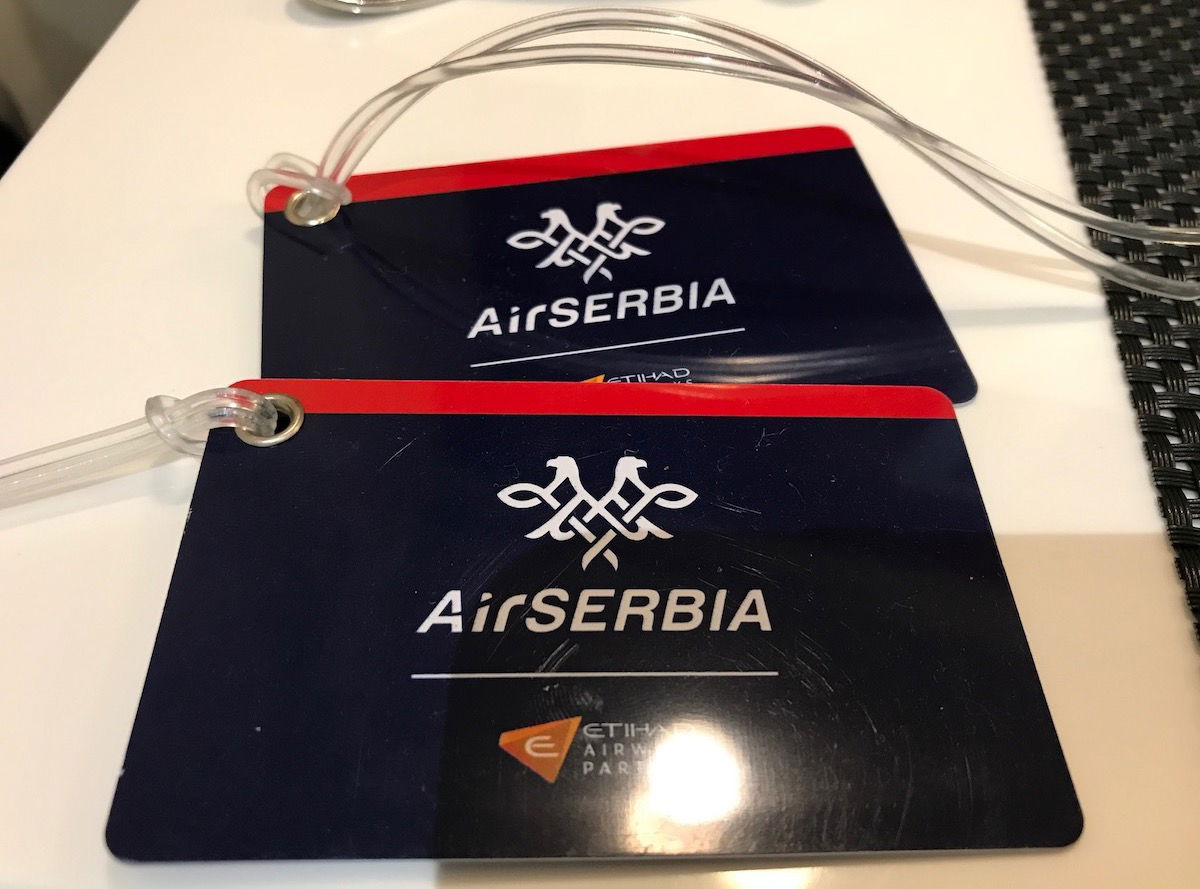 In other businesses common sense often prevails, but unfortunately the airline industry isn't one of them, in my experience…