Historically Air New Zealand is one of the stingiest airlines when it comes to making business class award seats available, in particular for travel between the US and New Zealand. There are many times where there's not a single business class award seat available in the entire schedule.
Several months back we saw a fair amount of business class award space for travel between the US and New Zealand, though it was only for travel in July and August, which isn't exactly peak season for those visiting New Zealand.
Well, for those looking to visit in peak season, there's some good news.
Air New Zealand Peak Season Business Class Awards
While I wouldn't say there's a "ton" of award space, Air New Zealand has a respectable amount of business class award space for travel between the US and New Zealand in December, even for travel for two people.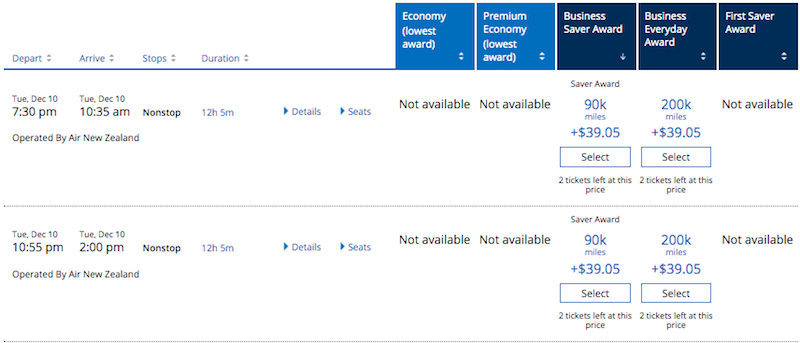 In particular, we're seeing lots of award space from New Zealand to the US (the other direction Is a bit tougher, though you can always find a different way to get to New Zealand on miles). To give you a sense of December availability, the dates with the 90K price have nonstop business class space from Auckland to Houston: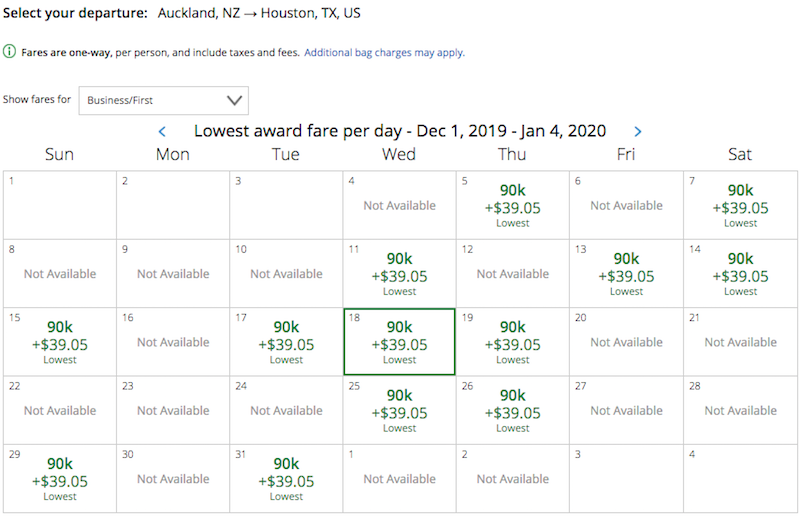 And here are the dates for Auckland to San Francisco (ignore the dates that show 200K, because that's the higher level award pricing on United's own flights):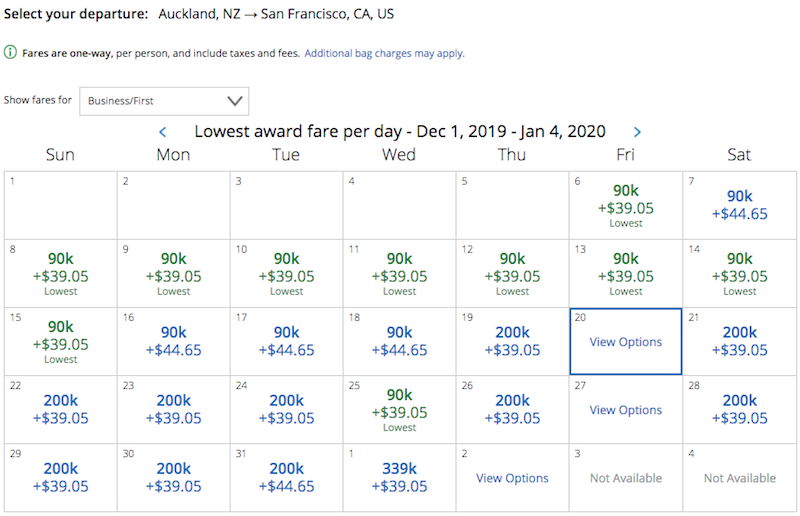 And here are the dates for Auckland to Los Angeles: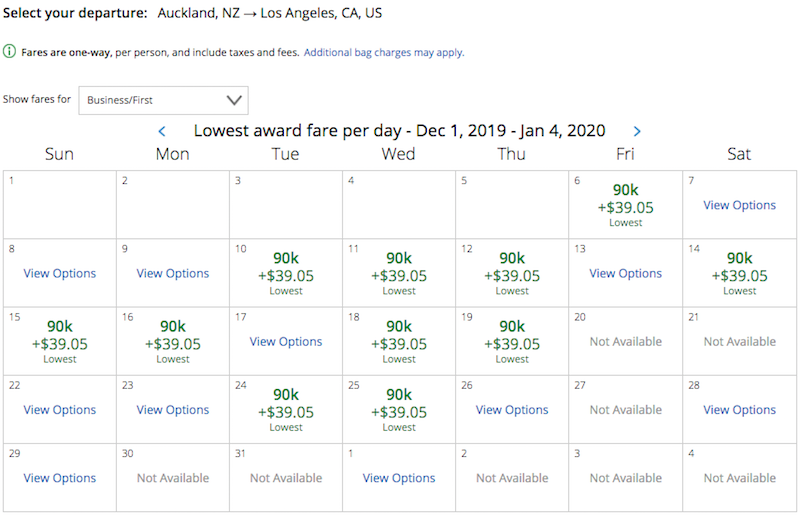 Unfortunately availability isn't quite as good in the other direction, but there are still some options. Here's availability from Los Angeles to Auckland, for example: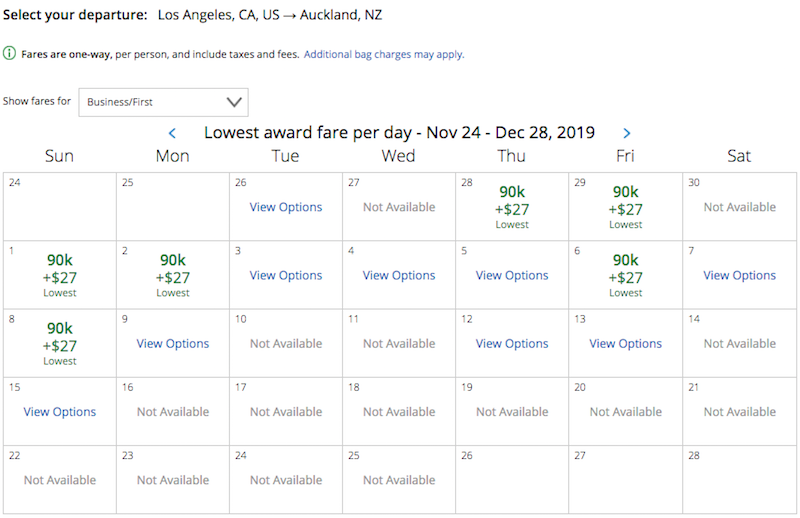 And here's availability from Houston to Auckland: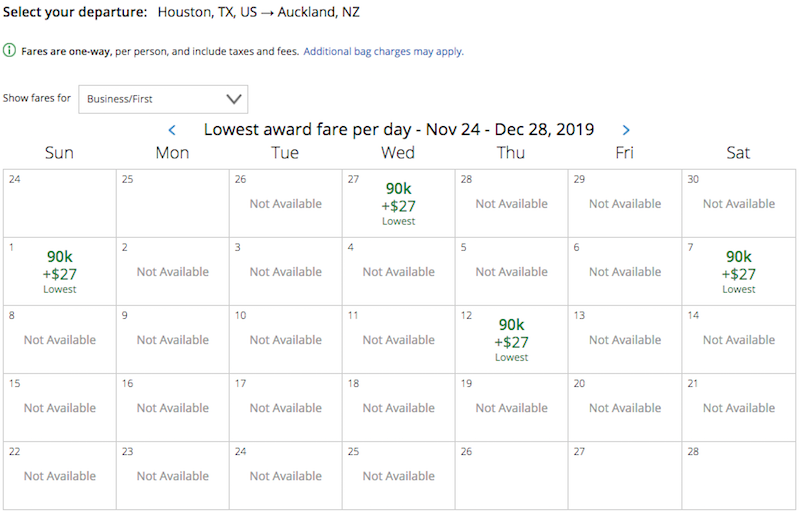 Right now I only see availability through late December, though it's possible we'll soon see some availability for January and February.
How To Redeem Miles For Air New Zealand Business Class
You have a lot of options for redeeming miles for Air New Zealand business class. Among the major programs that may first come to mind, here are one-way business class costs:
80,000 Air Canada Aeroplan miles
80,000 Avianca LifeMiles
90,000 United MileagePlus miles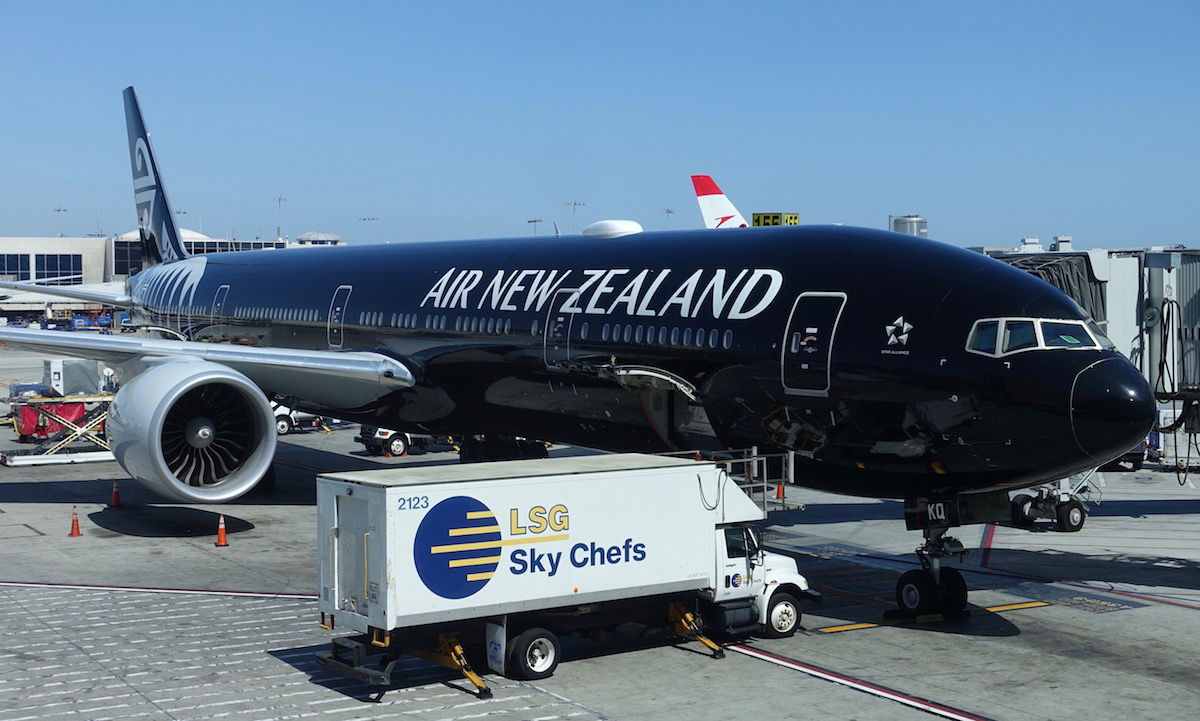 Air New Zealand 777
There's one other value that's especially good, that is often overlooked. Virgin Atlantic Flying Club charges just 125,000 miles for a roundtrip business class ticket between New Zealand and North America.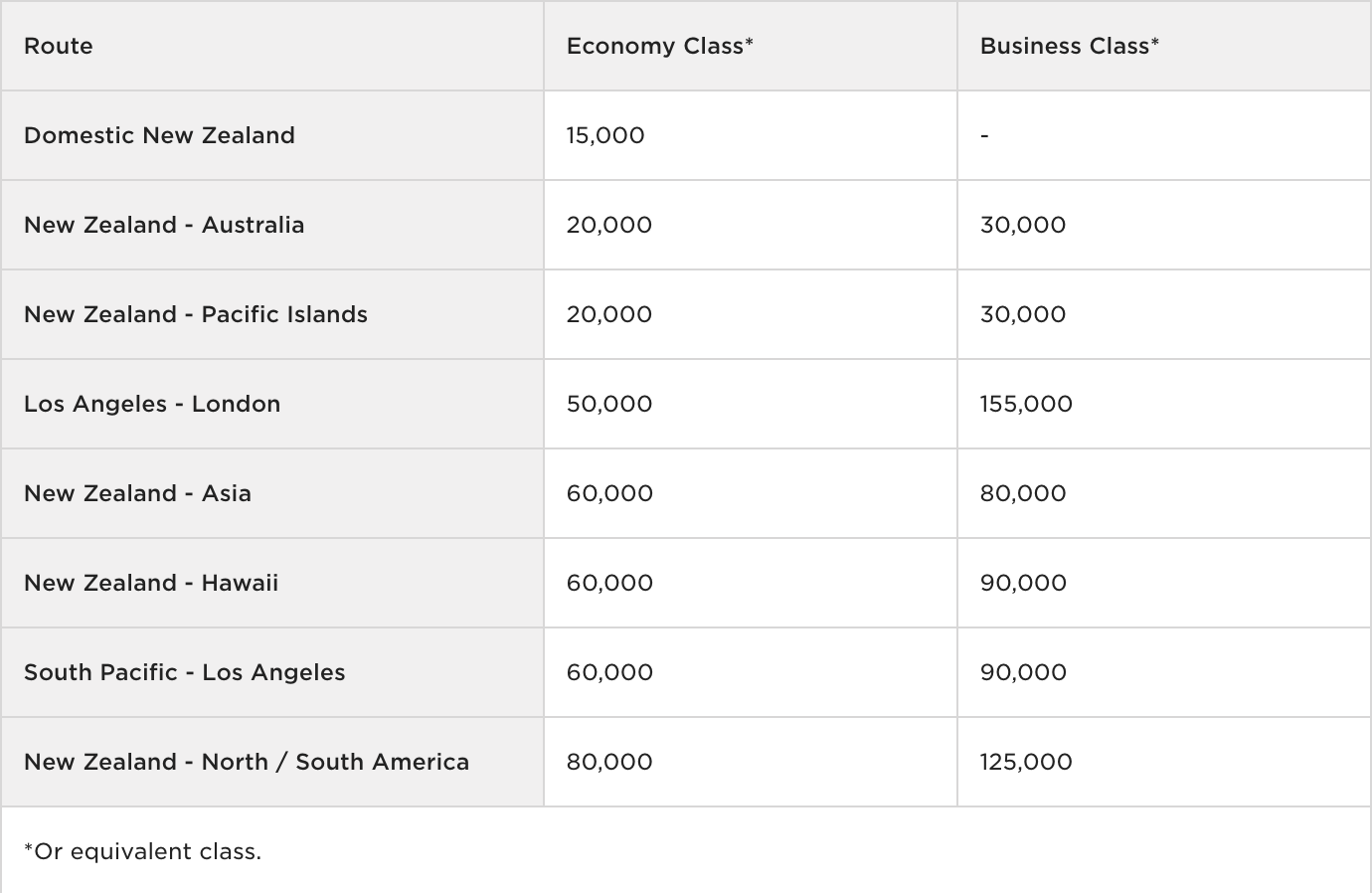 You can also book a one-way for half of the mileage requirement, which would be 62,500 miles one-way. You'll just be on the hook for taxes and fees, as there are no carrier imposed surcharges.
Not only does Virgin Atlantic Flying Club require the fewest number of miles, but it's also a transfer partner of Amex Membership Rewards, Chase Ultimate Rewards, Citi ThankYou, and Marriott Bonvoy.
To book a ticket via Virgin Atlantic Flying Club you need to call, but you can put your ticket on hold for 24 hours while you transfer points (which should be an instant process).
If you want to book using this method, I'd recommend:
Joining Virgin Atlantic Flying Club
Using United's website to find dates with Air New Zealand award availability
Calling Virgin Atlantic Flying Club at 800-365-9500, and telling the agent exactly which flights you want
They should be able to tell you the exact mileage requirement and put the ticket on hold, and they'll give you a booking reference
Then link your Amex or Citi account to your Virgin Atlantic account, and transfer the points
Then call back to ticket the reservation
Bottom Line
While I wouldn't say availability is "amazing," seeing any substantial amount of business class award space on Air New Zealand in the Southern Summer is extremely rare. So this is a great opportunity to redeem miles, in particular through Virgin Atlantic Flying Club, given the cost of just 62,500 miles in each direction.
The niche redemptions available through Virgin Atlantic Flying Club never cease to amaze me, between this and the ability to efficiently redeem miles on both All Nippon Airways and Delta.
Anyone plan to take advantage of this award availability on Air New Zealand?