In early May I wrote about how Air India's CEO announced that the airline would be starting a bunch of new routes in 2017, including flights to Los Angeles, Tel Aviv, Dallas, and Nairobi, in addition to those that had previously been announced.
At the time Air India's CEO announced that the airline would start flying between Delhi and Los Angeles as of September 1, 2017. However, a schedule hadn't yet been published, and Air India's CEO tends to be a bit optimistic, to put it mildly. With September 1 less than three weeks away, what's the status of the route?
Well, the Economic Times reports that Air India is planning on launching flights between Delhi and Los Angeles using a Boeing 777-300ER between late October and early November. Again, I'd still assume this is very much subject to change, though at a minimum it seems safe to assume that Air India is serious about the route. Per the story:
"Almost all regulatory approvals for the proposed air services to Los Angeles from New Delhi are in place. The new flight is a part of the winter schedule and it may take off any time between late October and early November," the official said.
This will be Air India's longest route at 8,000+ miles, and will be slightly longer than their Delhi to San Francisco flight, which has apparently been performing well for the airline.
That's why it's interesting that this flight will be operated by the 777-300ER rather than 777-200LR, given the range difference. At first I wondered whether this would even be within the range of the 777-300ER, though Saudia operates that plane between Jeddah and Los Angeles, and that route is just over 300 miles longer. However, I also believe that Air India's version of the 777-300ER might be heavier, given that it has an additional 50+ seats compared to Saudia.
Air India's 777-300ERs feature four first class seats, 35 business class seats, and 303 economy seats.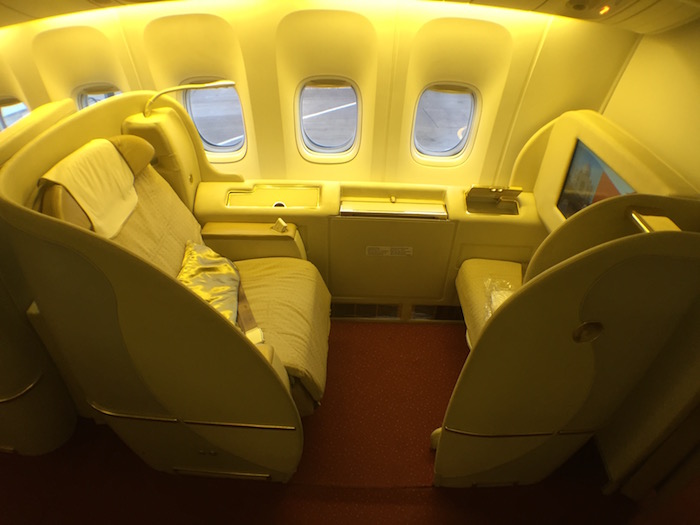 I flew Air India's 777-200LR first class between Delhi and San Francisco shortly after the route launched, so I'd be curious to fly them to LAX as well, on the 777-300ER.
Do you think Air India will actually launch their LAX flight this year?
(Tip of the hat to Live from a Lounge)