It's a day that ends in "y," which means European aviation is experiencing a major strike.
This time around it's the Air France cabin crew on strike, and it's expected to last a week. The dispute is over their new contract, which is supposed to kick in as of November 2016.
Air France flight attendants will be on strike from July 27 through August 2, 2016.
You can find the full details of Air France's strike on this webpage, which will be updated with the most up to date flight cancellation details. Here's how Air France describes the strike as of now:
For July 27, we plan to operate more than 90% of our long haul flights, 90% of our domestic flights, and more than 80% of our medium-haul flight to and from Paris – CDG.
However, there may be last-minute cancellations and delays. Difficulties with crew compositions may also limit the number of passengers per flight.

Update of our flight schedule for July 28 is on-going.
For the next days, according to the estimate of the number of employees on strike, our flight schedule will be adapted accordingly and published the day before your departure.

Customers affected by the cancellation of their reservation will be informed the day before departure, using the contact details provided in the reservation file (phone and / or e-mail). We invite you to keep them up to date.

In the meantime, we would like to assure you that our teams are fully mobilized and will do their utmost to assist you and minimize the impact of this industrial action on your travel plans.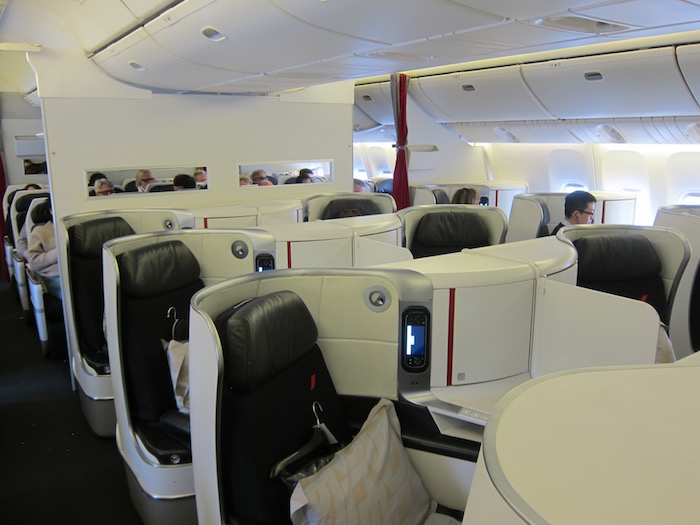 As you can see, for today Air France is operating 80-90% of their flights, so hopefully they operate at least a similar number of flights over the next several days. This will still inconvenience tens of thousands of passengers, but is better than all flights being canceled.
It's also unfortunate that this comes during a very busy summer travel period when lots of families are taking vacations, but unfortunately that's part of the point of the strike — it's more effective if more people are impacted… at least that's how they view it.
While strikes aren't eligible for Regulation 261/2004 cash compensation, the airline still has the obligation to accommodate you on the next available flight and provide you with hotel accommodation. So if your flight is canceled, Air France should pay for your hotel, or accommodate you on the next flight, even if it's not on Air France or one of their partners. It goes without saying that this may take a bit of pressuring, since typically airlines prefer to book you on their flights, and not the flights of partner airlines.
Air France also has the following waivers in place:
What commercial measures are being implemented?
If you wish to postpone your trip, we offer you the following commercial measures.
If you have planned a trip on an Air France flight between July 27 and August 2, 2016:
– You can bring your trip forward on 26 July 2016, or postpone your trip from 3 to 12 August 2016 inclusive. You can change your reservation at no extra cost in the same class of travel.

You can make these changes on this website*, in the "Your reservations" section, on our mobile sites or from your travel agent

– You can also postpone your trip beyond 12 August, 2016, change your origin or destination or if you no longer wish to travel, you can receive of a non-refundable voucher valid one year on Air France, KLM or Hop!
In this case, you may contact your travel agent.
Bottom line
While the strike is expected to last a week, as of now we don't know how many flights will be impacted, and also don't know if it will actually last for the entire week, or if they'll come to an agreement before then. Too bad nothing good seems to come of these strikes a vast majority of the time…