Back in mid-2014, Air France begin installing their new business class product on their 777 aircraft. This was long overdue, as previously Air France exclusively offered angled seats in their longhaul business class, which no longer cuts it.
Air France's new business class product consists of reverse herringbone seats, which is my all around favorite business class hard product, as each seat features direct aisle access and is quite private.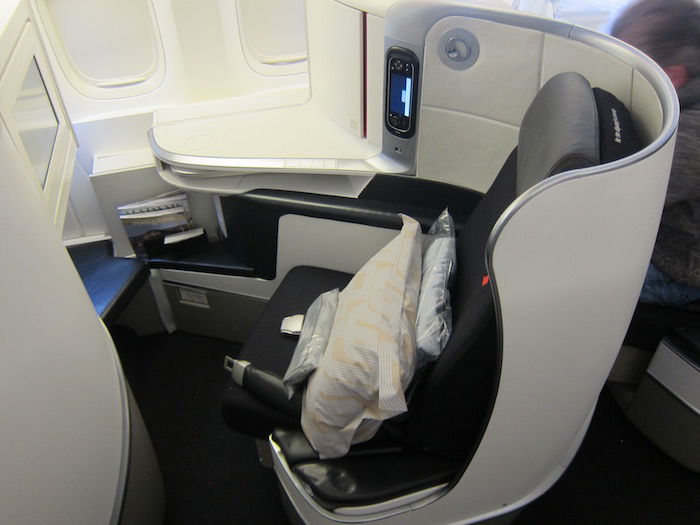 Air France's new business class
Several weeks ago I flew Air France business class from Paris to Toronto on a newly reconfigured 777, and really enjoyed the flight.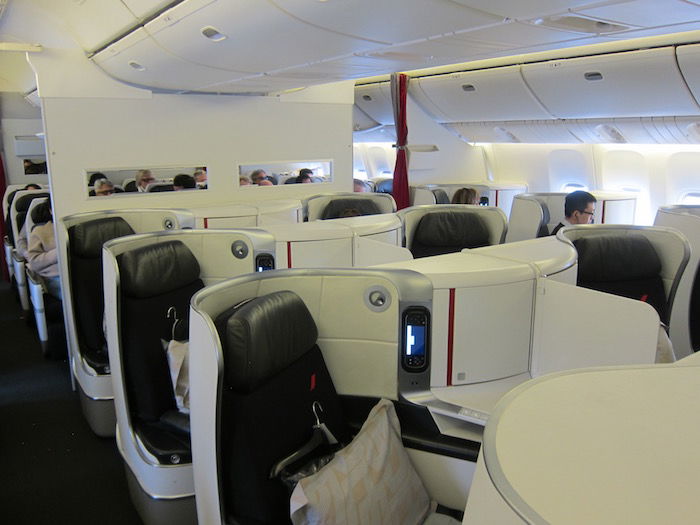 Air France's new business class
While only 777 aircraft have the new business class product as of now, Air France also indicated at the time that they planned on installing the new business class product on their A380 aircraft by the summer of 2017. To the best of my knowledge they haven't yet started that process, though I imagine it'll happen pretty quickly once they get started, given how few A380s they have.
Up until now we haven't heard about the future of Air France's A330 business class. That has finally changed. Air France has just announced that they'll also be installing reverse herringbone seats on their A330-200 aircraft. The refurbishment should start at the end of 2017 and finish by the end of 2018.
Per the press release:
Air France is continuing to upgrade its long-haul cabins and will start to equip its Airbus A330 with its new travel cabins as from the end of 2017.

These cabins have been developed in partnership with Zodiac Aerospace and currently equip 31 Boeing 777 in the Air France fleet. They are highly acclaimed by Air France customers: in 2015, Air France was voted the world's most improved airline by Skytrax.

The entire fleet of A330-200 will be equipped by end 2018, for a total investment of 140 million euros. On its Airbus A330, Air France will offer 30 Business class seats, 21 Premium Economy seats and 175 Economy seats.
Those seat counts are pretty incredible, as Air France's current A330-200 aircraft feature 40 business class seats, 21 premium economy seats, and 147 economy class seats.


Air France A330
I would imagine the space needed for 30 reverse herringbone seats is roughly the same as what's needed for 40 angled seats. I suspect the real estate allocated to business class and premium economy stays the same. That makes me wonder how they plan on squeezing another 28 seats into economy. Something tells me that Air France is going to nine abreast seating in economy on their A330s (as opposed to the current eight), which is a trend we've seen among select low cost carriers lately, like Air Transat.
To the best of my knowledge Air France would be the first "full service" airline to get nine seats per row on the A330, though it still wouldn't surprise me, given the squeeze we're seeing to cram more seats into economy nowadays.
Bottom line
It's great to see that Air France will be installing reverse herringbone seats on their A330s, as previously they didn't share a vision for the future of the plane. Nowadays we've seen so many airlines offer different "new" products throughout their fleet, so it's nice to see that Air France is going with a reverse herringbone product throughout their longhaul fleet.
At the same time, the increase in seat count in economy on the A330 is cause for concern, given that they're going to cram in another 28 seats.
What do you make of Air France's upcoming A330 refurbishments?