Air China is the second airline to take delivery of the passenger version of the Boeing 747-8, after Lufthansa.

Lufthansa Boeing 747-8
For me the 747 is the queen of the skies, and I'm sad to slowly see it phased out. Unfortunately it's a gas guzzler, even in comparison to the A380, which is struggling to survive as well.
While Lufthansa has been flying the 747-8 for a couple of years now, Air China started flying their first Boeing 747-8 on longhaul flights today. Air China's launch 747-8 longhaul route is Beijing to New York JFK, which is now being operated daily with the following frequency:
CA981 Beijing to New York departing 1:00PM arriving 1:30PM
CA982 New York to Beijing departing 3:50PM arriving 6:20PM (+1 day)
Anyway, Air China has just announced that they will commence Boeing 747-8 service between Beijing and San Francisco as of May 1, 2015. Via airlineroute.net, their second longhaul 747-8 destination will be served daily with the following schedule:
CA985 Beijing to San Francisco departing 3:40PM arriving 12:20PM
CA986 San Francisco to Beijing departing 2:50PM arriving 5:55PM (+1 day)
This replaces the Boeing 777-300ER presently on the route.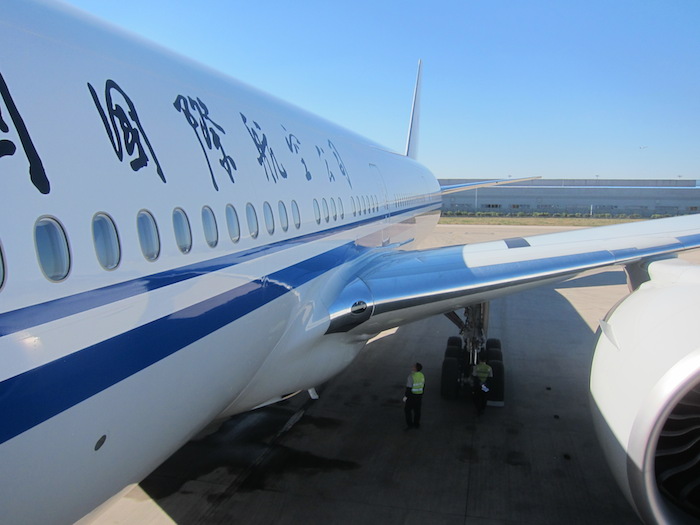 Air China Boeing 777-300ER
Unfortunately premium cabin award space on Air China has been virtually non-existent lately, and in looking at availability on the San Francisco to Beijing route, I actually don't see any dates with first or business class award space.
Air China only has a total of five 747-8s on order, and presumably between these two longhaul routes, four of them are committed. They could squeeze a third longhaul flight out of them when they get their fifth 747-8 if they time their flights efficiently. I'd guess the third longhaul destination would be either Frankfurt or Los Angeles.
San Francisco is a logical choice for the 747-8, given that it's only a once daily Air China destination despite having a huge Chinese population. Still, I always kind of assumed Los Angeles would see the 747-8 first, since it's one of Air China's flagship routes.