Last November Air China abruptly canceled flights between Beijing, China, and Pyongyang, North Korea. Air China was the only foreign airline flying to North Korea at the time, and they canceled their flight with very little notice. They claimed the route cancelation was due to lack of demand, though reading between the lines it sure seems like it may have been a political move, given growing tensions with North Korea.
Now with just one day notice, Air China has announced that they're resuming flights to Pyongyang. An Air China representative told Reuters that the resumption was due to "market reasons."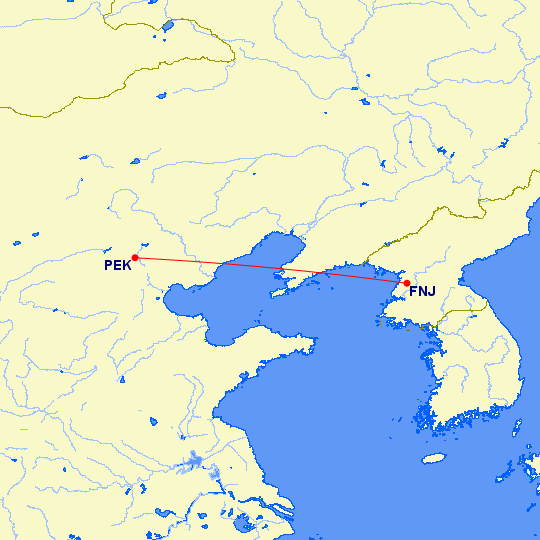 The new flight will operate 3x weekly (on Mondays, Wednesdays, and Fridays) with the following schedule:
CA121 Beijing to Pyongyang departing 1:25PM arriving 4:20PM
CA122 Pyongyang to Beijing departing 5:20PM arriving 6:15PM
Air China will use a Boeing 737-700 for the short 487 mile flight.
What I find most interesting here is that just as the airline canceled the flight without any notice, they're also resuming the flight with virtually no notice. The route is being announced a day before it's launching. While I can't access the seatmap for tomorrow's flight, here's what the seatmap for Friday's flight looks like (the seats with an "x" are blocked, not occupied):
While Air China operated their flight to Pyongyang year-round last year, prior to that the route was largely only seasonal, at least dating back as far as 2008. So as such it's not surprising to see the route resumed around summer, though it once again seems like the resumption may be political, as no route will ever be resumed with one day notice if the intention is to maximize profits.
Relations between China and North Korea have been getting better recently, given the meetings between the countries' two leaders in recent months. That doesn't necessarily mean that the route is being resumed for political reasons, though I do still find the whole concept of brigning back a route with one day notice to be interesting.
What do you make of Air China returning to North Korea?